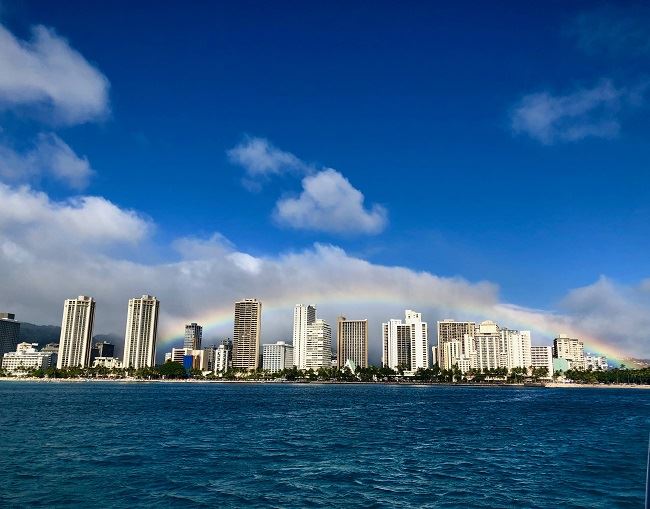 Want to know a secret? Hawaii is a fabulous destination, but did you know that a visit in winter is special in its own way? For starters, the crowds are much, much smaller. Visiting a popular destination with fewer tourists is such a vacation bonus.
If you are planning a trip to Oahu for a client, why not take advantage of smaller crowds, better rates, shorter lines — and some of the most enormous waves in the world? Visiting the North Shore of Oahu between January and March offers exciting adventures, including a real thrill for surfers, with waves reaching up to twenty feet or more.
Of course, there's much more to do in the island paradise. Here is a list of the fairly obvious things to do on Oahu, plus some brand new ones.

Waikiki Beach.
1. See Waikiki Beach
You may have heard that this famous beach is crowded. Go anyway. Take a walk down the shore to see the colorful and vibrant hotel scene.
2. Visit Pearl Harbor
Visit the USS Arizona Memorial. It's a 184-foot memorial honoring the 2,388 Americans who died during the Japanese attack on Pearl Harbor. Make sure to reserve tickets in advance. No matter what time of year it is, this historic location is always busy and tickets go quickly.

A view looking over Waikiki.
3. Go snorkeling or scuba diving
Hawaii boasts some of the best snorkeling and scuba diving in the world. There are snorkel rentals on nearly every corner on Waikiki Beach and other parts of the island as well. And there is abundant scuba diving for the more adventurous traveler.
4. Go kayaking
A great way to see Oahu is from the water by kayak. Paddle boarding is always fun, too. There are so many places to rent your choice of water vehicle.
5. Go to a luau
Everyone needs to enjoy this unique dinner show at least once while visiting any of the Hawaiian Islands. A must for travelers who are Disney fans is The Luau at Aulani; it is spectacular, with professional entertainment, outstanding food, and enchantment for all in attendance.
6. Go out on a touring boat
Rent a boat, with a captain, near Waikiki Beach. The views of Diamond Head will make your clients swoon. There are many sunset cruises they can take on the island, as well.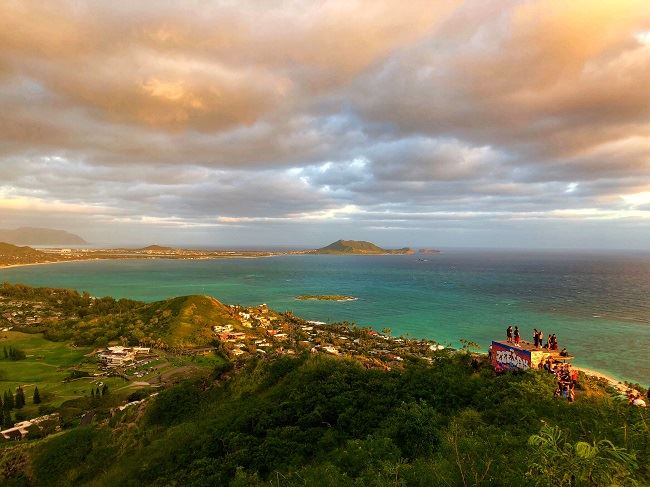 Pill Box.
7. Take a hike
Hiking Diamond Head is a perfect way to spend the morning or afternoon, where there are incredible views of the island. Then there's Pill Box; it's best to wake up early before the sun comes up for this challenging hike (and don't wear flip flops and go on a weekday), but it's absolutely worth it to see the sunrise views from the ridge that are unlike any you will ever see. Another option is Makapu Lighthouse, where there's an easy paved hike trail up the mountain with spectacular views.
8. Have a bite at Niko's Fish Market
Located fairly close to the airport, this very popular eatery and fish market is quite the treasure. It's a casual restaurant where you order your local Hawaiian dishes and then find a seat. There are lots of grilled fish, shrimp, burgers, salads, and famous Hawaiian side dishes to enjoy.
9. Eat poke
This is one of the tastiest foods on the planet, and it's an island specialty. The dish is made of diced raw tuna, with herbs, spices, onions, vinegar and other ingredients — so yummy!
10. Enjoy an acaí bowl
This is a concoction of frozen acaí with fresh fruit and a little honey — the best!
11. Go to Banan at the base of Diamond Head
Go after you have hiked Diamond Head, or just take a drive over, to eat a delicious frozen banana-acaí bowl. At the Banan food truck, every dish is made with frozen banana as a base. Divine.
12. See, eat and shop at the North Shore
You may be familiar with the term, North Shore, or watched surfing movies and listened to urban tales of gnarly waves at Pipeline — the most famous of the North Shore Beaches. If you are visiting in January through March, you must experience the enormous winter waves, even if just watching from the shore. These are expert-level conditions and only extremely experienced watermen should be in the water. Pipeline is notorious for huge waves that break in shallow water just above a sharp reef, forming large, hollow tubes. Standing on the beach, watching the Pipeline surf, with photographers from around the world, is quite exhilarating, as well. At any other time of year, the beaches are still absolutely beautiful and always much less crowded than Waikiki.

Pipeline surf.
13. Eat at any food truck
There are many food trucks along the highway that offer delicious spicy shrimp, grilled fish, pineapple and other tasty Hawaiian dishes. Definitely try the tacos at V- Land Taco Truck — these are the best darn tacos you will ever have.
14. Eat shaved ice at the famous Matsumoto Shaved Ice in Haleiwa
While you are in the North Shore area, do not miss this cute town of Haleiwa, and don't let the line scare you away. The shaved ice is a sweet, icy rainbow treat — and worth the wait.
15. Take a break at Island Vintage Coffee
Right next door to Matsumoto, you'll find this local coffee chain. They make amazing coffee and terrific acaí bowls, too.
16. Shop at Rocky Point Collective
This is a working art studio featuring local artists, craftsmen and innovators on the North Shore of Oahu. The studio is filled with clever Hawaiian design, cool beach products, gorgeous ocean and surf photography, colorful graphic art, the prettiest beach jewelry, and a friendly staff.
17. Visit Kailua
A charming, mostly residential, small town on the east side of Oahu, Kailua is home to Kailua Beach Park, Lanikai Beach and Maunawili Falls.
18. Visit Kualoa Ranch
Don't miss this place! Jurassic Park was filmed here, and the lush verdant views of the mountains and valleys are out of this world. You can tour, ride ATVs, and enjoy several other outdoor activities.
19. Visit Lanikai Beach
Also over on the East side, near the Pillbox hike, is one of the most picturesque beaches in the world. Don't forget your camera.
With all of the suggestions, your clients are set to enjoy a fabulous trip to Oahu!