Winning New Clients Is Key to Travel Agency Sales Growth, Cruise Executives Say
by Cheryl Rosen /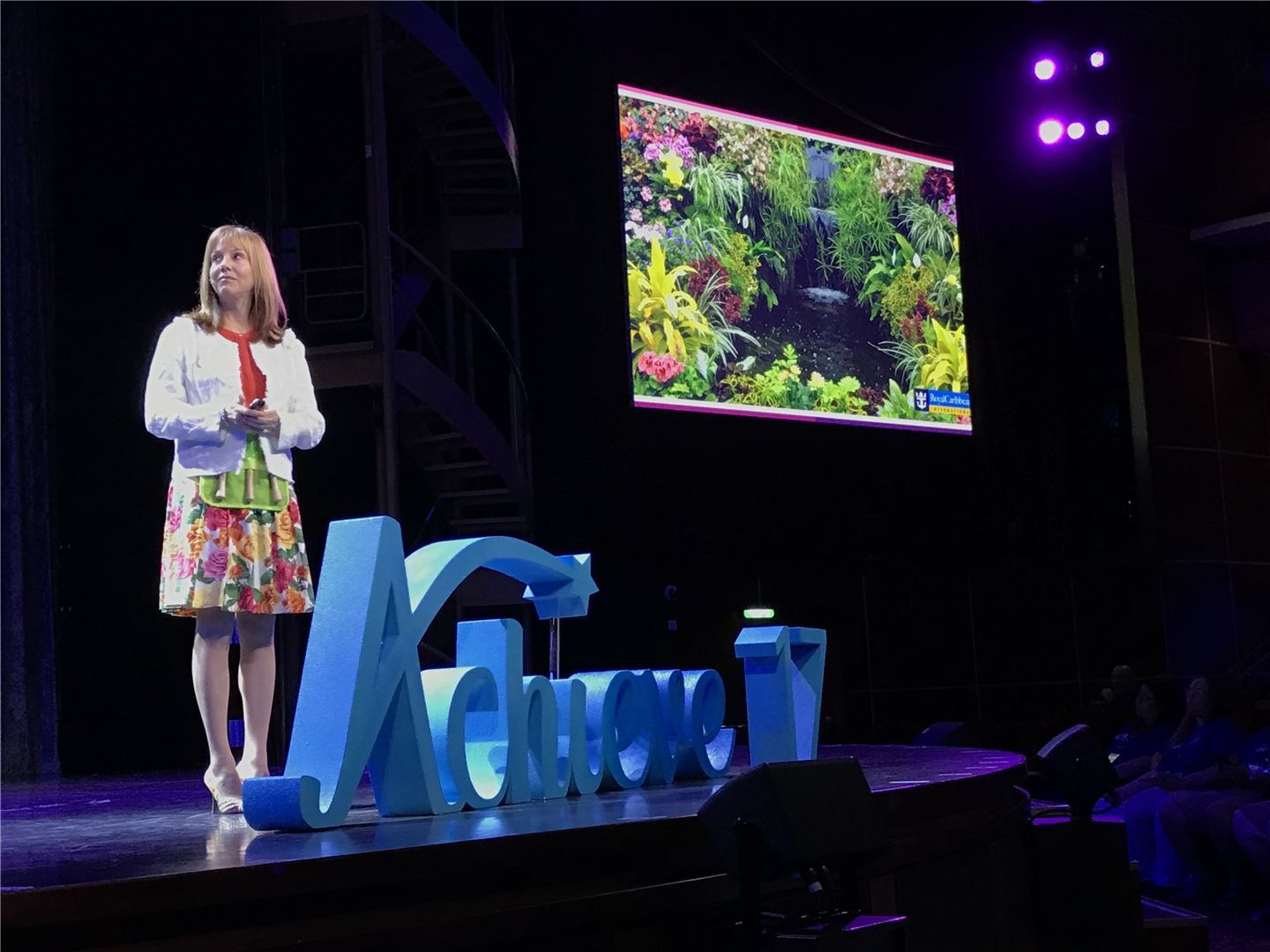 A panel of cruise executives at the annual Cruises Inc./Cruiseone/Dream Vacations conference onboard Harmony of the Seas this weekend, planted a garden of great ideas for travel agents looking to grow their cruise businesses. Their best tip? Keeping your clients is important, but making more money really comes down to finding new ones.
Royal Caribbean's Vicki Freed, senior vice president of sales and trade support and service, kicked off the show by noting that the 1,000 travel professionals in the audience surely lack neither enthusiasm nor product knowledge. "What you need is more clients," she said. "A client base is similar to a garden; you need to be planting seeds everywhere you go. The big opportunity is in connecting with prospects."
It all starts with exuding confidence, said Freed, who spends many of her days at Royal Caribbean working on training programs for new agents. "Wear your name tag everywhere you go because it starts a conversation," she said. Look for opportunities to partner with other businesses in your community; car dealers, for example, often give away cruises with the purchase of a car and bridal stores are full of potential honeymooners. And get involved in charitable activities; "people like to do business with people in their own communities."
Referrals plus reviews equals revenue
"The new math in the travel industry is referrals plus reviews equals revenue," Freed said. When you close a sale, ask, "Is there anyone else you know who might want to travel with you on this vacation?' I guarantee you will get one new booking for every four times you ask." And when they get home from a vacation you planned for them, ask them to write a review of their trip to share on your Facebook page.
Celebrity's Ron Gulasky noted that while social media is great for reaching out to new customers, remember that first-time cruisers tend to book and sail within a 12-month period, and 50 percent book within six months, so make sure you are promoting the right content. And "be nicely obnoxious about reminding people what business you are in and always hand out business cards."
MSC's Joe Jiffo suggested incentivizing customers to recommend you to their friends by offering a discount of some kind when they do.
Brad Tolkin, co-CEO/chairman of World Travel Holdings, parent of Cruises Inc., Cruiseone and Dream Vacations, told TMR he always wears a shirt with the company logo when he goes out in public, and has five family cars with 1-800-cruises on their license plate holders. "Filling the funnel of potential customers is the number one thing, and when I'm stuck on the Long Island Expressway people are looking at that," he said. "You have to be proud of your brand. I wear my brand every day; I do everything possible to shout out what I do and start a conversation about travel."
Call your current clients regularly
Even as you make new friends, though, do not forget the old. Find a reason to stay in touch with your customers regularly – and do it by phone, Freed suggested.
"The number-one reason people switch travel agents is that they don't feel a connection," she said. "Thanksgiving is coming, so pick up the phone and say 'Happy Thanksgiving.' Say planning their vacation was one of the highlights of your year and you want to thank them for giving you the opportunity to help plan their special vacation."
Carnival's Adolfo Perez, vice president of trade marketing, said having big dreams of growing your business is fine, but don't let your dreams get so big that they overwhelm you. Set small and achievable goals, find one small thing you can do today to move your business forward and just do it. "Work on marginal gains," he said. "Do every single thing you do 1 percent better, and create a culture of constant improvement."
Perez also said he learned from Vicki Freed many years ago that "one of the biggest things is the handwritten card, whether it's to say happy birthday or congratulations."
Eva Jenner, vice president of sales for Holland America and Seabourn, suggested "making sure you keep in contact and nurture the relationship with the customer from start to finish, and after you book, make sure everything is in place for them." Then ask your clients to hashtag you so you can share their photos and the experiences that you planned for them, so people see you as the expert.
And my personal favorite, Norwegian Cruise Lines Senior Vice President of Sales Camille Olivere suggested sharing articles in the press about the importance of using a travel agent. (You might start with TMR's "Why Everyone Should Use a Travel Agent in 2018").
"Keep an eye out for those," she said, and share them with your customers. "I'm hearing more and more people talking about having a travel agent, and how they think it's a cool thing."