5 Reasons to Travel from London to Paris on Eurostar
by Stacey Zable /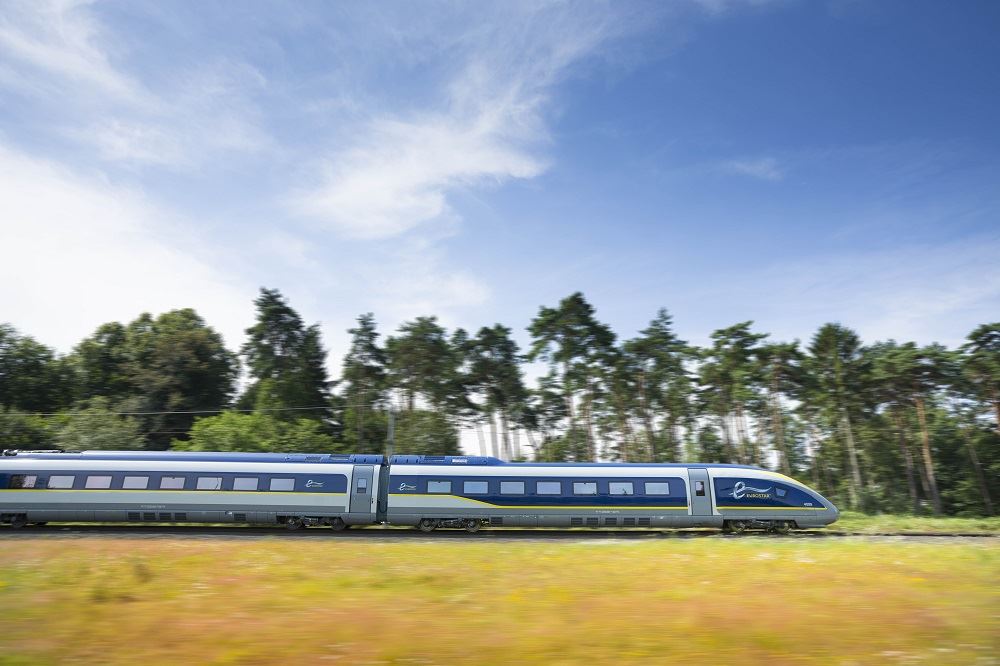 The pairing of European capital cities London and Paris is popular for travelers. Suggest clients take the high-speed train Eurostar as a convenient, sustainable, quick way to get the most out of their time exploring both cities. Eurostar is also available from/to London to Amsterdam, Brussels, Rotterdam, and Lille, France.

Below are 5 reasons to travel on Eurostar to help you when selling the train.
1. Fast Travel.
Eurostar trains can reach a maximum speed of 186 miles per hour. The Eurostar journey from London to Paris only takes approximately 2.25 hours. For train lovers, a monitor informs passengers of their current speed, including when they are going through the Channel Tunnel, where Eurostar trains travel 100 miles per hour. Plus, passengers are traveling from city center train station (London St. Pancras International) to the city center train station (Paris Gare du Nord), saving time and money by eliminating the need to travel to/from the city airports. Travelers go through border control in London and can simply walk off the train with their luggage upon arrival in Paris.
2. Flexible Ticketing.
Eurostar offers 14 trains a day from London to Paris, so clients can travel when it is most convenient for them depending on their travel schedule. You can also book the tickets 330 days prior to the departure date. There are no exchange fees on changes up to seven days before departure if travelers change their plans. One-way fares start at £39 (based on a return trip).
3. Comfort and Space.
Passengers are able to reserve their seats for free. Standard seats include access to the café bar, which sells snacks, meals, hot and cold drinks, and alcoholic beverages. Free Wi-Fi is available while traveling on the train. Clients can upgrade to Standard Premier for such added perks as leather reclining seats with power sockets and USB ports for charging their phones or laptops. Passengers also receive a light meal plus a soft drink, wine or beer, tea or coffee served at their seats.
4. Extra Luggage.
Passengers in Standard and Standard Premier seats are allowed to bring up to two pieces of luggage plus one hand luggage. In Business Premier, you can add a third piece of luggage. There are no weight limits on luggage like at the airport, but passengers must be able to carry their own luggage to and from the trains, place them on luggage racks, and carry them on and off the trains.In London St. Pancreas, passengers are transported to the tracks from the waiting areas via an electrical walkway where they simply stand as they ascend. The ascension is fairly steep so it requires holding on tight to your luggage. If clients are disabled or have reduced mobility then you can pre-book special assistance to help them get to and from the train.
5. Upgrades to Business Premier. Business Premier offers more features with fares starting at £245 one-way based on a return trip. Tickets are exchangeable or fully refundable. Clients can also make changes for an earlier or later train on the day they are traveling, with a guaranteed seat even if Business Premier is full. Business Premier passengers have use of fast-track ticket gates closing shortly before departure. They simply scan their ticket at the gate, go straight through security and passport control, and can stop at the Business Premier Lounge in London. The Lounge is a relaxing way to start the journey, with food, drinks (including cocktails), and magazine and newspapers available for free. Once on board the train, Business Premier passengers have leather reclining seats with power outlets and USB ports and meals served at their seats. Menus for breakfasts and three-course course meals for lunch and dinner have been designed with Michelin-starred chef Raymond Blanc OBE. Passengers here also have drinks served to them, including coffee, tea, soda, juices, bottled water, beer, wine, and champagne.