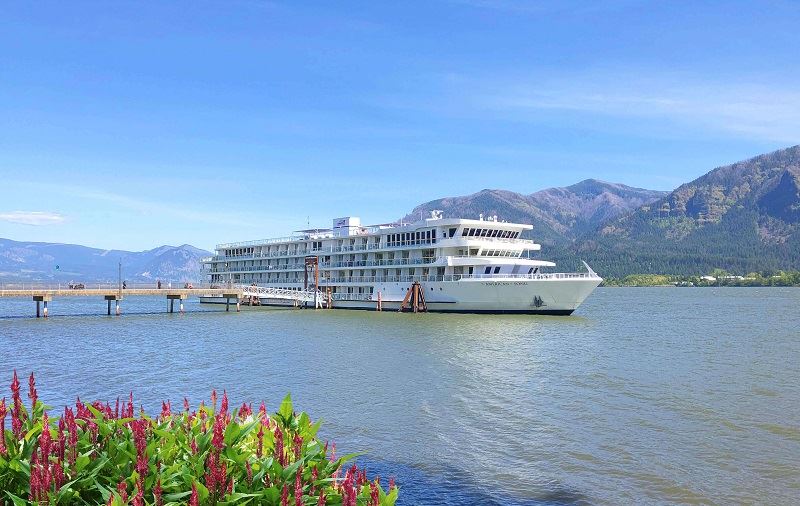 American Cruise Lines will resume sailing at the end of June, and will be the first cruise line to resume in the U.S. after the outbreak of the Covid-19 pandemic.
The small-ship cruise line is planning to begin sailing again on the Columbia & Snake Rivers with American Song on June 20, and on the Mississippi with American Harmony on June 28.
American Cruise Lines said it is also eyeing a re-start in the summer for cruises in Alaska on the new coastal ship American Constellation. That could come as soon as late June/July.
All ships will sail at 75% capacity. American Song and American Harmony can carry a maximum of 180 and 190 passengers, respectively, while American Constellation can hold 175 passengers max.
Through the reduced capacity, guests will have approximately 450 square feet of passenger space each, up from the usual 350 square feet per guest. Ship's also have independent HVAC air systems with no shared duct work in cabins and lounges.
The main dining room capacity will be reduced with removal of tables and chairs to allow for social distancing. All dining tables to be used only once during each meal service, and there will not be multiple seating's at any table during any meal.
Private Coaches and excursions will also operate at reduced capacity to allow for social distancing. Additional excursion times will be added as needed.
Other measures being adopted onboard the ships include sanitation rounds conducted on an hourly basis by housekeepers wearing personal protective equipment, medical screenings available as needed, and touchless boarding and check-in processes. Public bathrooms will be closed and guests will be asked to use the restrooms in their stateroom.
The Guilford, Connecticut-based company will continue to offer its 'Cruise with Comfort' plan on cruises until 31 October, which allows guests to cancel for any reason up to 24 hours in advance.