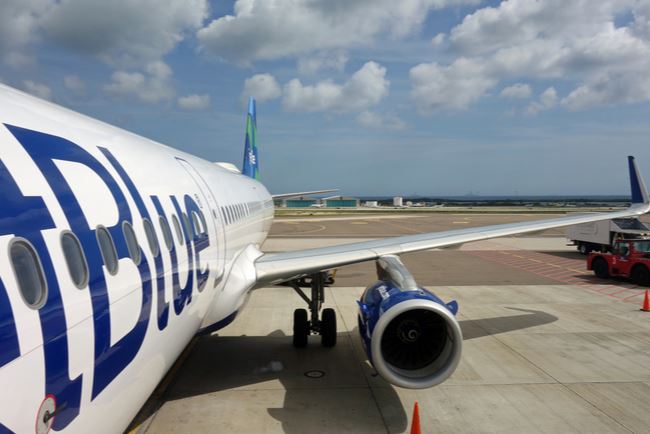 This week, the Aruba Tourism Board announced that it has partnered with JetBlue and Vault Health to offer visitors an at-home COVID-19 test that gives results in 48-72 hours, providing a convenient option for meeting the country's pre-travel testing program requirements.
CEO of Aruba Tourism Authority Ronella Tjin Asjoe-Croes said the move will "make our 'one happy island' even more accessible."
The saliva-based PCR test is administered via online video facilitated by Vault, with a test supervisor who make sure that it is safely and precisely completed for more accurate results. The sample is then overnighted to a laboratory for processing within 72 hours.
It will be the first and only saliva-based test accepted for entry of JetBlue customers by Aruban authorities.
In addition to priority support, Vault has created a dedicated landing page for JetBlue customers with current travel scheduled to Aruba, located here.
Visitors who do not take a test prior to travel must take one upon arrival at the airport in Aruba, and are required to quarantine in their booked place of stay until their test results are received.
"Reliable, accurate, and convenient testing is a vital key to safely resuming leisure travel and invigorating the economy," said Joanna Geraghty, president and chief operating officer, JetBlue.
Airlines have begun partnering with destinations to create an easier process for travelers, with hopes of boosting travel. American Airlines recently announced it will offer travelers to Belize, Grenada, and St. Lucia an at-home test PCR test. United Airlines, meanwhile, has launched a four-week trial of free COVD-19 testing for passengers traveling between Newark Liberty International Airport and London Heathrow Airport.
Aruba updates travel process
As of Nov. 1, 2020, the classification of U.S. "hot spot" states are no longer in effect. Residents of all 50 states will now have the option to take a PCR test upon arrival at the airport in Aruba as well as the option to provide a negative test result prior to travel.
In addition, Aruba's mandatory visitor insurance has gone down to a flat premium of just $30 for travelers ages 15+ and a flat premium of $10 for visitors ages 0-14. The program covers hospitalization expenses, Intensive Care Unit charges, transportation, isolation expenses, COVID-19 tests, doctor consultations up to USD $75,000.
Centralizing the insurance system also ensures all visitors can be assisted instantly if there is an outbreak and won't have many, if any, out-of-pocket expenses.