Carnival Cruise Line Reveals Details of Carnival Venezia
by Dori Saltzman /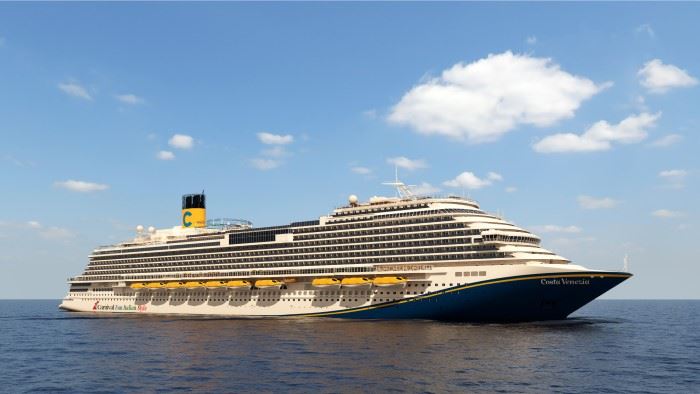 Carnival Cruise Line president Christine Duffy and director of new build product development Glenn Aprile raised a glass of aperol spritz to the June 2023 arrival of Carnival Venezia during a virtual press conference. But before they allowed themselves to take a sip, they dished on what the "new" ship will have in store for Carnival cruisers.
Originally built for Costa to operate in China, the 4,000-passenger ship is the same class as Carnival's Vista Class. It is the second of three Costa Cruises ships that have been or will be transferred to Carnival.
"They feel very much like the Vista class in terms of their general arrangements," Aprile said. "If you know your way around Carnival Vista, Horizon or Panorama, you're going to feel right at home."
The ship will feature a blend of Costa and Carnival stylings, making it unlike anything else in the Carnival fleet. It will retain its Costa branding on the exterior, with a big black and yellow "C" on the funnel. Inside, cruisers will find several new-to-Carnival concepts, as well as many of the Carnival favorites they're used to but with Italian twists.
Lido Deck
For instance, Guy's Burger Joint, which will be located in one corner of the two-deck Lido Deck, will feature entirely new Italian stylings and add two new burger options to the menu – the pepperoni pizza burger and the Big Mozz.
The Lido Deck, which on Carnival Venezia can be covered by a magrodome during cold or inclement weather, will also be home to JavaBlue Café. JavaBlue will offer its usual array of specialty coffees and decadent treats, but will add a selection of gelato as well.
Instead of a BlueIguana Cantina, the Lido Deck on Carnival Venezia will have an all-new casual dining concept, Tomodoro, a Mexican and Italian fusion spot featuring tacos, burritos and Italian favorites like meatballs and Sicilian rotisserie chicken.
In the fourth corner of the Lido Deck, will be the Rococo Bar, which is going from a sophisticated and elegant vibe on Costa Venezia to fun and playful on Carnival Venezia. Here, guests will find an array of frozen drinks including a frozen limoncello.
Events on the Lido Deck, like the sailaway party, will take on Italian furnishings as well, with crew dressed like Venetian gondoliers. One night per cruise, the Lido Deck will host an Italian street party with music, dancing, Italian finger foods and desserts, and even a gelato eating contest.
Another event that will get the Italian treatment will be the captain's welcome toast. On Carnival Venezia, it will be the Captain's Venetian Toast. It will be held in the Piazza San Marco atrium. Crew will dress in Venetian costumes and guests will be encouraged to bring their own Venetian masks or purchase one on board.
Restaurants
Like Carnival's Vista class ships, Carnival Venezia will have two main dining rooms – the Canal Grande and the Marco Polo.
Canal Grande will feature a restored, full-sized gondol. The menu, which will offer Carnival's typical line-up of revolving dishes, will also feature a selection of Italian favorites every night, including some items straight from the menu of Cucina del Capitano (which will not be on the ship.)
Taking the place of the outdoor Guy's Pig & Anchor barbecue will be La Strada Grill, which will feature grilled street food, Mediterranean sandwiches, sides and salads.
Replacing Cucina del Capitano will be a new Italian restaurant concept, which Carnival teased. The as-yet-unnamed venue will be located on the deck 5 promenade (with some outdoor seating) and offer up freshly baked focaccia bread. It will be open for brunch and dinner.
Bars & Lounges
Carnival Venezia will feature several new-to-Carnival bar and lounge concepts.
First up will be the Amari Bar, which takes the place of the Alchemy Bar. Here cruisers will find expert mixologists and an interactive cocktail experience, along with a selection of Italian Amari liqueurs. It will also feature several of the Alchemy Bar's most popular menu items.
At Frizzante, which will be located next to the new Italian restaurant, bubbles will be the order of the day, whether it's Champagne, prosecco or beer. In the morning, cruisers will be able to get Italian coffees, espressos and cappuccinos, as well as biscotti.
Taking the place of Ocean Plaza will be the Gondola Lounge. Here cruisers will find all the usual Ocean Plaza activities, including trivias and live music.
The adults-only Serenity Deck will also get its own Italian-themed bar, the Spritz Bar. Unlike on other Carnival ships, the Serenity Deck on Carnival Venezia will not have a pool, but will have two whirlpools.
At the back of deck 5, located where the Havana Bar is on the Vista Class ships, will be the Carnevale Bar & Lounge. Inspired by the Venetian carnival, it will feature Venetian-themed décor and a full selection of Italian wines (plus a full bar). Adjacent to the bar is the Terrazza Carnevale, a rooftop bar-inspired space with loungers and two whirlpools (no pool).
During the day, both the Carnevale Bar & Lounge and Terrazza Carnevale will be reserved for guests staying in Terrazza suites and staterooms, which replace the Havana Cabana concept on Carnival's Vista and Excel Class ships.
Cabins
Carnival Venezia will feature the cruise line's usual array of cabin choices, though décor will have a decidedly Italian twist. Features will include U.S. style outlets and USB plug-ins, mini-fridges and glass shower doors in the bathroom.
Guests looking for a more exclusive cabin experience can opt for one of 77 Terrazza staterooms or suites, which are spread across the back of decks 5-9. Special amenities include a continental breakfast or exclusive sea day brunch (with complimentary Spritz or Mimosa) in the Carnevale Lounge, branded robes and towels, and a private sail away event in the Terrazza Carnevale outdoor lounge, the perfect location for watching the Statue of Liberty recede into the distance.
Entertainment
Carnival Venezia's main theater will be the Teatro Russo, which has been designed to look like an Italian opera house with tufted red velvet seats and elegant chandeliers. It will be home to Playlist Productions including Color My World, Epic Rock, Vintage Pop and Broadway Beats. It will also be the location for the line's audience participation version of Family Feud Live.
Carnival Venezia debuts in New York City on June 15 with a four-day sailing to Bermuda. During its inaugural season, the ship will offer a wide range of sailing options, with 10 different cruise lengths and 22 itineraries featuring visits to 25 ports across 14 countries.