Carnival Cruise Line Unveils More of What's to Come on Mardi Gras
by Daniel McCarthy /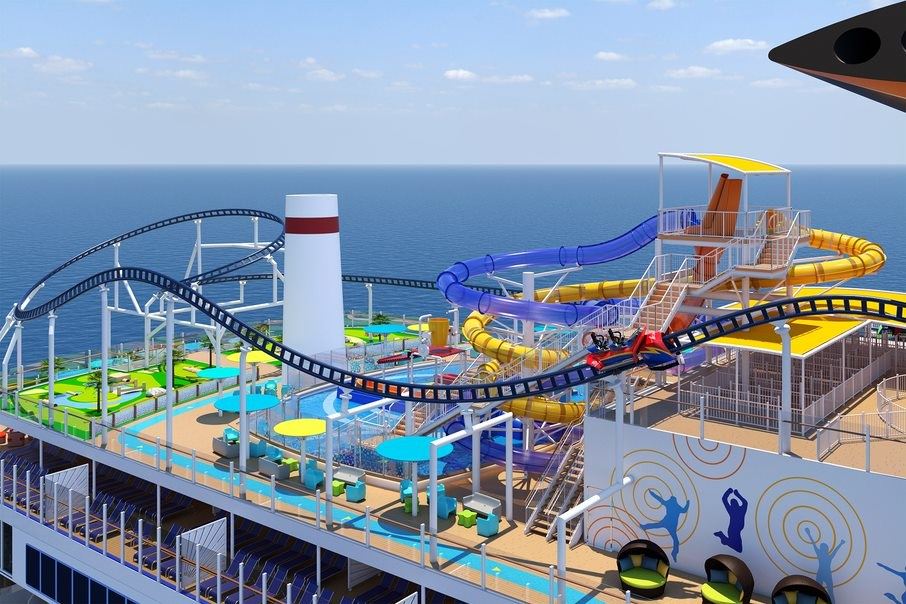 The first-ever roller coaster at sea, BOLT, set to debut on Carnival Cruise Line's Mardi Gras when it launches in August 2020, will feature all-electric, motorcycle-inspired vehicles with digital speedometers that race along the 800-foot-long track on the ship's top deck.
Carnival Cruise Line President Christine Duffy, along with its Chief Fun Officer Shaquille O'Neal, unveiled that and some more details about what's the come on Mardi Gras during the International Association of Amusement Parks and Attractions (IAAPA) in Orlando on Tuesday.
BOLT, which was unveiled in late 2018, will also allow riders to pick their own speed of up to 40 miles per hour, giving guests the opportunity to take multiple, unique trips whizzing along the track 187-feet-above sea level. And cameras along the track will be able to capture the riders at whatever speed they choose.
Carnival is also bringing high-speed turns elsewhere onboard—the WaterWorks aqua park, which joins Bolt in the Ultimate Playground themed zone, will debut on Mardi Gras with the 312-feet long Blue Lightning and 229-foot-long Orange Thunder waterslides, along with the 265-foot Twister waterslide.
The Ultimate Playground will be an expanded SportSquare including the 600-foot-long suspended ropes course, the longest at sea, along with a nine-hole mini golf course, jogging track, basketball court, and outdoor fitness area.
"Whether guests want to get an adrenaline rush or take it slow and enjoy the breathtaking views, BOLT will have it all," said Duffy.
Aside from Bolt, Carnival has so far unveiled that Mardi Gras will feature a cruise ship edition of Family Feud Live, will have more suites than any other Carnival ship in the fleet at more than 180 different options, and will feature a brand new restaurant from Emeril Lagasse.
When is debuts, Mardi Gras is set to sail a schedule of six- to 15-day itineraries through Europe and the Caribbean starting in summer 2020.
Those sailing include its nine-day maiden voyage from Copenhagen to Southampton that kicks off on Aug. 31; a 14-day trans-Atlantic sailing from Southampton to New York Sept. 9; and a 15-day Carnival Journeys itinerary from New York to Port Canaveral on Sept. 30.
When it arrives in Port Canaveral, Mardi Gras will sail one special eight-day cruise on Oct. 16 and will then alternate Eastern and Western Caribbean seven-night sailings. The Eastern option will visit San Juan, Amber Cove, and Grand Turk, while the Western sailing will include calls at Cozumel, Costa Maya, and Mahogany Bay.