Carnival Cruise Line Unveils Stateroom Design for New Ship Mardi Gras
by Daniel McCarthy /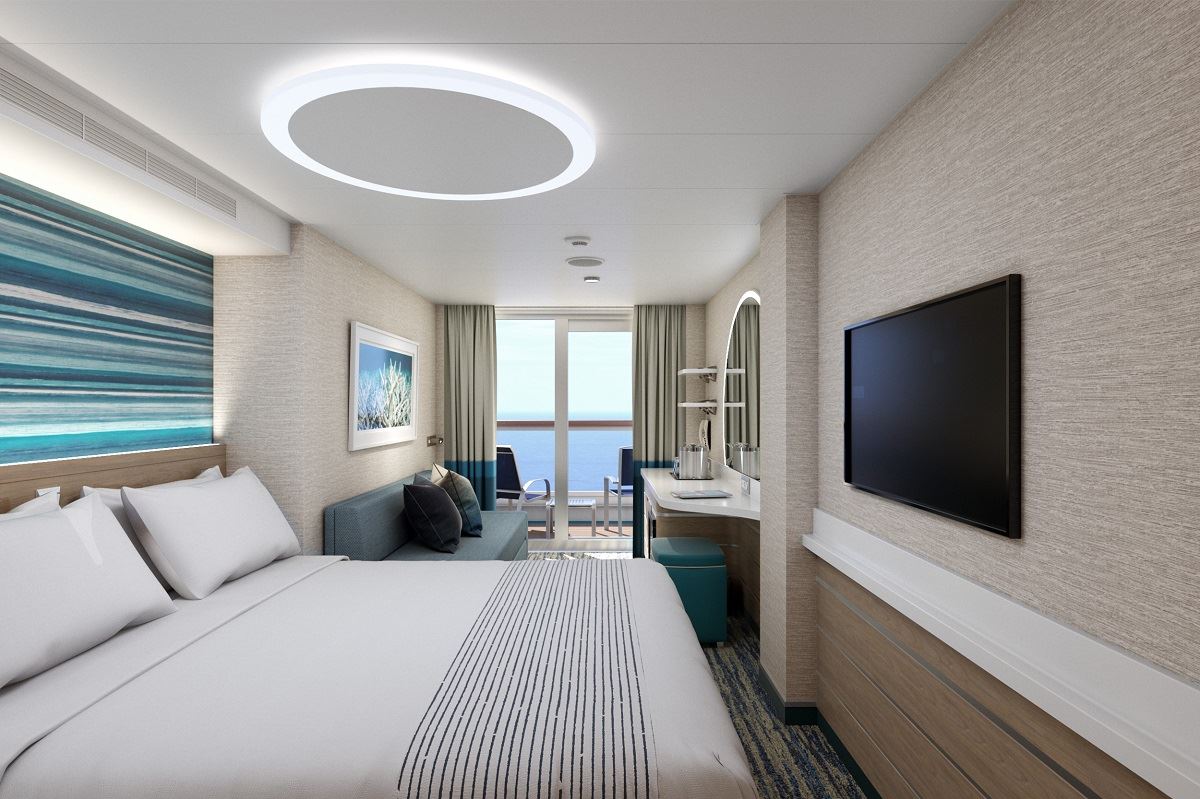 Carnival Cruise Line today unveiled some more details of its newest ship, Mardi Gras, which is set to sail starting in summer 2020.
The ship, which is already scheduled to feature the first roller coaster at sea, will boast some one-of-a-kind features in its balcony, oceanview, and interior staterooms that were created through a partnership with DCA Design International. Aside from some aesthetic details that include muted turquoise hues, those features will give guests more storage space than ever, and give them easier access to power outlets.
"We took a unique approach to our stateroom design with Mardi Gras, utilizing DCA's design experts who are well known for innovative product design and partnered them with Miami-based interior architect Studio Dado," said Ben Clement, Carnival's senior vice president of new builds.
The staterooms will feature floor-to-ceiling glass sliding doors on almost of its verandahs. The staterooms will also include sofa-beds that flip from bed to couch and foot stools that open up for in-cabin storage. Guests will also be able to take advantage of other in-cabin storage options including two pull-out bins, a sliding shoe rack, folding shelves, and under-the-bed luggage storage.
Say hello to your newly designed stateroom on Mardi Gras! Here's a sneak peek at the top 5 features of all balcony, ocean view and interior staterooms. #ChooseFun #CarnivalMardiGras pic.twitter.com/xJ47MKZjkd

— Carnival Cruise Line (@CarnivalCruise) March 13, 2019
Each cabin's mini-fridge will boast a see-through door so guests can look in to see what's inside without opening it up.
Guests will also be able to charge all of their devices in-cabin with more power outlets and USB connections both in their vanity and by their stateroom bed. The bed will also incorporate an attached reading lamp.
Mardi Gras, which is named to pay homage to the first-ever Carnival ship that entered service in 1972, is set to sail a schedule of six- to 15-day itineraries through Europe and the Caribbean starting in summer 2020.
Those sailing include its nine-day maiden voyage from Copenhagen to Southampton that kicks off on Aug. 31; a 14-day trans-Atlantic sailing from Southampton to New York Sept. 9; and a 15-day Carnival Journeys itinerary from New York to Port Canaveral on Sept. 30.
When it arrives in Port Canaveral, Mardi Gras will sail one special eight-day cruise on Oct. 16 and will then alternate Eastern and Western Caribbean seven-night sailings. The Eastern option will visit San Juan, Amber Cove, and Grand Turk, while the Western sailing will include calls at Cozumel, Costa Maya, and Mahogany Bay.
Staterooms, including suites such as Carnival's Family Harbor, Havana Cabana, Cloud 9 Spa options, balcony, ocean view, and interior rooms, are all on sale. In total, Mardi Gras will offer 20 different stateroom categories.

Family Harbor stateroom. Photo: CCL.
Elsewhere onboard, Mardi Gras will feature six distinct "zones"—Grand Central (decks six through eight) that is Carnival's take on a traditional atrium and includes Bonsai Sushi and Bonsai Teppanyanki along with the Punchliner Comedy Club; the French Quarter (deck six aft), a New Orleans inspired area with new bars, music venues, and eateries; La Piazza (deck eight), an Italy-inspired area with Cucina del Capitano and Pizzeria del Capitano, a new