Here Are the Best U.S. Airlines, According to Customer Satisfaction Ratings
by Daniel McCarthy /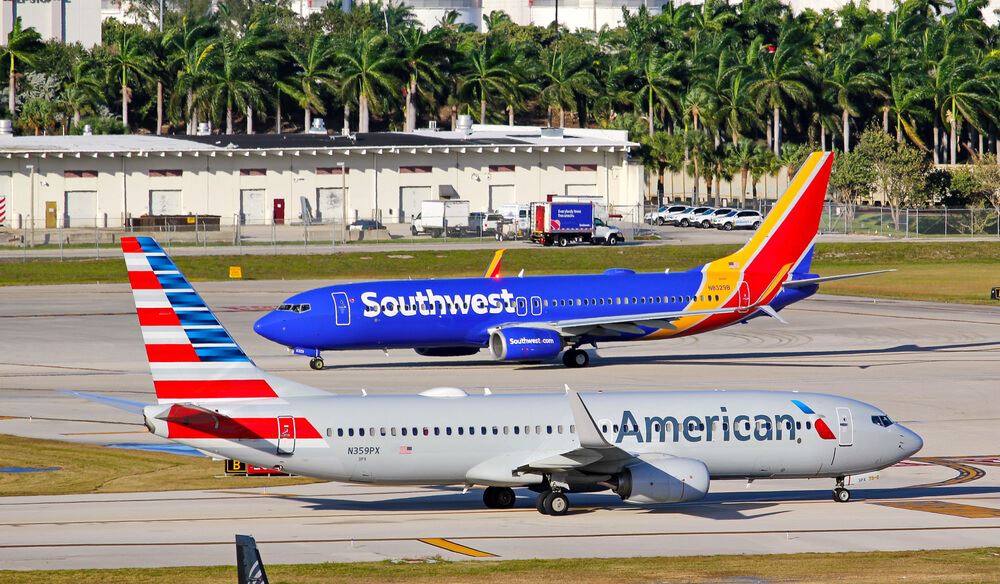 This month, the American Customer Satisfaction Index (ASCI) released its updated ranking of airlines based on customer satisfaction, a report that it has issued every year since 1994.
The ASCI is based on over 10,500 interviews with consumers, chosen at random from April 2022 and March 2023. The survey asks consumers about their experiences with nine major airlines plus an aggregate of smaller carriers, including questions on the quality of mobile apps, ease of check-in, boarding experience, on-time arrivals, baggage handling, loyalty programs, and more.
While the bottom two carriers remain the same for 2023 (Frontier at a score of 67 and Spirit at a score of 64), there's a bunch of movement when it comes to the top carriers.
Here are the rankings from ASCI:

Photo: VDB Photos / Shutterstock.com
1. Alaska Airlines – 81
Alaska Airlines is this year's top airline when it comes to customer satisfaction, according to the ACSI travel study. Alaska is also the biggest gainer in position at the top of the list for 2023, going from sixth last year, to first in 2023.
Alaska was also the third-best airline for on-time departures in 2022, with 80.36% of its flights departing on time.
2. American Airlines (tie) - 78
American comes in second in the ASCI survey, with a score of 78. American also improved its customer satisfaction in the last year, going from 77 in 2022 to 78 this year.
American is currently taking the lead among major carriers when it comes to rolling out NDC content on Sabre.

Photo: Eliyahu Yosef Parypa / Shutterstock.com
2. Southwest (tie) – 78
Southwest, at 78, scored the same as American Airlines and also improved a single percentage point from 2022, a good bounce-back year after dropping 3% in appreciation last year.
Southwest continues to score strongly both in customer satisfaction and in on-time performance despite its December 2022 meltdown that saw 16,700 flights canceled and Southwest become the subject of a Department of Transportation (DOT) investigation.
3. United Airlines – 77
United went unchanged from 2022 to 2023 with a 77 score in the ASCI study after jumping from a 75 to 77 last year.
United most recently announced its largest, and what it says is the largest in aviation history, South Pacific expansion ever, with new flights from the U.S. to both Australia and New Zealand. The additions will see United operating 66 flights between the U.S. and the two countries every week, which amounts to nearly 40% more flights compared to the same time last year.

Photo: Eliyahu Yosef Parypa / Shutterstock.com
4. Delta Air Lines (tie) – 76
Delta Air Lines dropped from a 77 score in 2022 to a 76 score in 2023 in the ASCI study, becoming one of two airlines in the top five to suffer a drop in score this year.
Delta is one of many airlines cutting its summer schedule out of New York and Washington D.C. The carrier also recently announced a return to Havana, Cuba, and a return to London Gatwick Airport for the first time in 15 years.

Photo: Leonard Zhukovsky / Shutterstock.com
4. JetBlue (tie) – 76
The biggest drop in the top of the airline list comes from JetBlue, which went from first in overall customer satisfaction last year, to fifth this year. The airline's most recent move was changing the way it issues travel credits, going from one year of usage from the date of original booking to one year of the date of modification, something it had been doing since the onset of COVID-19.
JetBlue has also continued to expand internationally, adding plans to fly to London, Paris, and, most recently, Amsterdam, this year.