Hurricane Lee Intensifies to Category 5: Caribbean and U.S. Impact Uncertain
by Daniel McCarthy /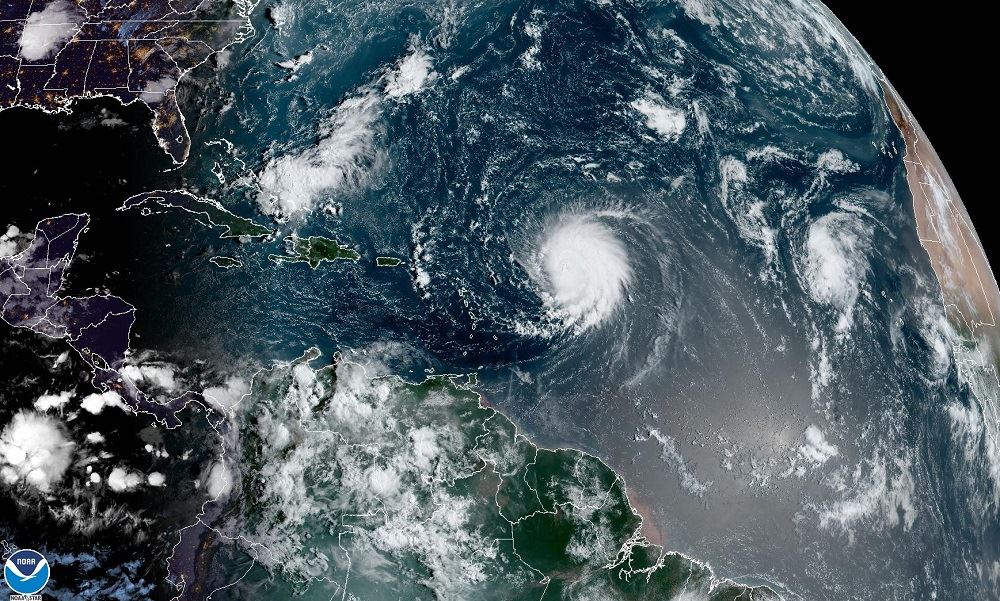 Less than 24 hours after being categorized as a Category 1 storm, Hurricane Lee is now "a dangerous Category 5 hurricane," the National Hurricane Center (NHC) said in its 5 a.m. advisory on Friday morning.
Lee picked up 85 mph in that 24-hour period, tying Hurricane Matthew from 2016 as the third fastest rapid intensification in the Atlantic. There are still questions as to what impact, if any, the storm will have in the Caribbean on the U.S. as a lot depends on the storm's path.
The NHC said that Lee is expected to "move well north of the northern Leeward Islands, the Virgin Islands, and Puerto Rico this weekend and early next week." That area should still expect some impact, mainly "dangerous surf and life-threatening rip currents" that could start as soon as Friday and last through the weekend.
Lee is currently moving at neat 14 mph toward the west-northwest, a general motion that will continue through early next week. The storm is then expected to slow down "considerably" over the southwestern Atlantic, which could lead to even more intensification.
The storm is then expected to head north, but questions remain as to what exactly its path will be. The NHC is saying that "it is way too soon to know what level of impacts, if any, Lee might have along the U.S. East Coast, Atlantic Canada, or Bermuda late next week."
Some models from the National Oceanic and Atmospheric Administration (NOAA) have the storm moving far out into the Atlantic as it moves north, while others have it closer to the East Coast of the U.S. Those along the coast, or traveling through the area, should be aware of the potential impact over the next week.
Travel update
With so much uncertainty, no airlines have issued waivers for Hurricane Lee's potential impact, but one cruise line has made a change to its schedule.
Disney Cruise Line's Fantasy's Sept. 9 sailing has been switched from a Bermuda itinerary to a Western Caribbean itinerary due to Hurricane Lee. In a message to guests this week, Disney said that it had been closely monitoring" the storm and has decided to make the change ahead of its arrival.
The ship sailing out of Port Canaveral is bypassing Bermuda but adding Cozumel and George Town along with a second visit to Castaway Cay.
More changes could come, too, as ships including Oceania Insignia, Cunard's Queen Elisabeth, Seven Seas Mariner, Royal's Vision of the Seas, Carnival Magic, Mariner of the Seas, and more, are all scheduled to call on Bermuda ports over the next week.