Tauck Shares Details of New Ship MS Andorinha Riverboat
by Daine Taylor /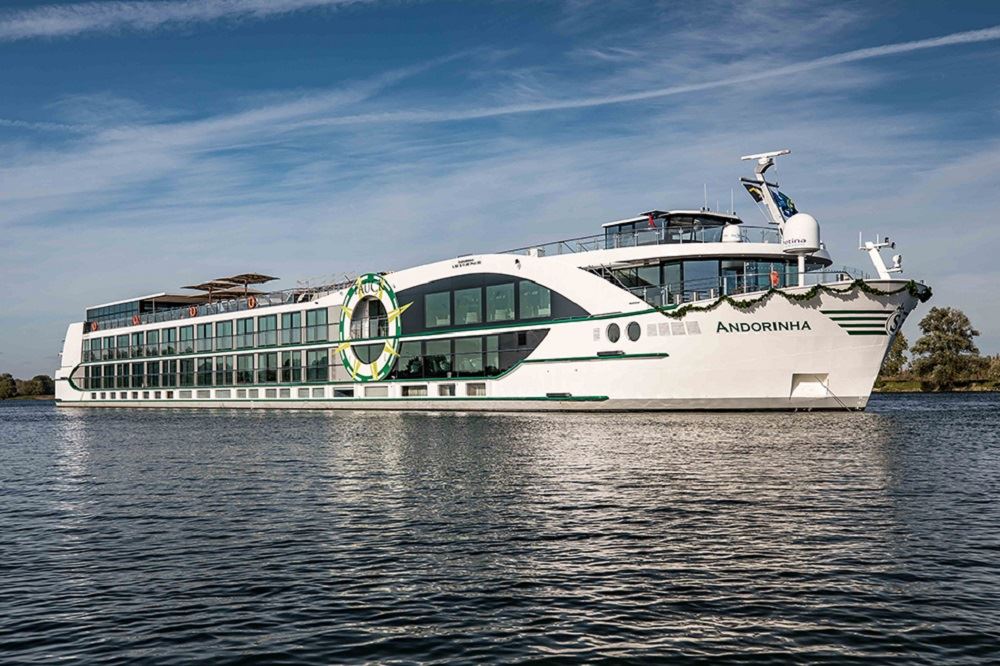 Tauck, the iconic river tour and cruise company, is revealing new details about its new ship, the MS Andorinha Riverboat, which is scheduled to launch in March 2020.
The ship is currently undergoing testing in the Netherlands, but when operational, the vessel will sail on three all-new cruise itineraries along the Douro River in Portugal. In fact, according to Tauck CEO, Dan Mahar, the MS Andorinha has been built specifically for cruising along the Douro.
"Unlike other rivers, the Douro is closed to navigation at night, so all cruising is done during daylight hours. Also, the Douro has fewer towns and cities along its banks than other major rivers, so the landscapes are more pastoral and scenic. Finally, the Douro Valley is renowned for its beautiful warm and sunny weather," said Mahar.
"When you combine those three factors – extensive daytime cruising through gorgeous landscapes in wonderful weather – you have a unique opportunity to create a ship that really embraces the local climate and showcases the surrounding environment."
The MS Andorinha is designed to help passengers appreciate the region's warm weather and showcase the local culture, and to that end the ship's Sun Deck has been outfitted to be an ideal platform for savoring the passing landscapes of the Douro Valley.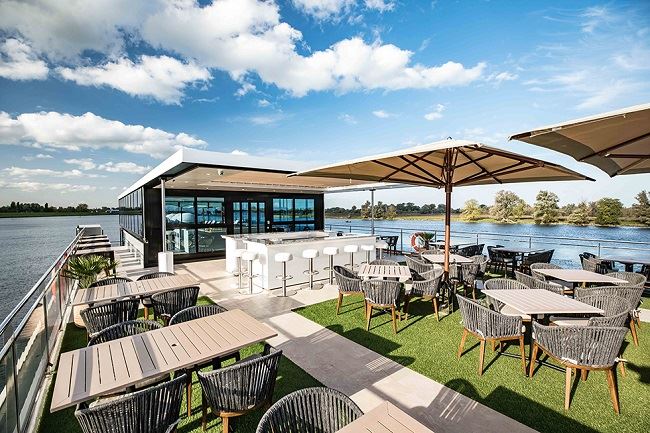 The ship's sun deck will feature a lounge area and restaurant. Photo: Tauck
The ship features many unique attractions, from canopied Balinese day beds, to an infinity-style swimming pool, and even an outdoor grill to host casual barbeques. But one of the most notable features on the Andorinha is a pop-up restaurant that rises up from the ship's Sun Deck on hydraulic lifts to become a fully functioning eatery with commanding views of the surrounding countryside.
The restaurant, named Arthur's for Tauck chairman Arthur Tauck Jr., is the company's first ship to position the restaurant on the Sun Deck. And when in its elevated position, Arthur's will be briefly lowered when approaching any particularly low bridges, to improve the Andorinha's clearance and allow the ship to continue along on its voyage.
Besides having its own menu, Arthur's will also feature its own dedicated kitchen and staff, and throughout the day it will offer complimentary self-serve fruit, snacks and beverages including cappuccino, latte, coffee and tea.

Just as impressive as the outdoor features, is the ship's interior. The Andorinha boasts a soaring glass-ceilinged atrium, tons of natural lighting throughout, and tiled décor to highlight the influences of Portuguese culture.
Tauck is offering three Douro River itineraries aboard the Andorinha in 2020; a 12-day journey that bookends a seven-night Douro cruise with two-night hotel stays in Lisbon and Madrid, an eight-day "cruise-only" itinerary along the river, and an eight-day Tauck Bridges cruise designed specifically for families.