The U.S. Is South Africa's Fastest Growing Market. Here Is Why.
by Natalie Preddie /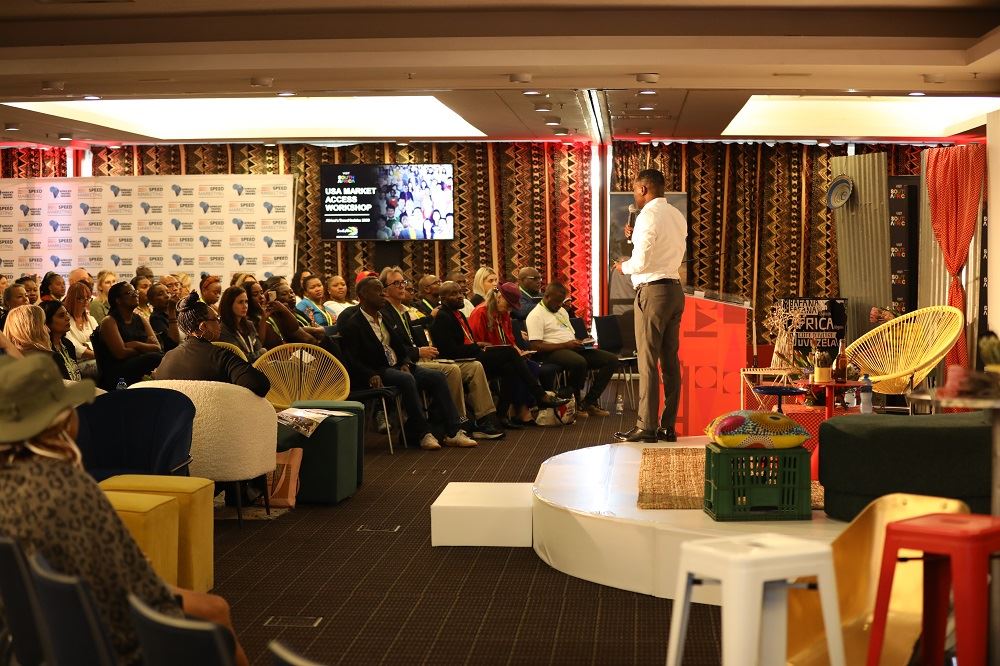 Last month, South African Tourism's North America team hosted a U.S. Market Access Workshop as part of Africa's Travel Indaba held at Durban's Inkosi Albert Luthuli Convention Center. This insightful 90-minute session offered South African small business enterprises valuable insights into both the American traveler and travel trade landscape.

With presentations by U.S. industry experts, attendees left armed with research and best practices on how to break into this fast-growing market by engaging with the U.S. travel trade to reach consumers.

Program Director, Jerry Mpufane, Hub Head of South African Tourism North America, kicked off the session with insightful statistics on South Africa's fastest-growing international market. Highlights included:
In 2022, the U.S. delivered a total of 262 183 arrivals into South Africa (220% over 2021) and 70% of the 2019 pre-pandemic levels placing them just behind the UK.
There is 45% more airline capacity from the U.S. since 2019
Holidaymakers are booking 4-11 months in advance and are spending approximately 12 in South Africa.
Western Cape is the most popular destination for American travelers
Current Insights on the U.S. Market
Neesha Pillay, South African Tourism's Head of Insights, shared highlights from the organization's recent study on the USA market. She noted that the continued increase in direct airlift from both Delta Air Lines and United Airlines was a major contributor to the growth in arrivals and bookings from this market. Furthermore, American travelers were motivated by exploring new cultures, history, and beautiful scenery.
"People no longer collect products," said Pillay. "They gather experiences which they can share."
Finally, Pillay emphasized that although the American dollar makes South Africa an affordable holiday option, destination partners need to work together to lower barriers such as safety, health, and political uncertainty concerns.
Who is heading to South Africa?
Shelby Johnson, VP, Partner of Travel and Mobility Strategy at UM Worldwide, shared that US travelers, who she referred to as "Adventurous Trendsetters," financially prioritize making long haul, expensive trips, providing deep, untapped value for South African tourism.
Adventurous Trendsetters are willing to pay more for truly unforgettable brands and experiences. They crave the rush of living on the wild side and chasing thrilling experiences on the unbeaten paths they're charting around the globe. They view travel as more than a passion but a fundamental facet of their self-identity that they are willing to splurge on.
For these travelers, the most compelling travel experiences provide cultural immersion exploring rich heritage and traditions celebrated by the hosts and friends they meet abroad.
Adventurous Trendsetters collect memories over material goods and are seeking providers who can promise a blend of luxurious upgrades, wellness benefits, and culturally authentic experiences that will expand their worldview.
Connecting with U.S. Travel Advisors
Shaun T. Whitley, CRO & Co-Founder, Travel Relations LLC, added his industry insight with an informative look at the North American distribution channel. Currently, there are more than 128,000+ travel advisors working across the USA and Canada and offering commissions or NET pricing is essential to leveraging this valuable external sales force.
He highlighted the importance of relationships with North American travel advisors. Despite their connections with host agencies or consortia (with preferred suppliers), many are open to working directly should one have a solid relationship.
He suggested that small business enterprises connect with travel advisors in a few important ways: sales calls, trade shows and webinars and trade portals on their websites with travel advisor resources (incl. educational content, images, selling brochures, sales contacts, commission structures).
Understanding the Black Leisure Travel Market
Stephanie M. Jones, MBA, Founder & CEO, Cultural Heritage Economic Alliance, Inc. (CHEA), closed the session with a focus on attracting the USA Black leisure travel market.
In 2019, USA Black leisure travelers spent $109.4 billion on travel, representing 13.1% of the USA leisure travel market. Jones highlighted Black travelers' desire to discover their African heritage, reclaim their ancestral roots and support Black-owned businesses. South Africa is an especially good fit for these tourists as there are shared values, rich cultural heritage, and diverse experiences.
Jones recommended that small business enterprises connect with travel advisors through travel trade shows, having a strong social media presence, hosting Black travel influencers, and partnering with counterparts in the USA.

In addition to the market access workshop, the South African Tourism North America team hosted a delegation of 70+ hosted buyers and media during Africa's Travel Indaba.