U.S. Air Travel Mask Mandate Expires Next Week, But an Extension Could Be Coming
by Daniel McCarthy /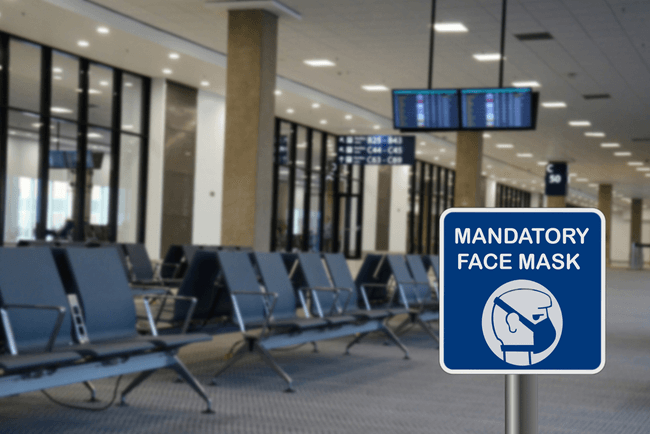 The federal facemask mandate for all public transportation in the United States, which extends to airports and air travel, is set to expire on Monday, April 18. However, it is likely that an extension is coming.
According to the head of the White House's COVID-19 task force Dr. Ashish Jha, the director of the Centers for Disease Control and Prevention (CDC), Dr. Rochelle Walensky, is going to make the decision this week and an extension is "absolutely on the table."
"This is a CDC decision and I think it is absolutely on the table," Jha told the TODAY Show on Monday.
The CDC first put the mandate in place in February 2021 and has been extended a number of times since its inception. According to Jha, Walensky's decision is going to be based on a framework that the CDC scientists create, a framework that should come out over the next few days.
If the framework is based on COVID-19 statistics, case numbers in some states caused by the new BA.2 omicron subvariant could tip the CDC to extend the mandate. That variant is responsible for close to 75% of new cases in the U.S., according to the CDC.
Still, while numbers in some states on are the rise, they still remain lower than the Omicron-surge at the beginning of the year and Jha told Today he was not "overly concerned" over the rise because "we were expecting this because we saw this in Europe," he said.
The travel industry has largely seen the extension of the mask mandate, along with the continued inbound testing rules, as a major drag on its recovery. The U.S. Travel Association has continued to push for both of those rules to be lifted.
That mandate has also caused issues for those who are tasked with enforcing it, mainly flight attendants, who have been the subject of an escalating number of verbal, and sometimes physical, attacks on airplanes. Just this week, the Federal Aviation Administration (FAA) announced the two largest-ever fines for passengers.