United to Begin Flying from Newly Renovated LaGuardia Terminal B This Weekend
by Daine Taylor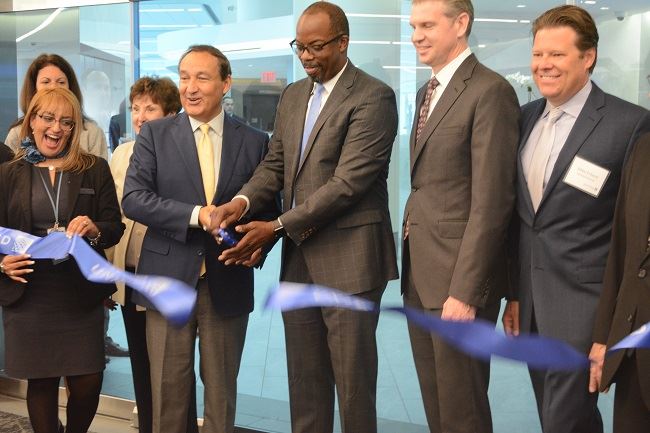 This weekend, United Airlines will be flying passengers from LaGuardia's newly refurbished Terminal B Eastern Concourse. The move is just part of a multibillion-dollar renovation project that started with Terminal B, and will continue throughout the rest of LaGuardia. The first flights out of the new United gates will take off on June 2.
"United customers depend on LaGuardia for frequent service to key business cities such as Chicago and Denver, and the new Terminal B represents a huge improvement in the facilities we are able to provide," said Jill Kaplan, United's president of New York and New Jersey.
"A world-class city like New York deserves a state-of-the-art airport, which is why we are absolutely thrilled to be moving our operations to the spectacular new Terminal B Eastern Concourse at LaGuardia Airport."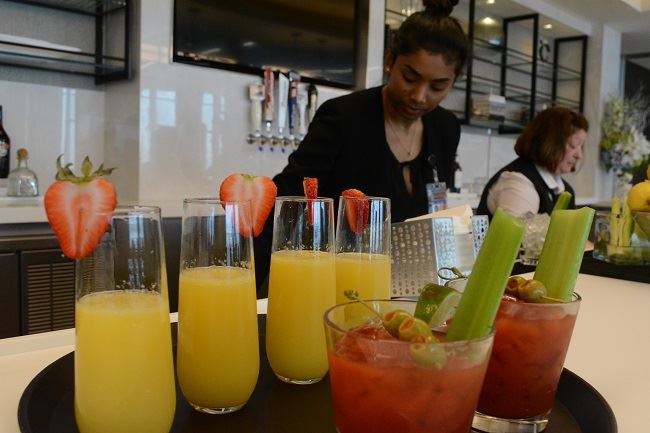 The new United Club at LaGuardia had everything a traveler could want; free Wi-Fi access, a classy bar, a New York-style buffet, even outlets and dedicated USB charging ports at every seat. Photo: Daine Taylor / Travel Market Report
The $4 billion, 1.3-million-square-foot redevelopment project of Terminal B was operated by LaGuardia Gateway Partners. The newly developed concourse features soaring ceilings up to 55-feet high and tons of natural light, courtesy of the floor-to-ceiling windows; as well as ample gate seating, with charging stations throughout the seating area along with free, unlimited high-speed WiFi.
Customers will have access to thirteen new shops, restaurants and services with everything from spas and locally sourced cafes, to a dedicated children's interactive play area (conveniently located next to an outpost of New York's famous toy store, FAO Schwarz).
"The move of United and its passengers into the first new concourse at Terminal B marks another key milestone of the $8 billion redevelopment of an entirely new LaGuardia Airport," said Rick Cotton, executive director of the Port Authority of New York & New Jersey, in a statement.
"This is another important step in our ongoing commitment to provide world-class facilities that turn Governor Cuomo's vision for a 21st-century LaGuardia into reality. And we are undertaking this comprehensive rebuilding of LaGuardia Airport while continuing full operation at LaGuardia and serving record numbers of passengers."



United Airlines CEO, Oscar Munoz, discusses features of the newly renovated terminal B Eastern Concourse during a media event at LaGuardia. Photo: Daine Taylor / Travel Market Report
In addition to the terminal renovations, the airline also introduced the United Club, an airport lounge open to club members, as well as the traveling public who can purchase a day pass.
Members of the media were able to tour the terminal and the United Club as part of the ribbon-cutting ceremony, giving the opportunity to get a sense of the sleek new additions. The Club sports a modern aesthetic with comfortable leather furnishings, and photos of United Airlines' long history with LaGuardia. The new space features everything a traveler could want: free WiFi, a classy bar, a New York-style buffet, even outlets and dedicated USB charging ports at every seat.
"I congratulate everyone involved in this, it's just spectacular," said Oscar Munoz, CEO of United Airlines. "Great cities deserve great airports, and for so long the infrastructure in this [facility] has struggled, [but] this place is just amazing."
Further renovations to the airport are expected to be completed by 2021, hopefully bringing a long-awaited and long-overdue makeover for LaGuardia.
"Our journey is to make you, the customer, feel better … this is a great step for us," said Munoz. "And with regard to the flying public, get here and get here soon, because the Shake Shack line is going to get long."