Volcanoes Safaris: Gorilla Trekking Comes of Age
by David Cogswell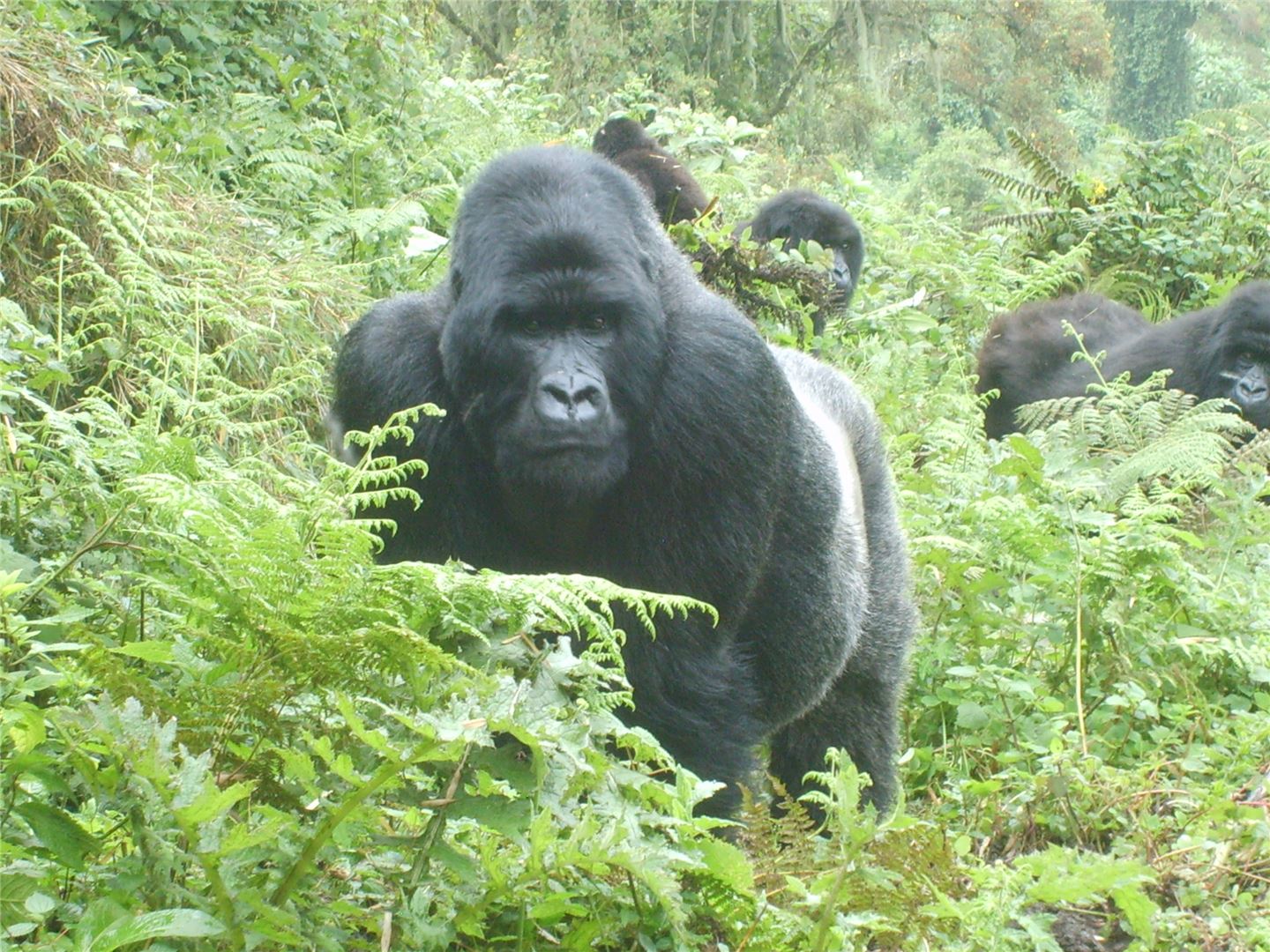 As a 12-year old boy in the 1960s, Praveen Moman roamed the wilderness of the Virunga Massif, an area surrounding a chain of eight volcanoes at the juncture of Uganda, Rwanda and the Democratic Republic of the Congo, which he calls "the very heart of Africa." He could not then have envisioned a time when his family would be forced to flee the area, and even less, that he would one day return to his childhood home, establish four lodges and become a major force in the establishment of primate tourism and conservation.
Moman's father was a colonial civil servant in East Africa who traveled incessantly, and Praveen inherited his father's love of the wilderness. "My father traveled endlessly, and I think that's when the wilderness bug really got to him," said Moman. "He loved the expanse of Africa."
Political chaos
When Idi Amin took over Uganda in the early 1970s and forced 50,000 Africans of Asian descent to leave the country, the Moman family became refugees and went to the U.K., leaving everything behind without much hope of ever returning.
After Idi Amin ran the country down and destroyed its economy, he was eventually ousted from power in 1979. The country remained in turmoil for several more years. When Yoweri Museveni seized power in 1986 and set up a democratic government, he invited Asians to return to Uganda.
Return to the heart of Africa
In 1997, Moman returned to the Virunga wilderness that he roamed as a boy. Inspired by the work of Walter Baumgärtel in the 1960s to establish gorilla tourism, he decided to try to set up a tourism business.
When Uganda settled down in the late 1980s, some controlled tourism had been arranged to help protect the mountain gorillas, which had dwindled in population to 300 in 1960. It helped save the gorillas from extinction. Without tourism, Moman believes, the gorillas can't be saved from the threat of poaching, people killing them for bounty.
"Tourism is central to making these areas work," he said. "If you don't give an economic value to the gorillas, there is no way for them to survive. So, you have to have tourism, but you have to limit it. It has to be sensitive tourism, or the gorillas will die. And it must be linked to communities."
Out of the ashes of war
Building a wilderness lodge is a challenging undertaking, at best, but making it even more difficult was the fact that it was in a conflict zone. Rwanda was making a painful recovery from the horrific genocide of 1994, in which an estimated 500,000 to 1 million people were slaughtered. Another 2 million had become refugees.
"I wanted to set up tourism," Moman said, "not only for myself, but for the rebuilding of the area. I walked into the aftermath of the [Rwandan] genocide. We had to deal with a lot of political upheaval, but we persevered. We built a camp that became a lodge in Mgahinga National Park in Uganda."
He called his company Volcanoes Safaris. Mount Gahinga was the first of the lodges, on the Ugandan side of the Virungas. Moman chose that place "because I went walking there as a child. I knew this area from a long time ago."
Moman could not have chosen a more difficult time to launch a tourism enterprise. "When we started, it was a difficult moment," he said. "Two million refugees were returning to Rwanda from the Democratic Republic of the Congo when I was trying to set up tourism. It was a philosophical challenge. Do you do things like that when there are people dying in front of you, who don't have enough to eat and have really had a rough time? In the end, I decided to continue because one day it will be part of an economy."
Volcanoes Safaris was the first to set up lodges near the gorilla parks of Uganda and Rwanda, to create ways for humans to meet the gorillas — an experience unlike any other.
"When you see the gorillas, you see something of yourself," Moman said. "They are habituated to the human presence. They are just carrying on with their lives, and you get to spend an hour with them. It's something very special. You are sharing something of your past together. We have to ask ourselves, when you have a special species like this, are you going to just let them disappear, let the forest disappear? Or are we going to make sure that, for posterity, we have this legacy?"
In 1999, the company built a second gorilla trekking headquarters, Bwindi Lodge in Uganda. In 2004, the company created Virunga Lodge, at the top of a high ridge overlooking the two lakes — Bulera and Ruhondo — in view of the Virunga volcanoes. In 2011, it established Kyanmbora Gorge Lodge.
The gorilla population has grown to more than 1,000, making it a great success story. But, it's still "a very precarious number," said Moman.
Engaging local communities
A large part of the success of saving the gorillas has been to bring the local communities into the equation, so they can benefit from the conservation.
The areas around the parks are among the most densely populated parts of Africa, where many people live on as little as $2 a day. If black marketers offer local people high prices for gorilla parts, it's unrealistic to think they would refuse opportunities to feed their families, unless there is a way to create a benefit for them from the tourism revenue.
"The community link has to be very strong," said Moman. "They have to be the guardians of these forests. If they do not have a stake, then the gorillas won't survive. It's a very complex paradigm."
The tourism companies employ local people as porters, chefs and food service providers, housekeepers and maintenance workers. They also finance projects to help support local communities providing homes, water tanks and other benefits.
The tourism companies are mandated by the governments to return 5 percent of revenues to supporting local communities. Rwanda recently upped the requirement to 10 percent. A gorilla tracking permit in Rwanda, allowing one hour with the gorillas, costs $1,500. It's a stiff price, but it contributes to the care and protection of the gorillas.
As gorilla trekking undergoes a boom in popularity and high-end tour operators practically pour into the area, Moman can look back on a long and difficult success story.
"Twenty years on, we have survived," Moman said. "We have prospered. It's been an emotional journey, but a very rewarding journey — a journey of much excitement. Virunga is a magical universe. The gorillas are lucky to live here. We are all lucky to share it. But, we must do it in a way that preserves it and does not destroy it."