What Travel Advisors Need to Know About Virgin Voyages
by Daniel McCarthy /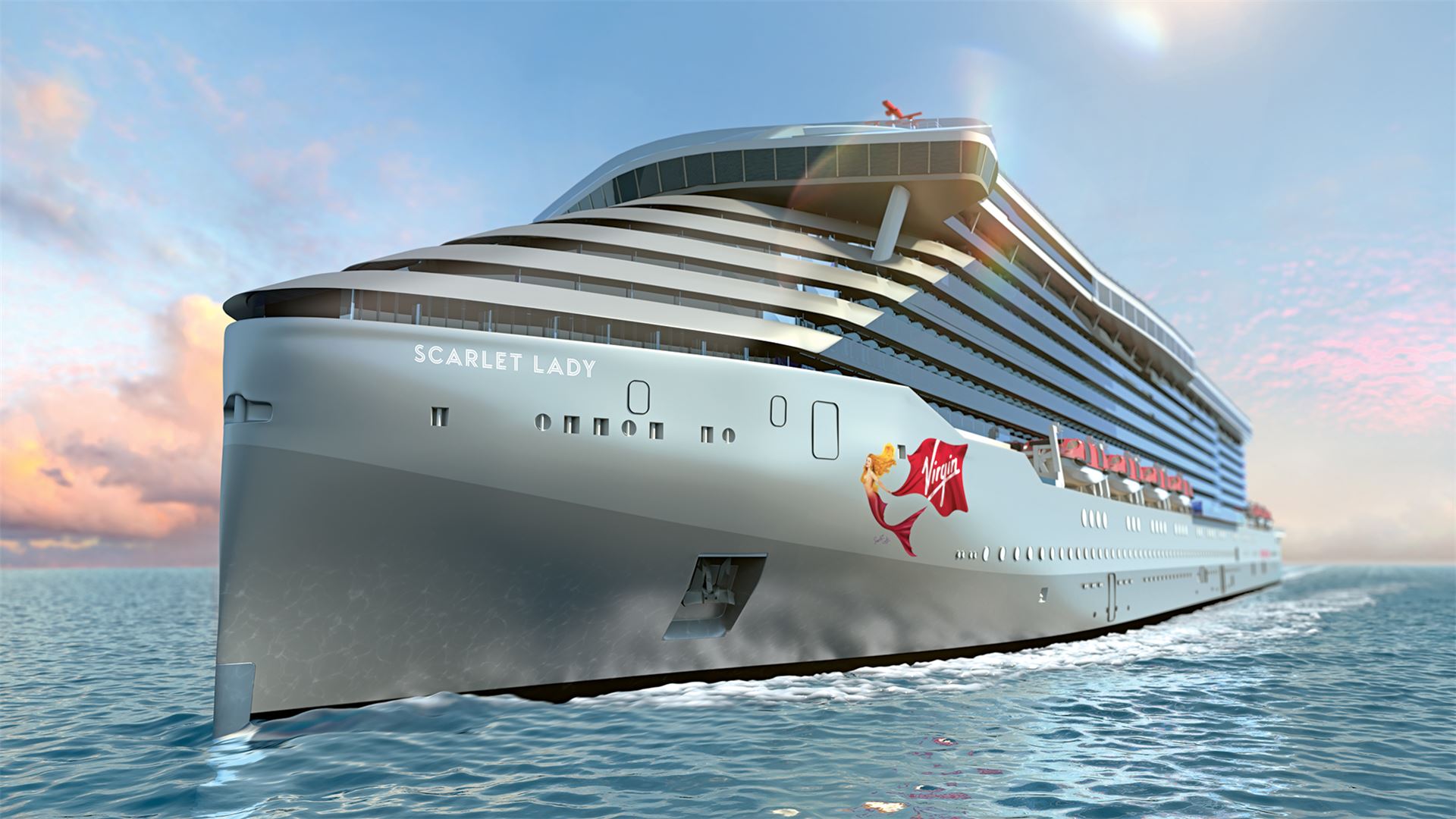 Virgin Voyages, the newest player in the cruise industry, has been making waves with its hardware.
Most important for the trade to know is how Virgin is introducing its product to advisors, and its desire to reach advisors by adopting policies that are friendly to the trade and show just how important they are as partners to Virgin.
Virgin's Stacy Shaw and Tom McAlpin took some time during Travel Market Report's recent Travel MarketPlace show in Canada to talk about the line's decision to dedicate itself to the trade, and how travel advisors can get informed about the product and get clients onboard.
Trade and commission policies
The biggest advantage Virgin Voyages had coming into the market was what it started, or didn't, start with. "The unique opportunity that we had was this blank sheet of paper," Shaw said. "We could completely rethink how to do things."
The primary goal was to eliminate the pain points that travel advisors identified during the brand's research, which was conducted before launching the ship. Namely, Shaw said, non-commissionable fees and commission on auxiliary items like shore excursions, dining, air, hotels — "all those things that they're doing to provide a great service for their client, they're not getting paid for it in most companies. We let that research guide the decisions that we made about our program."
To eliminate those pain points, Virgin Voyages has revealed that it will not feature any non-commissionable fares (NCFs) for its travel advisor partners, or First Mates, as part of its outreach that it is calling "An Epic Sea Change." All of Virgin's fares, starting with the cruise fare to add-ons like flights, hotel stays, insurance, shore excursions, spa packages, onboard credits, basic beverage packages, fitness classes, and taxes and fees, will be commissionable at 10% for its advisors.
"It's really critical for us to be able to use that distribution channel and spread the word about who we are, and also to sell us, because we're a different experience, so it's really an important part," McAlpin said. "We are seriously committed, and you can tell that by our commission structure, by our website, by SeaCiety."

Virgin Voyages' SeaCiety on Facebook.
SeaCiety and First Mate portal
To continue their outreach to the trade, and to continue learning about what travel advisors want, Virgin created SeaCiety, a closed Facebook group for its partners.
"We call it a social learning platform, and it's really an industry first," Shaw said. "What it does, in addition to educating people, is it gives them an opportunity to engage with us. So, all the listening we did in the few years up to the launch of the brand, we are continuing. We really want to continue listening to people."
To get in on SeaCiety, advisors need to be registered with the line's agent portal at FirstMates.com.
In the SeaCiety, Virgin will measure an advisor's engagement with the line with a metric called the SeaQ, which will be assigned to anyone who is in the SeaCiety. SeaQ, which is a private metric between an advisor and the team at Virgin, measures sales as well as engagement.
"So, if you're going into the SeaCiety and you're liking and commenting and sharing, it measures how big your own social reach is so we know how many people you're reaching. That all combines together to give you a score," Shaw said. "We want people who are sharing, who are engaged, and who are sharing the word about us with their clients."
Virgin will use that score for a number of things, Shaw said, including to determine which advisors can get onboard Scarlet Lady during its pre-inaugural events before its 2020 debut.

Virgin Voyages will sail out of a new Miami terminal when it debuts next year. Photo: Virgin Voyages.
Potential sailors
Virgin opened up bookings for its first ship, Scarlet Lady, earlier this year and bookings have already been strong for its inaugural season out of Miami.
With how different Virgin is doing things, it expects to attract sailors (guests) outside of the cruise universe, first-time sailors that haven't yet considered a cruise, which provides not only an opportunity for the industry to grow its population, but an opportunity for advisors to grow their client lists.
"We're trying to get people to think outside of the cruise universe. In addition to understanding the product and the experience, we're trying to work with our First Mates to help them understand who our Sailors are," Shaw said.
Still, the line might not be for everyone, and it is important that advisors properly identify which of their current or future clients will be most appropriate to get onboard.
"Don't try to fit a square peg in a round hole," Shaw said. "If they are telling you, 'I love buffets and rock-climbing walls' and the things that already exist on big ships, they probably are very happy with those brands — and our experience will look nothing like that."
"We try to reach First Mate partners who sell both land and cruise," Shaw added. "On the land side of things, if you have customers who wouldn't consider a more traditional cruise experience, don't be afraid to bring up Virgin Voyages, because our experience will be very different from what their perception is of traditional cruising. So, talk to him about it, explain what's different, understand what we're looking for, and then match the right customer to our experience."
Fams and ship tours
As Scarlet Lady gets closer to its debut, the team will "absolutely" have opportunities for advisors to get onboard and see the ship, McAlpin said.
"We're not just launching another ship. We are launching a whole new company and a whole new brand. We will spend a more substantial amount of time showcasing it," he added.
The ship will leave from Genoa and will first stop in Dover and Liverpool in February 2020, where U.K.-based advisors will have an opportunity to get onboard. Then, the ship will come to North America ports on its way to Miami, where it will also invite advisors onboard.
Advisors who want to be included on those tours should be proactive as the calendar moves closer to Scarlet Lady's debut.
"Everybody wants to see the ship, everybody wants to go on Scarlet lady, and we'll get as many as we can, but we can't get everybody," McAlpin said.
Getting registered at FirstMates.com, booking guests, and getting involved in SeaCiety will increase the chances for advisors to get one of those opportunities. The higher the advisor's SeaQ, the higher the chance they'll be able to see the ship.
Virgin is currently running a contest that ends on June 30. The top 100 sellers will be guaranteed a spot on one of the pre-inaugural events for Scarlet Lady.