What Travel Advisors Should Know About the Great Wolf Lodge
by Bill Fink /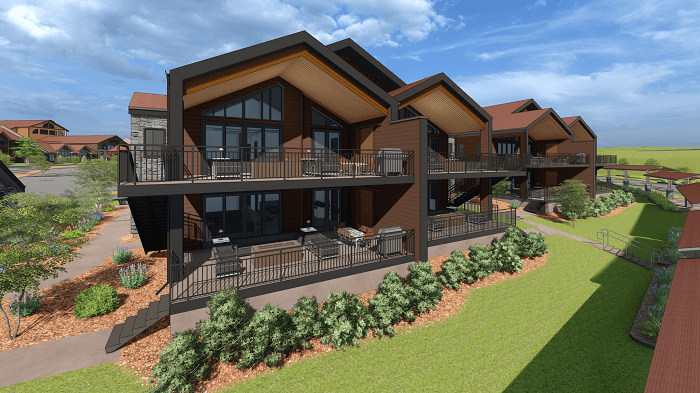 Great Wolf Lodge, the family destination waterpark resorts chain recently announced it will be expanding its footprint of 19 nationwide destinations with four additional locations: Maryland (opening mid-2023), Connecticut, Florida and Houston, Texas (2024 target dates).
While guests typically reserve stays at Great Wolf Lodge directly, travel agents can get a commission for booking clients depending on a specific location's policy. According to the Great Wolf Lodge website, "travel agents can receive a commission on the best available rates when reservations are booked through the Reservations Center or a GDS system using their IATA number."
The indoor waterparks make for a great winter escape, and deals and special offers can often be found in non-holiday timing, so check the Great Wolf deals page for the latest.
The resort
The basic concept of a Great Wolf Lodge is a family-themed self-contained hotel and entertainment center built around a waterpark, with multiple restaurants and additional attractions contained within.
Together with family, I've visited Great Wolf Lodge locations in Southern California (Anaheim), Northern California (Manteca), and in Washington state (Great Mound). I found the features, rooms, restaurants, attractions, and the overall vibe was pretty standard across locations, meaning guests can be confident they will have a similar experience at any Great Wolf destination.
The Water Parks Within Great Wolf Lodges
The water parks are the major attraction at any given Great Wolf Lodge. Most are indoor-outdoor combinations, with the bulk of features inside the building. They're massive spaces, up to 105,000 square feet, heated to a tropical 84 degrees.
The waterparks feature a handful of taller, longer water slides, requiring a climb up three stories of stairways. Some of the steeper slides have a 48" height limit for kids. Riders can descend the slides singly or in groups of up to five on large inflatable innertubes. The steeper slides I can attest can be thrill rides even for adults!
Smaller kids and toddlers can frolic in smaller wading pools with play features, and hop on pint-sized and mid-range slides for some manageable fun. A large wave pool provides some body-bobbing fun for kids and more mellow adults.
The pool serves basic amusement-park-type snacks like pizza, hotdogs, and burgers, with the added attraction of a beer and fruity cocktail bar for parents.
MagiQuest a Major Attraction
For many kids, Great Wolf Lodge's "MagiQuest" is just as fun as the water park. In MagiQuest, kids (and some teens and adults, including enthusiasts in full wizard costumes) use an electronic wand device to go on a scavenger hunt-type journey around the hallways and common areas of the hotel. Solving riddles, using clues, and gathering electronic coins, MagiQuesters can spend many hours over multiple days to slay dragons and achieve goals on multiple levels of different challenges. The electronic wand is an extra charge, included with most activity packages, with additional accessories available for purchase.
A Full Boatload of Activities
Beyond the waterpark, Great Wolf Lodge is packed with enough activities to keep a family fully entertained for a weekend. Clients should be cautioned that unlimited activities can tax the pocketbook with supplemental charges, so families should plan ahead and purchase more cost-efficient inclusive packages if they expect to do the full circuit.
Activities include a dizzying array of blinking, ringing, singing, and building options. Great Wolf Lodge arcades feature the latest video games, along with old favorites like skee ball, claw toy-grabbing machines, and even whack-a-mole. Players can win reams of tickets to exchange for mostly junky prizes, but some jackpots award bikes or video game consoles.
Other activities include a Build-a-Bear Workshop where guests assemble stuffed animals and dress them up (for additional charges). Neon miniature golf courses, mirror mazes, prospector-style gem hunting sluices, and ropes courses add to the activity slate.
Great Wolf Lodge also offers free (yes, free!) crafting activities, sing and dance-along, story times, and mascot meet-ups at regularly scheduled times all day through early evening. These activities are geared more toward the 7-and-under crowd, but crafty kids of all ages do get involved.
Holidays are big events at Great Wolf Lodges, particularly their Christmas-themed Winterfests and Halloween celebrations with fun décor, additional activities, and a festive environment. Expect bookings to be busier during these times and so plan further in advance.
Food and Lodging
Great Wolf Lodge guests can choose regular and deluxe queen suites, with two beds and a sleeper sofa (sleeping 4-5), or premium, themed suites with features like a wolf-den bunk bed room and log cabin décor. Two-room suites can sleep up to 11 guests.
For dining, Great Wolf Lodges offer multiple restaurants at all locations. Options include both sit-down and buffet-style meals, with the added feature of alcohol service to help the parents relax. The expansive breakfast buffet is a good way to start the day, while the in-house Starbucks gives a lighter option. Some healthier fare can be found at full-service dining venues, while candy and ice cream shops provide indulgent desserts.