What to Know About the New Dutch Caribbean All-Inclusive Resort Sandals Royal Curaçao
by Cynthia Drake /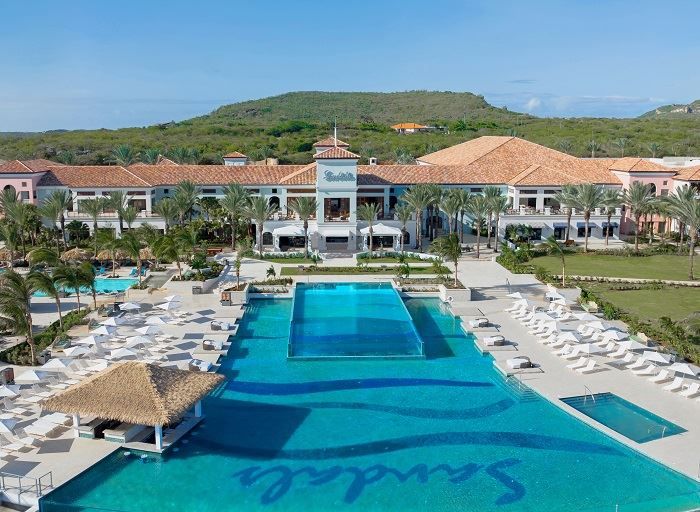 Sandals Royal Curaçao, the newest addition to the Sandals portfolio of all-inclusive resorts across the Caribbean opened in June in Curaçao.
The resort marks the company's first foray into the Dutch Caribbean, to a country that has stayed fairly under the radar for American travelers. Sandals celebrates the culture of this destination with unique culinary offerings and expanded opportunities to explore outside the resort. Four languages are spoken widely in Curaçao (pronounced "cure-a-sow"): principally Dutch, Papiamentu, English, and Spanish.
"This is the first time our company has left the English Caribbean to come to the beautiful Dutch Caribbean island of Curaçao," said Adam Stewart, chief executive officer of Sandals Resorts International. "We hope it's not the last because we have big plans. Our job here is to move away from the noise and be able to [direct travelers] to see if there is something magical."
Sandals Royal Curaçao features 351 rooms and suites located on 44 acres, part of the larger 3,000-acre Santa Barbara Plantation, remotely located about eight miles southeast of capital city Willemstad and a 45-minute drive from the Curaçao International Airport.
Despite the large property size, the adults-only resort feels intimate rather than sprawling, with the main buildings wrapped around the pièce de résistance: a two-level infinity pool that overlooks the turquoise waters of the Spanish Water Bay. Spending a day here, or on the property's small beach with unlimited complimentary food and drinks, is truly a restful experience.

Though the property was just newly opened and many facilities and services were still coming online when Travel Market Report previewed it during grand opening festivities in June, early impressions revealed a resort that favored a tranquil, laidback environment showcasing the natural surroundings instead of a full slate of daily activities.
As with Sandals' other properties, there's an emphasis on inspiring romance for the couples who stay here, from intimate beach dinners to heart-shaped beach canopy beds. The property had formerly been Santa Barbara Resort Curaçao until June 2020, when it was purchased and dramatically renovated to reopen for its debut as a Sandals property.

Photo: Sandals
Most of the rooms have at least a partial ocean view—though some may be obstructed by palm trees and foliage. Many first-floor rooms feature swim-up back patios with lounge chairs and access to smaller pools shared with other first-floor guests.
The Kurason Island Poolside Bulter Bungalows are eight bungalows organized around a heart-shaped pool, each with a swim-up deck and an outdoor soaking tub, staffed by an exclusive personal butler assigned to provide round-the-clock service, whether you're at the bungalow or the pool.
Of the 24 room categories, the most exclusive are five Awa Seaside Butler Bungalows constructed overlooking the sea. Each of these includes a private infinity pool and an extended sun deck, along with an oversized outdoor soaking tub.
For these last two room types, exclusive to this property is the complimentary use of one of a fleet of convertible MINI Coopers to explore the island by reservation. And butler suite guests and top-tier Sandals Select Reward Members staying at least seven nights can enjoy a $250 voucher to dine at one of eight selected Curaçao restaurants, as part of the brand's newly debuted Island Inclusive program.
There are opportunities for all guests to explore the island with easy on-site tour bookings through Island Routes, offering excursions from Curaçao distillery tours (the bright blue liqueur emblematic of the island's sea views) to catamaran sunset sailings and electric bike tours. Sandals offers two free dives per day for certified Scuba divers. Located adjacent to the resort is an 18-hole Pete Dye-designed golf course.

Photo: Cynthia Drake
Eight complimentary restaurants are available for dining at Sandals Royal Curaçao: Mediterranean-themed Aolos earns high marks for its panoramic outdoor ocean views; Pietra offers Italian cuisine and a popular pizzeria for dining in or to go; Gatsu Gatsu serves up sushi for dinner; Kanaal is a property exclusive wine/cheese bar and cafe (not open yet as of press time, but expected to open soon); Strand (Dutch for "beach") offers waterfront casual seafood and grilled items to order; Zuka features Latin fusion; Vincent is a new restaurant concept in homage to Dutch painter Van Gogh, and Butch's is Sandals chop house for steak and seafood.
Guests can also order from three food trucks permanently stationed at the beach (you order from a server who brings the food to your table): Toteki (Curaçaoan cuisine and burgers), La Palma (Spanish tapas), and Kishi (Asian fusion and bao buns).