Why Travel Advisors Should Use Video to Grow Their Business
by Daine Taylor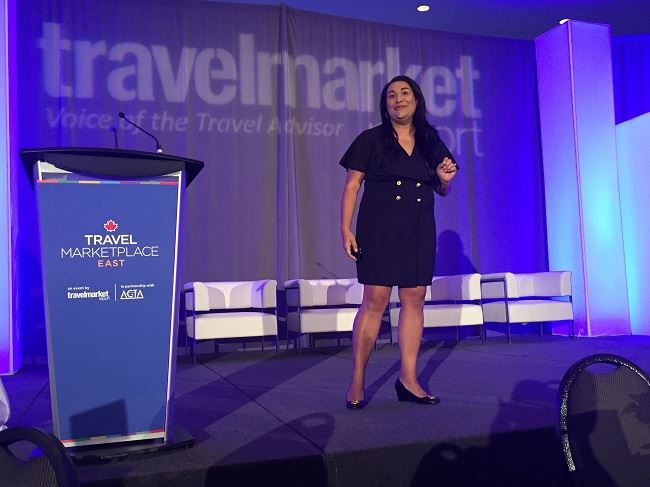 Nearly every travel business today has some level of online presence, whether it be a company website, regular e-newsletter, or just an official social media account. However, many travel brands ignore one important facet that could make the difference between attracting potential clients and keeping them engaged, or losing them forever — video.
Husband and wife team, Anthony and Sandra McLemore, led a break-out session at the Travel Marketplace East conference in Toronto last Thursday, where they discussed the importance for travel advisors of incorporating video into their travel business, and offered useful tips to help overcome some common fears associated with being on camera.
Sandra, a travel industry expert and TV host, talked about how to use video to grow your business; while her husband Anthony, an award-winning writer/producer/director/TV host, discussed how to perfect your video script to reach your ideal clientele.
According to Sandra, travel brands need to use video to be successful nowadays. It is the preferred medium for consumers, has a higher entertainment factor, and requires less effort than just reading.
"We like to consume video. There are certain things that we like to read, but for the most part, we want video. So, it's consumers' preference," said Sandra.
It's important because, as advisors, "you need people to build the 'know, like and trust factor' before they will buy from you," and letting potential clients hear from you and your previous clients can go a long way in building that relationship.
The pair went over the major live streaming video platforms: YouTube Live, Instagram Story, and Facebook Live — and how these models can be used to add value to your travel business in the eyes of the consumer.
In addition to live video, they also suggested including a collection of "evergreen" videos on your travel site to help consumers get a better grasp of who you are and what you have to offer for them.
They advised having three specific types of videos. An About Us video, which tells viewers who you are, what you offer, and how you can help them. A Services video, which informs viewers what you have to bring to the table, including service fees, and the various elements of travel you book (airlines, hotels, insurance, cruises, tours, etc.). And finally, your Testimonial videos, because the only thing more important than what you say about yourself is what others say about you (and customer-generated reviews often rank higher to potential clients than advisor-generated content), so providing customer testimonial videos is a great way to do this.
"It's increasingly becoming one of those things where you want to know what other people have to say," said Anthony. "Even if it's something as [mundane] as me buying a supplement from GNC, I want to know what other people say."
Sandra also reinforced the importance of client testimonials. "Don't be offended by this, but it's quite possible that your clients and your audience want to know [about travel] from someone you already sent there, as opposed to you," said Sandra. "As they build the 'know, like and trust factor, they will learn to trust you more, but in the meantime, they're looking for [consumer-generated] recommendations."
They also shared tips on how to overcome common fears associated with being on camera, as well as how to craft concise and effective scripts to help make sure potential clients understand your message.
"One of the most important factors of making video is [determining] what your audience needs to hear from you in the video to know that you are a good fit for them," said Anthony. Advisors have to "determine what your customers need to know about you and your business, and how best can you articulate your message."
The session offered valuable tips for helping travel advisors expand their reach to potential clients, spark more engagement, and ultimately generate more sales for their travel business.