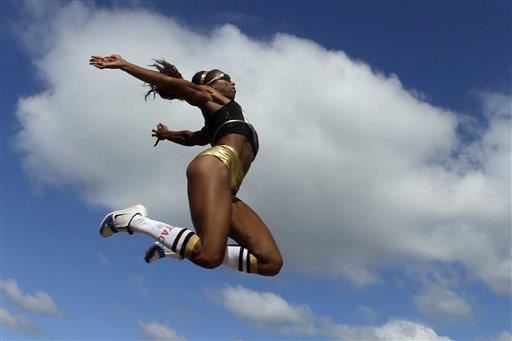 Competing in athletics at an international level takes tremendous discipline and determination, two attributes that also are of great use to starting your own travel agency. And former track star Brianna Glenn is using both to build a thriving business.
"I have no thought process of being average. The approach I take to anything in life, I'm conditioned to say, 'This is something I want to achieve. What do I need to do, need to change, to get to this goal?' " said Glenn, who finished ninth in the 2002 World Cup and seventh in the 2006 World Athletics Final, and qualified for the World Championships in Berlin in 2009.
Glenn became the first female athlete in NCAA history to win the long jump and a sprint event at the 2002 NCAA Outdoor Championships. She was inducted into the University of Arizona's Hall of Fame in 2007 and appeared as a model in a Sports Illustrated campaign as an Olympic hopeful.
With no formal travel training, Glenn has leveraged her confidence, self-discipline, extensive travel experience and passion for adventure to build an online brand.
A circuitous route to travel agent
Glenn attended the University of Arizona on a full track and field scholarship. On her trip to her first international meet in Monaco in 2001, she became the first member of her family to use a passport. Her extended stay at a relay training camp and luxury resort there "set the bar quite high. I knew I was hooked."
During a 10-year career as an international athlete, she spent her summers in Italy and Germany while traveling from one meet to another across Europe. "A couple of years into my career, I started to get comfortable living in another country, understanding what local living was like, the grocery stores, what to do with your free time on the weekend," she said. "I started to get this sense of awareness about the differences between places like Cologne compared with Berlin or Munich. I could feel the distinct cultures, even within a nation."
When she retired from athletics in 2011, she became a pharmaceutical salesperson, but didn't feel satisfied. "It was a hard transition to go from something like athletics, that you are passionate about, and find a job to pay the bills. I was a little lost. I always felt entrepreneurship is how I am wired."
So she asked herself, "What do I do that I already love?" The answer was clear. But she had no knowledge of the travel industry or how to get into it. "I actually asked myself, 'Who even uses a travel agent? Who can I talk to?' " So she joined a host agency recommended by a friend of friend. "I definitely feel you need those training wheels to launch," she said.

Glenn enjoys Paris during a recent visit.
By November 2014, Milk and Honey Travels was open for business, mostly serving friends and family. But with her attention for detail (most of her trips are custom FIT itineraries), and desire to offer a full range of options for each potential client, Glenn found that her profits weren't paying her enough to earn a real living.
The athlete and her training came back to her. "When you're trying to achieve a better time, or a longer leap, you have to look at what you are doing and see why you aren't achieving your goal. In 2014/15, I wasn't even tracking my sales, my hours worked. So I took time to pull up the hood and look at my numbers."
Data in hand, Glenn built a business plan based on higher-end trips that would generate more revenue per transaction. "I needed the discipline to be picky on what trips I work on and how I use my energy, even if business is slow."
Today, she works on only five clients per month on average, and is starting to see some consistency in sales and profits. "I'm starting to consistently make a certain amount per month, and now I can calibrate if I need more trips or a higher level of trip."
Building her online brand
Glenn's business model is apparent by her social media presence. Her posts and photographs tell a story of a woman with a passion for Southeast Asia and luxurious exclusive experiences.

Glenn on a 2017 river cruise in Ha Long Bay, Vietnam.
"By and large, social media isn't where I am selling. It's a place and platform to share and inspire. The more I explained why travel is important to me, my unique approach to travel, the more clients I've acquired who fit my target customer base."
She's proud of how far she has come in a short time, but credits a lifetime of pursuing gold medals with giving her the training to succeed. "There's always a way. It's not just closing your eyes and saying a prayer. It takes discipline."