New Opening: 1 Hotel Nashville, the Eighth Property in 1 Hotels' Growing Portfolio
by Daniel McCarthy /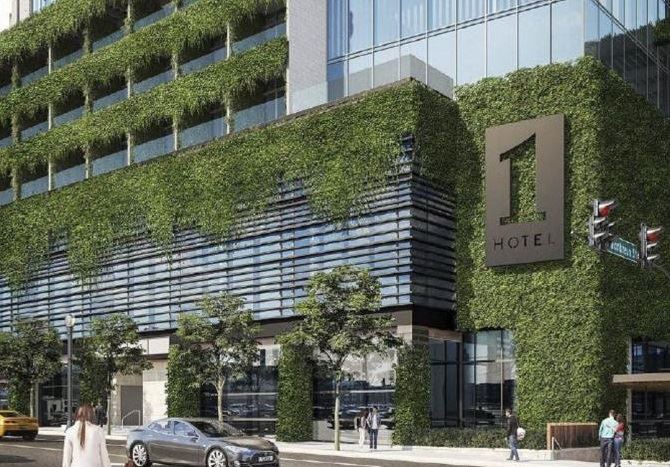 1 Hotels this week celebrated the opening of 1 Hotel Nashville, the brand's first property in Nashville and its eighth hotel overall.
The property adds 215 rooms, including 37 suites, to the city's downtown, located directly across from the Music City Center and within walking distance of the Country Music Hall of Fame. The rooms range from the 372 sq. ft. Cityscape King, to the 1,029 sq. ft. Panoramic One Bedroom Suite, and the 2,000 sq. ft. Terrace House Suite, which offers a private terrace with a large dining table and uninterrupted views of the city's skyline.
1 Hotels, which brands itself as a sustainability-focused luxury lifestyle hotel brand, will bring its signature touches into the new Nashville hotel, with wooden room keys, in-room chalkboards to reduce paper use, closet hangers fashioned from 100% recycled paper, and more.
For food and drink, the hotel offers three different dining concepts.
The first is 1 Kitchen Nashville on its ground floor, a farm-to-table casual restaurant with a menu of cold-pressed juices, smoothies, and more. The second is Harriet's Rooftop Bar, which offers a menu of wellness cocktails prepared with fresh juices blended in-house along with views of the city's skyline. The last is Neighbors, a laid-back café that services picnic fare highlighted by regional produce and local ingredients.
1 Hotels launched in 2015 with the openings of its Miami and Manhattan hotels. Since then, the company has added hotels in Brooklyn (February 2017), West Hollywood, on Sunset Boulevard, in June 2019, Sanya (China) in 2020, Toronto in 2021, and most recently San Francisco.
"With the opening of 1 Hotel Nashville, we celebrate our brand's entry into this dynamic and culturally rich region," Barry Sternlicht, 1 Hotels Founder, Chairman, and CEO, said.
"We're excited to bring a tangible demonstration of our overarching mission, vision, and purpose -- including a commitment to luxury sustainability, communities, holistic health and wellness, and natural design -- to an iconic city, admired for its positive energy, devotion to live music, down-home hospitality, festive food, and family fun."