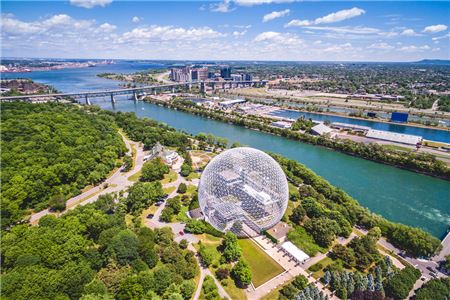 A year of celebrations, a strong economy and increased international flights contributed to the more than 23 million international visits to Canada in 2017, an increase of 3.1 percent over 2016.
According to the Conference Board of Canada's Travel Markets Outlook, "rising confidence" among Canadian households and businesses" also factored into the banner year, though without the anniversary celebrations, visits likely will grow at about 2.5 percent in 2018.
The impact of the celebrations can be seen in the Conference Board's forecasts that Ottawa-Gatineau visits were up 5.5 percent this year, and Montreal overnight visits increased 5.1 percent. While both cities have hosted events all year, Ottawa held a grand national celebration July 1, also known as Canada Day, marking the 150th anniversary of Canada's confederation.
"With this major milestone behind us, we can anticipate more subdued growth going forward. However, tourism will continue to be boosted by the low Canadian dollar, increased direct air capacity, and new marketing efforts," said Greg Hermus, associate director for The Conference Board of Canada's Canadian Tourism Research Institute.
Overnight visits from the U.S. are expected to remain stable, growing by 2.7 percent in 2018, the same as it did in 2017, dampened partly by an expected appreciation of the Canadian dollar, and higher gasoline prices impacting some of the key U.S. drive markets.
Meanwhile, domestic Canada overnight travel will grow by about 2.3 percent in 2018, down from 2.9 percent in 2017, the Conference Board said. "The environment also remains conducive for growing business travel in Canada even though economic growth is expected to moderate next year," the Conference Board forecasted.
A good deal of the 2017 success was due to travel from outside Canada and the U.S., where the Conference Board believes traffic grew by 7.1 percent. That growth rate, too, will slow in 2018, to about 6.2 percent.
China is expected to be a major contributor to growth in 2018, as the two countries celebrate the Canada-China Year of Tourism. The Conference Board expects Toronto and Vancouver will have the strongest increase next year at 3.4 percent each.
Overnight visits are predicted to grow by 2.7 percent for Québec City in 2018, while Montréal is forecasted to see overnight visits increase by 2.2 percent, the Conference Board said.
Travel Market Report will be hosting two Travel Marketplace conferences for travel agents and industry suppliers in 2018, March 1-2 at the JW Marriott Parq in Vancouver, and May 22–23 at the Westin Harbour Castle in Toronto. Click here for more information.