Carnival Cruise Line Changes Menus at Specialty Restaurants, Main Dining Room Breakfast
by Daniel McCarthy /

In an effort to keep "culinary offerings fresh and exciting" for its guests, Carnival Cruise Line said it will revamp menus for a number of its specialty dining restaurants.
Changes will be made to the menus at Carnival steakhouses, Cucina del Capitano family-style restaurants, onboard delis, and the breakfast menu in the main dining rooms.
Steakhouse changes
The cruise line's steakhouses will now offer appetizers such as iced and smoked fresh oysters with apple mignonette, tuna tartare, risotto with crab, and heritage Berkshire pork belly with apple walnut preserve.
Also on the menu will be Wagyu steak, in addition to its selection of USDA prime steaks, along with new entrees such as farmhouse chicken with roasted honey vinegar, and Dover sole pan-seared with lemon potato-mousseline and shallot emulsion.
Cucina del Capitano specialties
Italian restaurant Cucina del Capitano will add more diverse dishes to its bill of fare starting on the Magic, Vista, Breeze, and Sunshine next month.
Dishes such as branzino al forno in crosta dorata, and risotto milanese with saffron and parmesan cheese, will be added. A new house-made burrata will also be available on menus.
Main dining room breakfast
Avocado toast, recently reported by TMR as one of the biggest food and beverage trends for 2018, will now be a staple of all breakfast menus in Carnival's main dining rooms.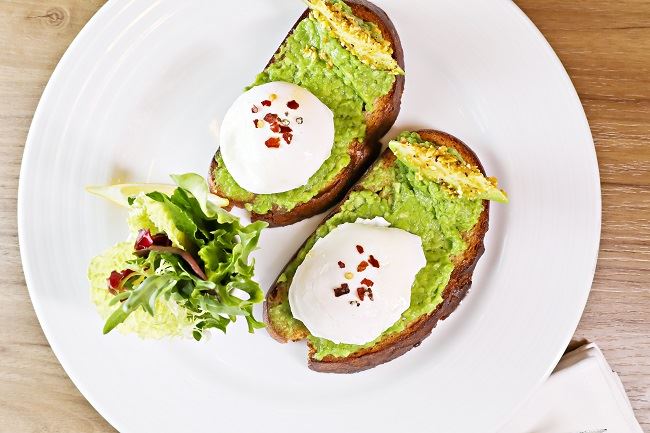 Avocado Toast will now be offered as part of Carnival's revamped main dining room breakfast.
A new breakfast bowl with kale, spinach, faro wheat berries, sesame seeds, feta cheese, raspberries and a sunny side up egg will also be offered; as will a fresh-baked broccoli and cheddar egg frittata.
"Breakfast Express" — a 25-minute, sit-down meal featuring orange juice, eggs, hickory-smoked bacon or sausage and pastries"— will be available on port days.
So far, 12 Carnival ships have been given the changes. The new breakfast menus are expected to go fleetwide by the middle of next year.
Also brand new is the classic Baked Alaska, made out of cake and ice cream topped with merengue. The dessert, which was removed from Carnival's menus years ago, will be paraded throughout the dining room prior to dinner service each night, giving guests a chance to catch a mouth-watering glimpse of it before ordering.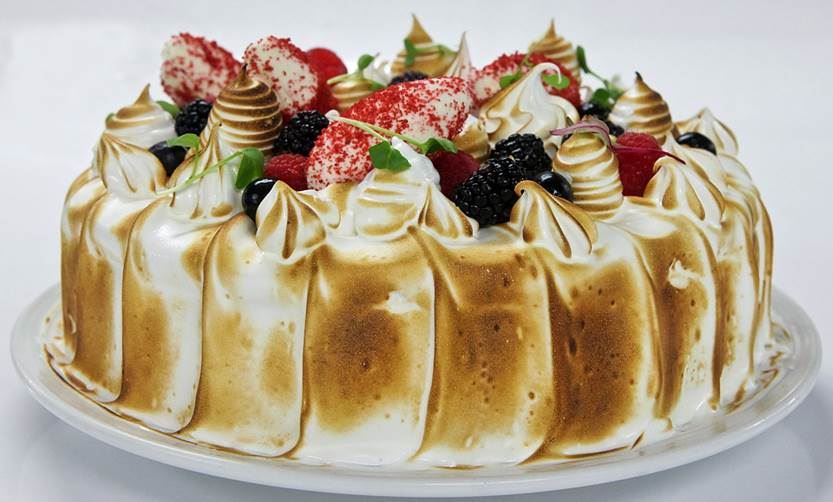 Carnival's Baked Alaska will once again be offered as a desert in main dining rooms.
Deli sandwiches, pizza and seafood, too
All of the delis on Carnival ships will offer a host of new choices, including meatball and buffalo chicken sandwiches; the Cubano with roasted pork, ham, pickles, mustard, and Swiss cheese; southwest chicken; falafel; and turkey wraps. A new salted chocolate chip cookie, baked each day, will be offered for dessert.
Carnival's 24-hour pizzerias will also get a facelift to their menus with five new hand-tossed, thin-crust pizzas: Margherita, pepperoni, artisan-style four-cheese, mushroom, and prosciutto.
Seafood Shack, which debuted on the Carnival Vista last year, will be added to nine more ships in 2018.

New selections at Carnival delis include buffalo chicken sandwiches.