As more Americans seek domestic vacations and authentic experiences, Chicago is seeking to grab a share of the experiential travel market by promoting its neighborhoods and local culture.
Supported by new independent boutique hotels in Chicago's up and coming communities, local chambers, arts councils, chefs and brew pubs are creating destinations within the city that attract culinary and cultural tourists, said Melanie Perez, director of media relations at Choose Chicago.
"Visitors are coming for the vibrancy that is being created by our brew pubs, hotel bar mixologists and local chefs who have loyal followings around the country," said Perez, interviewed at a media event in New York City.
Dozens of the city's 77 neighborhoods have transformed themselves into tourism hubs, including the West Loop, Wrigleyville, Wicker Park and Lakeview. Chicago promotes its immersive neighborhood experiences alongside prominent traditional attractions like the Shedd Aquarium and the Museum of Science and Industry. The effort is helping the city attract more of the lucrative Millennial market.
New boutique hotels
The 69-room, 12-story Robey is a new lodging option in Wicker Park, about four miles northwest of Chicago's Loop district. Once known as an inexpensive neighborhood for downtown commuters, Wicker Park and neighboring Bucktown today are hip communities, distinguished by their Victorian homes, tree-lined streets, restaurants and cafes, and artist communities.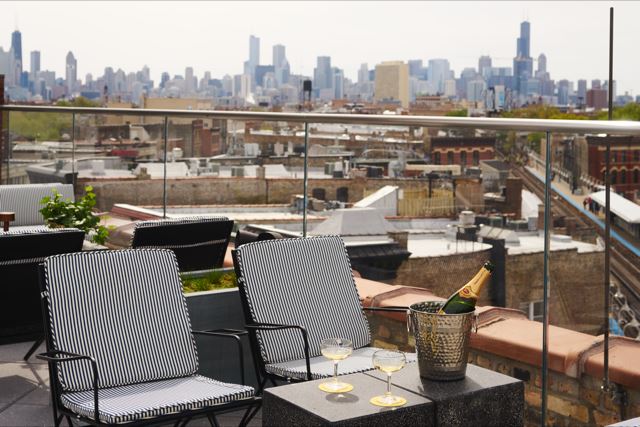 The Robey Hotel's views from its Cabana Club rooftop lounge.
The Robey recently opened the 160-seat, Cabana Club, a rooftop lounge, bar and hangout for hotel guests and locals.
Similarly, the 159-guest Ace Hotel, under development in the Fulton Market neighborhood, will feature a lobby bar, ground floor restaurant and Stumptown Coffee Roasters (a Midwest staple). Ace Hotel restaurants have won awards from major culinary magazines, like Bon Appetit.
Named for Wrigley Field architect Zachary Taylor Davis, the Zachary Hotel (scheduled to open across from the stadium in 2018) will have an open second floor lounge area that will allow guests and locals to feel the street scene below. "Hotel Zachary will be a second home for city explorers, business travelers, visiting families and baseball enthusiasts, who seek an environment that allows one to live like a local," the developers proclaim in marketing materials.
Support for agents
While Choose Chicago hasn't offered fam trips for domestic agents recently, it does assist agents who are visiting the city. "We want them to come here with their families. Based on their qualifications, we will obtain for them a CityPASS, or tickets to venues and attractions, so they can explore Chicago," said Brian Said, Choose Chicago vice president, global development.
"Education is really, really important. But it is hard for a travel agent to be an expert in every city––and Chicago has 77 neighborhoods that are evolving fast. Every major city in the world has a plethora of activities, and how agent tailors that information with their customer in mind is critical."
Said and his team help market to and educate the travel trade.
Festivals are key selling points
One of Chicago's biggest draws for travelers is its festivals. "Chicago has numerous festivals that draw tourists to neighborhoods that celebrate local culture and cuisine, and agents can educate travelers about them if that fits the customer's profile," said Perez.
For example, Chicago hosts the internationally famous Lollapalooza music festival (Aug. 3-4) and the 101-year-old Chicago Jazz Festival (Aug. 31-Sept. 3). For gourmands and beer fans, the Taste of Chicago is July 5-9 and attracts 1.5 million visitors a year, while the Chicago Craft Beer Festival is scheduled for July 22-23.
Perez said 2018 will offer an opportunity for clients interested in art and culture. Art Design Chicago is a 25-exhibition program that will take place throughout the city and is expected to draw visitors and residents into Chicago's neighborhoods.