First Travel Agency In-House Video Production Studio Opens in Toronto
by Lynn Elmhirst

There's a lot more to Travel Edge's expanded Toronto digs than office space.
The luxury Virtuoso travel agency now occupies three floors of an office tower in the heart of downtown, one of 10 offices in the U.S., Canada, and Bermuda. The expanded Toronto space allows company services including finance, technology, and marketing to work together to support its more than 150 Canadian and 400 U.S. advisors.
The expansion included space for the construction of a full, in-house media production studio, with professional-quality video, sound, and photography capabilities; and staff, including video editors.
It's a first in North America, according to VP Brand Marketing Christopher Sherman, and production services are provided at no cost to the company's travel advisors.
"Our job is to connect our advisors to their clients," says Sherman, who produces and directs productions. "Our advisors are the best storytellers - they see the world first-hand."
Production has already begun on videos of advisors introducing themselves, their travel, and travel advisor philosophies. Once delivered, they can post the videos on their social media accounts, websites, and send in emails to their clients.
What travel advisors have to say
The first videos are being released this week. Travel Market Report spoke with the first advisor to use the studio, Liz King, who recorded a video for her clients about "Why You Should Use A Luxury Travel Advisor," which you can see here on YouTube.


King is happy with her videos, and agrees, "There's a lot of value in video, if we market it right."
As for advisors who may be camera-shy, she says Sherman, "makes you feel at home. It's easy to talk to him and not worry about the camera."
The video marketing program for Travel Edge advisors is "really powerful," according to the company's U.S.-based VP Advisor Services Michelle Leal. "There's nothing like one-on-one, when you can connect with someone face-to-face, and feel you know someone and your advisor's character."
Video is the digital version of face-to-face, and, "it only takes a few minutes to create a really unique marketing tool."
Videos are not cookie cutters, according to Sherman. Instead, they are "a collaboration with each Travel Edge luxury advisor. We identify the needs of their business and create a marketing content plan to support it."
Advisors who book the studio, "can do one or 20 videos, or whatever they need!"
For Travel Edge advisors outside the Toronto area, the company is planning a traveling studio twice a year to create video libraries for advisors' business needs.
In addition, "We have some exciting future plans around video production and content – including following our top performers as they travel so we can tell their stories in real and authentic ways, allowing them to bring their clients along for the experiences."
"I've just come back from South Africa, says Liz King. "As an agent, I'm very fortunate to have these great experiences. I'd love to sell more Africa, so I love to talk about that. Not just the properties, but share experiences about the destination."
Supporting advisors as storytellers
"Our advisors are top luxury producers," says Karen Scott Caplice, director of advisor relationships, at Travel Edge. "Video is the best way for advisors to tell that story about themselves."
She points out that Travel Edge has seen double-digit advisor growth in the last three years, and professional video production is the next support innovation the company provides to help advisors stay at the top of their game.
Leal echoes that objective, saying, "That's what we're trying to do for our advisors, give them a dynamic tool – something they can't get anywhere else."
In that sense, the video production studio and program for advisors contributes to Travel Edge's expansion strategy.
"Our footprint across North America continues to grow," says Travel Edge's EVP Leisure Michael Johnson. "We have the most incredible luxury advisors from east to west – New Orleans, Los Angeles, Atlanta, Chicago, Dallas, Vancouver, New York, and obviously Toronto. We are agile enough to be able to flex into markets at a moment's notice as top talent continues to join the Travel Edge family. We have some exciting cities where we will be investing our attention – there's more information to come!"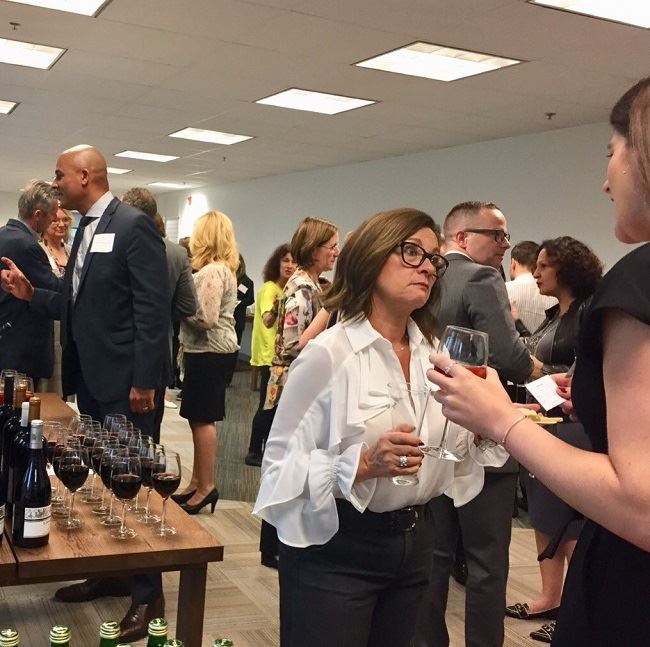 Advisors and partners at the opening come together to celebrate Travel Edge's recent expansion. Photo: TMR