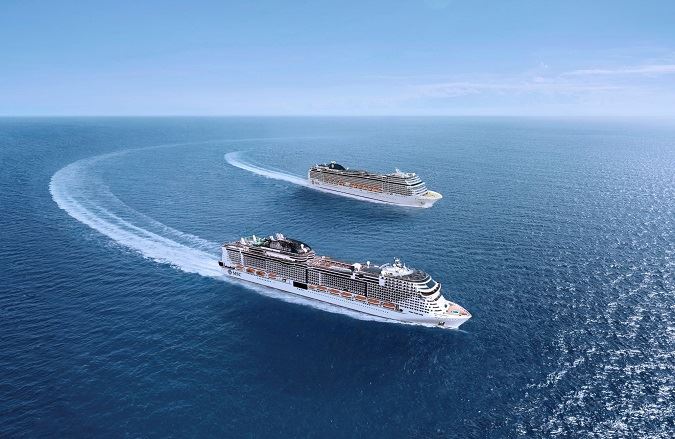 MSC Cruises became one of the first major ocean cruise lines to announce a gradual restart of operations when it said it would begin its gradual return with two ships, MSC Grandiosa and MSC Magnifica, sailing Mediterranean itineraries later this month.
While MSC is currently awaiting final approval from Italian authorities (it has already gotten it from both Greece and Maltese authorities) to announce departure dates, and the cruise line is only taking guests who are citizens of the EU's Schengen zone, MSC's CEO Gianni Oronato on Tuesday spoke about what the cruise line is doing to keep those initial guests safe.
"We have worked very hard in the last months in order to understand what type of protocol we could set up in order to protect the health and safety of all our guest and our crew," Oronato said in a media call on Tuesday.
The protocol, Oronato said, was built to not only meet government requirements but to go "beyond the rules and the regulations."
Should the initial sailings get approved and run smoothly, Oronato said MSC would look to add more sailings with other ships in other areas, including France and Spain.
Universal testing
Aside from a pre-cruise health questionnaire, the major part of MSC's plan is the requirement for anyone who steps onboard a ship, whether it is a guest or a crew member, to be tested for COVID-19.
Guests coming from "high-risk" areas, those countries with higher COVID-19 infection rates determined by the European Centre for Disease Prevention and Control, will be asked to get tested 72 hours before embarkation.
Then, all guests will also be required to undergo molecular testing at the cruise terminal once they arrive. That testing, a swab test that could take as little as 30 minutes for a result, will be the final requirement for all guests before boarding. Guests will be sent to check-in after getting tested while they wait, according to Oronato, somewhere between an hour and 90 minutes for their final results.
"The ambition here is all the guests will be able to embark only once the results of the test have been received," he said.
Only those guests who test negative will be allowed to board.
According to Oronato, even with the other measures in place including daily temperature checks and more, the biggest reaction MSC has gotten from both its guest and its travel advisor partners has been about its universal testing.
"The most important reaction has been about the universal testing," he said. "The reaction has been extremely positive because people feel much safer."
Onboard and onshore changes
Overall, MSC is cutting capacity to 70% of its original passenger numbers, which moves the average space-per-passenger in public areas from seven square meters to 10 square meters per person.
The line will also limit capacity at public venues around the ship and will add more show times for each of its productions to further enable guests to spread out in its theaters and lounges.
When it's not fully possible to socially distance, such as in the elevators or walking through a dining hall, guests will be required to wear a face mask (MSC will provide face masks daily to all guests).
MSC has also altered the experience to do-away with a lot of the more familiar touchpoints—the service desk will be replaced by a phone line to answer any guest questions and digital interactive screens to allow guests to make reservations and book services; the buffet will be replaced with table service meal; menus will be replaced by electronic menus that guests can access through QR codes; and more.
Ultimately, according to Oronato, over 100 of the most common touchpoints have been removed.
MSC will also do its own contact tracing onboard, collecting data through the cruise cards onboard Magnifica and the MSC for Me wristbands onboard Grandiosa. Should a positive test arise, MSC will be able to look at a guest's movement and determine any other potential infections.
MSC's protocol also reaches its onshore experience—MSC's guests will only be able to go on excursions run by MSC. Guests will have a choice of three at each port and the excursions will either be included in the fare or will cost 100 euros.
That allows the line to monitor all parts of the cruise experience and make sure the same protocols that are being enforced onboard, including face masks and social distancing, are also in place onshore.
Medical and emergency plans
MSC is adding testing equipment to both ships medical centers, allowing guests to get tested onboard should they experience symptoms or if they come into contact with someone who had tested positive.
If there is an outbreak onboard passengers will not be quarantined onboard for 14 days, something that happened with ships during the initial outbreaks of COVID-19. Instead, Oronato said that MSC has made agreements with ports to allow guests to go home should they test positive and ride out the remainder of their quarantine there.
MSC is also earmarking 10% of the cabins onboard for guests who have to quarantine during their sailing.
All of MSC's medical staff, including a new Health Protocol Compliance Officer, have undergone new COVID-19 testing to prepare them to deal with the kind of problems that can arise in the COVID-19 world. The medical center will be open all hours of each sailing.