How Travel Agents Can Close the Sale on a First-Time Cruiser, Part Two
by Richard D'Ambrosio /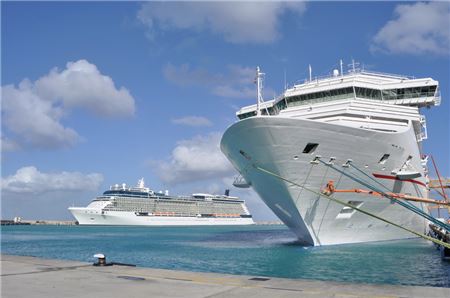 In the first part of this series, Courtenay Cooper Hall, editor-in-chief at BELLA magazine, recounted how she overcame resistance that worked against her family's first cruise, and how her experience makes her a cruise vacation evangelist today. In Part 2, travel agents offer their experiences convincing clients, and sometimes family members, to take that first plunge.
There are legions of successful travel agents who have built their business on a solid foundation of cruise sales, one of the most lucrative specializations an agent can pursue.
Assembling that list of potential clients and closing on those first sales is frequently the path to a growing and profitable business for agents like Lisa Long, ACC, owner of Luxury Vacations LLC in Marietta, Ga.
Long has been a "Top Producer" for Crystal Cruises, Regent Seven Seas, Silversea Cruises and Uniworld Boutique River Cruise Collection; and finds that when she receives sales leads from her Avoya Travel host agency, first-time cruisers may be interested but they often come with issues and concerns that she has learned how to navigate through.
"There often is at least one skeptic in the family. Maybe their husband or wife suggested a cruise, and they aren't sure of it," Long said. She spends those first few moments with these potential cruisers focusing on her listening and consultative sales skills.
"There has to be something that is holding them back, and you want to be paying careful attention and asking your probing questions to find out what that is," Long said.
This hesitance hits home personally for Long, who has a sister and brother-in-law who have been thinking about taking a cruise for a long time. "But they say things like 'I don't want to spend that much time on the ship. I don't like not being able to leave the ship whenever I want.'"
To counteract that concern, Long has been coaxing the couple with talk about river cruising. "I tell them how they will sail at night, but be able to spend their days in port, see land all of the time from the deck or their cabin."
Let your clients dip their toes in the water
The plunge into their fears may take smaller steps that provide your clients with a sense of security.
This tactic worked for Tony Troiano, travel consultant and co-owner of Keys to the World Travel, LLC, in Bogota, N.J., with his "client," his partner.
"Chris' main concern was not being able to see land and feeling confined in a small place," Troiano said, so he suggested a four-night cruise to Canada from New York City for their 10th anniversary.
It took a little persistence, "but I don't give up, and he eventually agreed," Troiano said. "We had an awesome time. Chris even enjoyed sitting in the lounge on top of the ship with nothing but gorgeous views of the ocean."
Troiano's partner is completely over the trepidation of being at sea for so long. "Now our sea days are some of our favorite days of each cruise," said Troiano, who has taken nine of them with his partner.
Long often recommends to first-time cruisers that they go with a group of friends, family or members of a club, for the reassuring benefits of familiarity.
Cindi Nowatnick, co-owner at Keys to the World Travel with Troiano, found this tactic effective for a first-time cruise she booked for a client next spring. "This couple travels a lot but never considered a cruise until her sister decided to go. Sometimes we can enlist the help of others to convince potential cruisers to join the fun," Nowatnick said.
"A friend or relative can be a great source of help in convincing others to cruise for the first time. People like being part of a group, whether it's large or small, and not missing out on the fun."
There are answers for every objection
Nowatnick provided TMR with a list of objections she frequently hears from first-time cruisers, including getting seasick, misconceptions about the cost, fear of the open water, and the overwhelming size of the ships and the crowds that come with them.
"I know about being seasick from personal experience as it happens just about every time I cruise but I still go. The newer cruise ships have built-in stabilization that certainly helps as do natural remedies, prescription medications and over-the-counter options. I suggest consulting their doctor."
Fear of the open water "is a little harder," Nowatnick said. "I have that, too, but I try to reason with potential cruisers based on the very high safety rating of cruising. That fear can also be calmed with shorter cruises to try it out as well as cruises that are more port intensive and have less ocean sailing time and sea days."
Leverage your existing cruise clients
Every agent has that one client who has taken 10 or 20 cruises, and is so passionate about it. They rave about the itineraries you've booked them on and the care you have provided to them. Well use them, experts say.
"If a client has trepidation, you can always tell them about a client that had that same perception, and this was what their experience was. If you can share experiences of other clients, that always helps quite a bit," Long said.
Long and another sister went on a river cruise to Germany, and she has been making certain her sister who has not cruised has seen the pictures and heard all of their stories during family gatherings. The testimonials from both siblings is working, Long said.
Courtenay Cooper Hall journaled about her first ever cruise on the website of BELLA magazine, where she is editor-in-chief. If her travel agency, First in Service, New York, needs her to advocate for cruising, she is on board.
"I would tell anyone worried about cruising that I completely understand," said Hall. "But I would also tell them that fear should never keep you from anything. How many vacations can you say in seven days, you'll see seven different destinations, it will be affordable, you only have to unpack once. I'd tell them that 'once you go, you'll be hooked.'"