Is the Economy Softening? And What Does it Mean for Travel?
by Daniel McCarthy /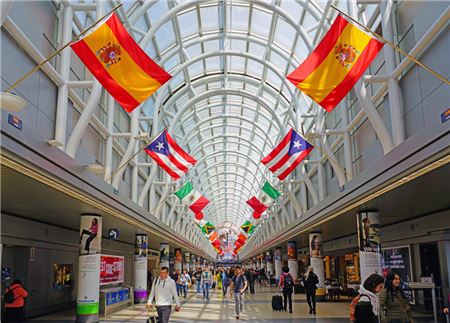 There might be clouds on the horizon for the short-term future of the economy, but there's still some reason for optimism about what's happening in the world of travel, and travel advisors should be aware of what may come down the line.
"We get the question all the time, 'What is happening in the travel business?'" Chris Davidson, the executive vice president of insights and strategy with MMGY, told attendees of the New York Times Travel Show at the Javits Center in New York last week.
Davidson presented MMGY's data during the "Leisure Travel Today: How Travelers Think and Why You Should Care" segment of the show's opening general session, and told the audience that there are some mixed messages in the economy, but some signs are pointing down.
One, is that the percentage of economists who believe the U.S. will face a recession within the next 12 months, according to the Wall Street Journal, is at a higher point now than it was in 2007.
"Those beliefs are now incredibly high from economists around the country," Davidson said. "It doesn't mean it's going to happen, but it means there is an increased sentiment that we are going to enter some sort of softening phase in the economy."
Another prediction comes from MMGY's "TravelHorizons" survey, which, every 90 days, takes a forward-viewing national look at the future of the travel intentions of Americans. The survey looks at six key indices, including interest in travel, household finances available for travel, safety, affordability, and more — and measures it at a benchmark score of 100.
The index was introduced in 2007, first broke 100 in 2013, and has been hanging above that number. The most recent score, 113, represents a 13% premium versus 2007, which, according to Davidson, shows "very strong numbers overall in terms of how consumers are thinking about travel" but also shows "somewhat of a slight downward trend in that number" compared to the more recent fourth quarter numbers in 2018 and 2017.
"We don't see it as a huge concern, but we are seeing a softening."
Yet another forecast comes from MMGY's "Travel Intelligence" survey, which found the number of people who said they plan to travel in the next six months for leisure was lower than the fourth quarter of previous years — 56% surveyed this year said they planned to travel compared to 61% in 2018 and 62% the year prior.
"We are seeing a little bit of a concerning trend on these numbers," Davidson said.
What could it mean for travel?
One thing that typically happens with recessions is that the behavior of travelers tends to change.
"People will continue to travel," Davidson said, but their spending habits will change. In past recessions, including the most recent one, the "Great Recession" that started in 2007, spending on entertainment and shopping declined more than spending on transportation and lodging, both of which did lag but bounced back quickly.
"There was obviously a decline both in trips and spending when the recession hit, but it's also notable to know that that bounced back rather quickly," Davidson said.
Business travel typically suffered more than leisure travel in past recessions, and tends to take a little longer to recover, as technology makes it easier for business travelers to forgo travel in favor of working remotely.
While travel-spending intentions were down in 2019 compared to 2018, some numbers show that people can be bullish about an increase in anticipated spending in two generations: Gen X and Baby Boomers.
According to MMGY's "Portrait of Americans Travelers" released in 2019, when compared to 2018, Millennials are anticipating to spend slightly less now than they were last year, while Gen Xers expect to spend 20% more, and Boomers are expecting to spend 34% more.
Millennials, which have become the largest generation in American history at 73 million strong, are going through the typical generational lifecycle — 55% of Millennials have children under the age of 18 in the household, 28% are couples, and just 18% are single — and will provide a steady stream of family travel opportunities in the future.