MSC Cruises Preparing for Potential Mediterranean Restart This Summer
by Daniel McCarthy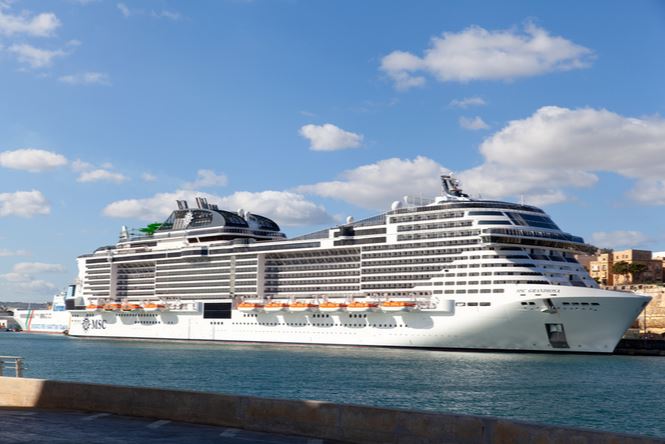 MSC Cruises on Monday announced details of its new health and safety protocol that it says is helping it prepare for a potential Mediterranean restart later this summer.
The plan was developed under the guidance of the cruise line's Blue Ribbon COVID Expert Group, which MSC announced in early July, and touches every part of the cruise experience from check-in to disembarkation. MSC hopes the plan will "provide guests with additional peace of mind for the summer cruises."
The plan starts with a digital check-in process and then a universal health screening of guests and crew prior to embarkation that includes a temperature check, health questionnaire, and then a COVID-19 swab test. Should guests test positive for COVID-19, they will be denied boarding.
The screenings will continue throughout all sailings, with guests and crew having their temperature checked daily either when they return from ashore or, if they haven't left the ship, at dedicated stations around the ship. When guests do choose to leave the ship at ports of call, they'll only be able to do so as part of an organization MSC Cruises' excursion.
MSC said it is doing this so that it "can protect their health while ashore with excursions that will be delivered with the same high standards of health and safety onboard."
Onboard, MSC plans to sail with 70% capacity to allow for more social distancing. It will also reduce capacity at food and entertainment venues onboard and where social distancing is not possible, face masks will be required (MSC will provide guests with face masks on a daily basis).
A lot of the measures will be facilitated through the MSC for Me App, which will let guests book services and manage daily activities on board.
The line has also added new medical staff and equipment to deal with any potential COVID-19 infections onboard, including dedicated isolation staterooms. MSC is also offering a new insurance plan, the MSC COVID-19 Protection Plan, that will cover the guest if they become infected prior to departure and aren't able to travel, and will cover the guest's medical expenses during and after the cruise if they get infected (only available at the moment to guests from Schengen countries).
Return to sailing
MSC said it expects to deploy ships in the Mediterranean after it gets final approvals from relevant authorities in Europe. That deployment will include two ships, MSC Grandiosa and MSC Magnifica, which will sail Western Mediterranean and Eastern Mediterranean itineraries, respectively.
There are currently no set departure dates for either ship, but MSC said that the itineraries include stops in both Greece and Malta, two countries that have reopened their ports and have approved MSC's health and safety protocol.
Citizens from some countries, who haven't yet been approved to travel to EU nation states or are unable to travel internationally, still will not be able to sail on the initial itineraries. MSC is notifying those guests with options for their bookings.
MSC is still awaiting, along with the rest of the industry, to restart its operations in the U.S. MSC said on Monday that its "ships will only return to service once the necessary approvals have been received from the relevant local and national authorities, including the CDC, as well as across the regions where the ships will operate."