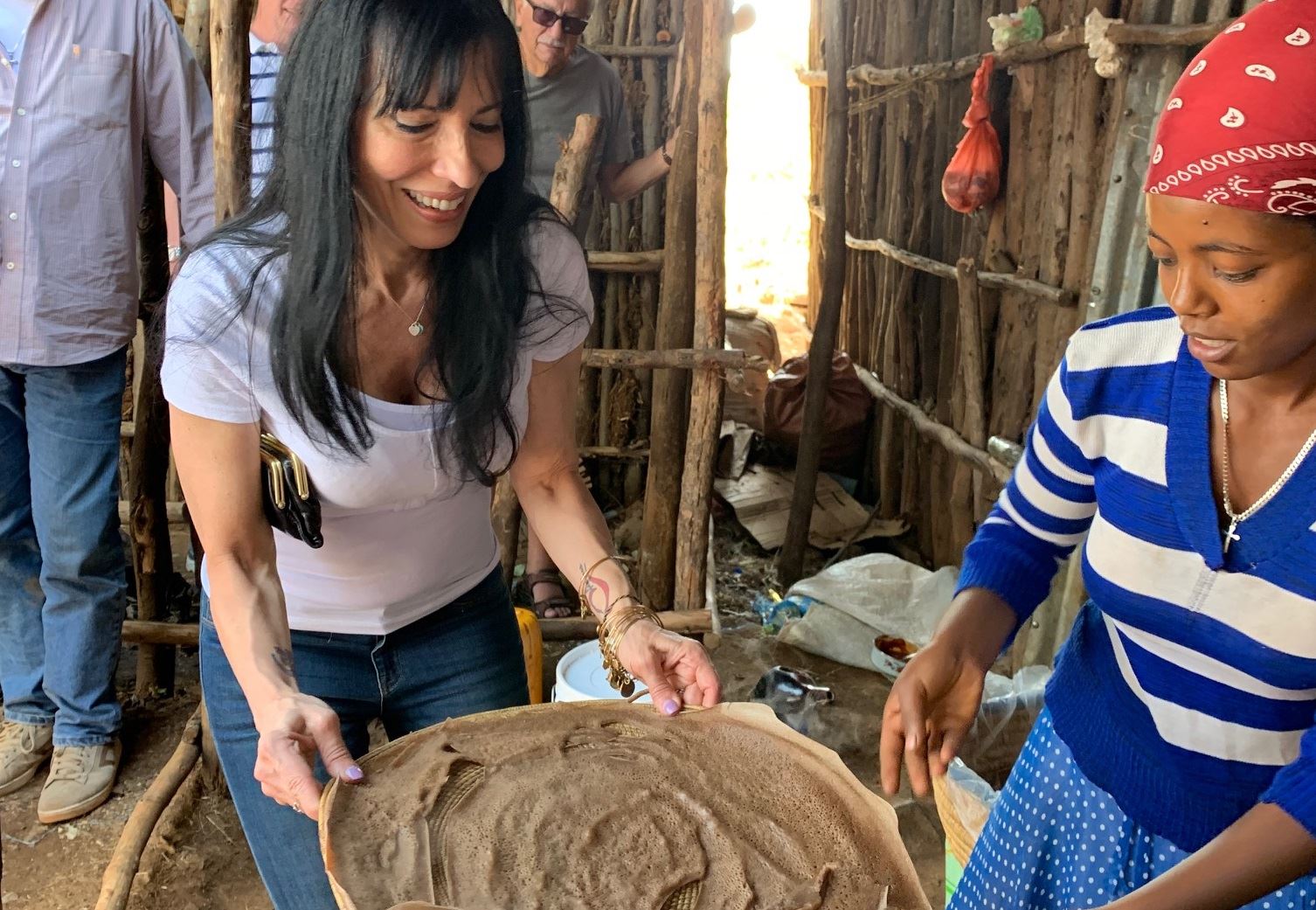 Marshall McLuhan, who predicted many of the social changes brought about by technology, said, "Young people today don't want jobs, they want roles." Perillo Tours put that principle into action with Perillo's Learning Journeys, a series of "transformational journeys" which give people a chance to step beyond their usual roles and experience different worlds.
The company's "Live Like a Local" programs, under Perillo's Learning Journeys, give guests opportunities to experience life as a local resident in an unfamiliar culture or to experience a career path such as running a bookstore, working as a photographer, model, fashion designer, artist or chef.
"The premise of Perillo's Learning Journeys is to learn something beyond the travel experience itself," said Carol Dimopoulos, president of the brand. "It targets interests rather than the destination."

Perillo's new pillar
Learning Journeys was developed primarily by Dimopoulos, a life-long student and travel industry veteran, working with Stephen Perillo, the president of the Perillo Tours, the parent company.
Dimopoulos is the former vice president of sales and marketing of Celtic Tours, an MBA in international business, and a doctoral candidate at The University of Illinois Urbana Champaign. She is also an adjunct faculty member at SUNY Empire State College.
Perillo Learning Journeys is still a proportionately small part of the overall business of the iconic Perillo Tours, but the sub-brand's growth has picked up substantially in the last year, suggesting that consumer awareness and taste is catching up to the Learning Journeys concept.
The programs are defined as transformational journeys built primarily around special interests and secondarily on destination. They take place at a variety of destinations around the world, including Costa Rica, Botswana, Italy, India, Greece, France, Spain, Vietnam, Cambodia, Namibia and Ethiopia.
The company describes its Live Like a Local series as "a unique collection of customized travel experiences designed to combine cultural immersions with hands-on learning."
The programs cater to a variety of interests, such as birding, art, photography, yoga, knitting, quilting, belly dancing, spiritual renewal, culinary arts, language, science, and history. The brand incorporates a variety of styles of programs, including Custom Journeys, Women's Journeys, Travel with Professors, Faith Journeys, Family Adventures, and Health and Wellness Journeys.
Soft-launched in 2012 and officially launched in 2014, Learning Journeys is now reaching critical mass, maturing and stepping into its intended role as a separate pillar of business for Perillo Tours, now in its third generation as a family-owned business.
Synonymous with Italy
Learning Journeys is a clearly distinct niche from Perillo Tours, which has always specialized in tours of Italy, while offering a few other destinations, such as Hawaii, Israel or Costa Rica, on a rotating basis. Perillo offers a classic escorted tour product, and its strongest card is its long-time connection to the destination of Italy.
Perillo Tours succeeded in making its name virtually synonymous to Italy, to a broad market, since it was founded as Joseph Perillo and Sons, a travel agency in the Bronx, by Joseph Perillo, the father of Mario and grandfather of Stephen, in 1945.
"I remind myself of my father," said Perillo. "He never wanted 50 destinations. I want to keep our supremacy to Italy. I feel if we go too far afield, it might harm that. Our brand is synonymous with Italy and I don't want to lose that."
Diversification and adaptability
In the 1970s, Mario Perillo, the son of Joseph, became a media figure in his own right as the star of TV commercials for Perillo Tours. Mario became "Mr. Italy" and Perillo Tours became the pre-eminent operator of tours to Italy to many TV viewers. But in the tumultuous world of the 21st century, diversity is a key to adaptability and survival for a tour operator. After the combination of 9/11 and the financial collapse of 2008, Perillo sought ways to diversify, and Learning Journeys was born.
While diversification is the tour operators' key to survival in a turbulent world, Perillo has always done things in its own way. Rather than just adding more destinations under the Perillo banner, the company set out to offer an entirely different kind of tour product, one that is not destination-specific, but is based on a style of touring. Learning Journeys are all about learning and experiencing, and are not limited to a particular destination.
"We had a turbulent time in the first 10 years of the 2000s, with the wars, the economy, the internet, and changes in marketplace," said Stephen Perillo. "Some of these innovations were in reaction to the world around us. But I wanted to build up so that, when we came out of recession, we'd be in a better position to serve a lot of different audiences. And that's where Carol came into the picture. She really helped."
New horizons
This year, Perillo's Learning Journeys plans to release a new product line called "My Week as …" It is a kind of tour that allows clients to step outside their normal boundaries and immerse themselves in a different role than their normal life. Among the first in the series will be "My Week as a Journalist in Greece" and "My Week as a Painter in Iceland," both scheduled for October 2019.
The company continues to seek new horizons.
Stephen became president in 1997 and took over fully in 2003 when Mario died. Now more than two decades into his leadership of the company, Stephen Perillo hopes to continue the legacy of his father and grandfather, and live up to their achievements.
"When I took over the family business from my father, I knew I had a lot to live up to," said Stephen. "But Dad taught me well. 'It's all in