Quark Expeditions Bullish on Possible May Restart with Universal COVID-19 Testing
by Daniel McCarthy /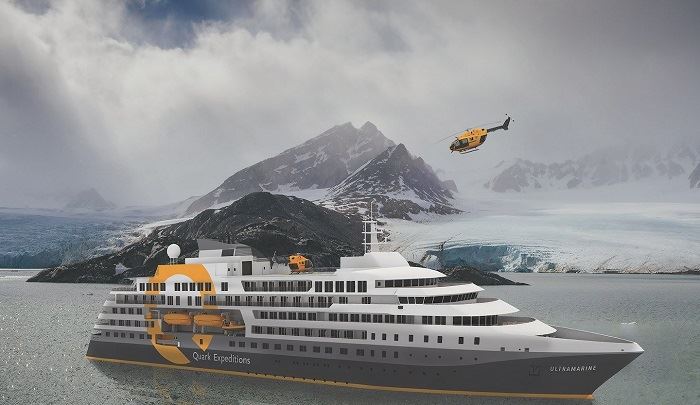 Quark Expeditions is aiming to restart its polar sailing operations in May under its new S.A.F.E. COVID Policy that is highlighted by pre-trip COVID-19 testing and screening for both guests and crew.
"We do anticipate that we will be able to return to operations in May," Josh Weidman, director of product for Quark, told Travel Market Report this week. "The barriers right now really have to do with will international travel regulations provide for passengers to be able to get to our homeports."
Quark, like the rest of the cruise industry, has been largely on hold since the beginning of the pandemic but as tests become more easily available and cruise lines in Europe continue to operate safely, Quark believes that hitting the water in May with its newest ship, Ultramarine, remains not only possible but realistic.
"Being in touch with the travel associations and the local polar authorities, we are optimistic right now that given the trajectories and vaccine and the tampering down as we come into Spring, that it will be feasible from a regulatory standpoint to travel," Weidman said.
Testing
While the regulatory approval, along with the ability for people to travel out of their home country, will ultimately have the final say for Quark, the cruise line is adopting protocols that it hopes will guarantee a safe return to sailing, once allowed to do so.
The new set of protocols, called the S.A.F.E. COVID Policy, is not one or two enforcements, but instead its "a combination of things that really help allay the major concerns guests have," Weidman said, including offering easy rebook up to 30 days prior to a booking and COVID coverage "right up until your feet is on the gang pike."
The plan is highlighted by rapid tests pre-boarding for all guests, along with a second, likely set of tests during the sailing. Quark has secured the FRANKD rapid onsite testing kits, which takes less than 30 minutes to get a result, to use as part of its restart.
The plan is for Quark, when it does start sailing again, to test all passengers at their pre-gateway hotel prior to their cruise, leaving enough time for Quark to confirm a guest's COVID-free status. Weidman described the test requirement as a "double layer of testing" when combined with current international testing requirements already in place that almost always include a test prior to boarding an airline.
"Many voyages have gotten off," Weidman said, talking about the Mediterranean sailings that have successfully operated during the pandemic, "and we're following them. Testing has been a really critical part of that and we believe that our testing takes that to a next level. We think that it is the best possible procedure to provide for a safe trip."
Should a guest test positive prior to embarkation, they will be eligible for a full rebook up to three years later and Quark will help them secure quarantine accommodations near the cruise port. For those who test positive onboard, the decision would be left up to the ship's onboard doctor.
The nature of Polar sailings
Just by the simple remote nature of the region, Polar sailings are safer than others, Weidman said. Guests leaving the ship don't often leave their guest "bubble" that includes crew members and other guests—shore excursions on polar sailings don't have the kind of community visits that would normally be a part of other sailings.
"Wilderness destinations and still there and are still perfectly intact," he said.
And Weidman told TMR that Quark's bucket-list offerings are driving demand in the absence of travel.
"It's not choosing from amongst a number of Caribbean and Mediterranean options. It really is a very distinct kind of experience and I think that's part of it," he said.
The typical Quark guest skews to a higher income and comes from Quark's core markets in the U.S., U.K., Australia, and Canada. The rising demand for bucket list sailings during the pandemic is also helping expand Quark's audience outside of those markets, Weidman said.
Travel advisor policies
Quark, right now, is employing some substantial benefits for its travel advisor partners.
The first is that it's offering a Book Now, Pay Now commission program that would get $500 USD in the hands of travel advisors directly at the time of deposit, something that was introduced during the pandemic.
The second is that Quark launched a number of webinars during the height of the pandemic that stressed the magic behind polar voyages—the stories. For advisors who may have not yet been able to engage their clients on polar expeditions, focusing on the stories is one way to do it, Weidman said.
"Travel is about storytelling and about acquiring new stories. The Polar Regions are a great place to do some storytelling from. Our business folks are ready to help all of the advisors tell stories to their customers," he said.
"There's lots about expedition that I think really will speak well at the other side of the pandemic – the smaller ships, less populated destinations, the ability to unplug and unwind that the big kind of traditional vessels don't offer."
Ultramarine
Quark's new ship Ultramarine is one of the most highly anticipated new entries to the polar cruise industry.
The ship, which is purpose-built for the Polar Regions, will sail with 199 guests and 140 crew to Spitsbergen, Greenland, the Canadian Arctic, and more when it debuts for the 2020-2021 season.
The vessel will have nine different stateroom categories, including solo cabins, triple cabins, and an Ultra Suite that will offer 563 square feet of living space and a 46-square-foot balcony. Each cabin will have convertible beds, heated bathroom floors, and flat screen televisions.
It will also feature two twin-engine helicopters, new public spaces, and more outdoor wildlife viewing space than any other similar-sized ship. Other onboard amenities include two different dining areas, four bars, a spa and fitness center, sauna, a walk-around deck, and a lecture theater that will host educational sessions for guests traveling in the Polar Regions.