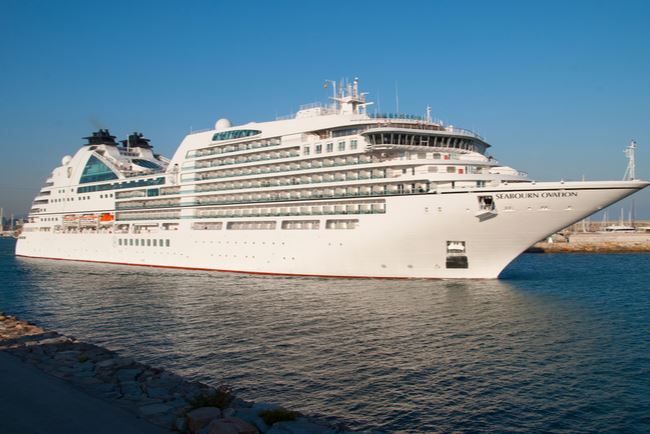 Seabourn this week announced that it will cancel upcoming 2020 and 2021 voyages for three cruise ships in its fleet into spring of next year.
Sailings on the Seabourn Odyssey will be canceled through Jan. 15, 2021, Seabourn Ovation will be canceled through April 18, 2021, and Seabourn Encore through May 28, 2021.
The luxury cruise line said the decision to cancel additional voyages is "a proactive action to deal with the circumstances continuing to evolve from the global response to the COVID-19 situation."
Guests with impacted cruises will automatically be cancelled and all guests will receive Bonus Future Cruise Credits. Guests paid in full will receive 125% future cruise credit (FCC) of the base cruise fare paid to Seabourn, or bookings under deposit will receive a Future Cruise Credit valued at 125% of the deposit amount paid. They can also request a full refund.
The FCC is valid for 12 months from the date of issue and may be used to book sailings departing through Dec. 31, 2022.
Guests and their travel advisors will be sent specific details applicable to their booking.
Azamara
Azamara, the small ship line, will also extend is suspension period until the 2021 Europe season "until it is safe and comfortable to execute a full voyage, following feedback from a series of guest surveys."
Azamara will return to service on March 20, 2021 for Azamara Quest's originally scheduled 12-night Spain Country-Intensive voyage, Azamara Journey's April 9, 2021 voyage from Lisbon to Barcelona, and Azamara Pursuit's new series of Greek Country-Intensive Voyages starting on May 9, 2021.
"As we look at our long-term plan, we have already seen a strong demand to our 2022/2023 voyages, which was announced in mid-September. Within the first week of opening for sale, we experienced three times more bookings for new voyages compared to last year's deployment of 2021 and Winter/Spring 2022 itineraries. This just further reinforces traveler's commitment to cruising," Azamara's Chief Operating Officer Carol Cabezas said.
Guests can receive 125% FCC to book a new cruise by Dec. 31, 2021 for sailings departing on or before April 30, 2023, or they can keep the cruise vacation plans to the same destination and move the existing booking to a 2021 or January to March 2022 sailing within four weeks of the originally scheduled sailing. Azamara is also offering 100% refund.