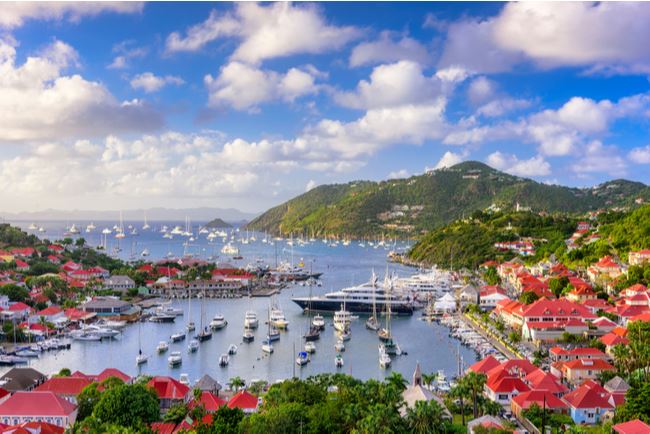 St. Barths – described as the mini-France of the Americas – reopened for tourism in June and is "hopeful for a strong Thanksgiving and festive season."
The French government has worked with the local authorities to develop policies ensuring the safety of both residents and visitors, including requiring a negative PCR test result within 72 hours of arrival on the island, and a second test for those remaining on St. Barths for more than seven days.
Now that the island has reopened, its iconic hotels and resorts are also set to make a comeback.
Several properties have already re-opened over the summer, including: Les Ilets de la Plage, Pearl Beach, Les Baie des Anges, and Manapany.
The in-town Hotel Barriere Le Carl Gustaf reopened Oct. 15. It will also host tasting dinners during the St. Barths Gourmet Festival.
The iconic Eden Rock began welcoming guests safely on Oct. The storied hotel kept its beach bar open this summer, and will now open the Sandbar and Remy's Bar this fall.
The luxurious resort-like hotel Le Barthélemy will reopen its doors on Oct. 28, followed by Hotel Cheval Blanc Isle de France on Oct. 29. The acquisition of the former Hotel Taiwana next door makes this the largest hotel on the island. It will also play host at the gourmet festival.
Heading into November, Le Toiny will reopen on the first. The boutique hotel Villa Marie Hotel in Colombier opens its beach club "Gypsea" on the Pelican side of St. Jean beach on Nov. 20. The beloved Pointe Milou Hotel Christopher debuts two more of its four-bedroom villas when it re-opens Nov. 23.
Opening just in time for the festive season, Le Sereno brings an Italian sensibility to Grand Cul de Sac, features chefs from their Lake Como property when it reopens Dec. 17.
Rosewood Le Guanahani St Barth will make its long-awaited debut in spring 2021. Closed since Hurrican Irma in 2017, famed Rosewood Group will put its spin on this iconic Grand Cul de Sac hotel, set to be one of the most anticipated hotel openings in the Caribbean.