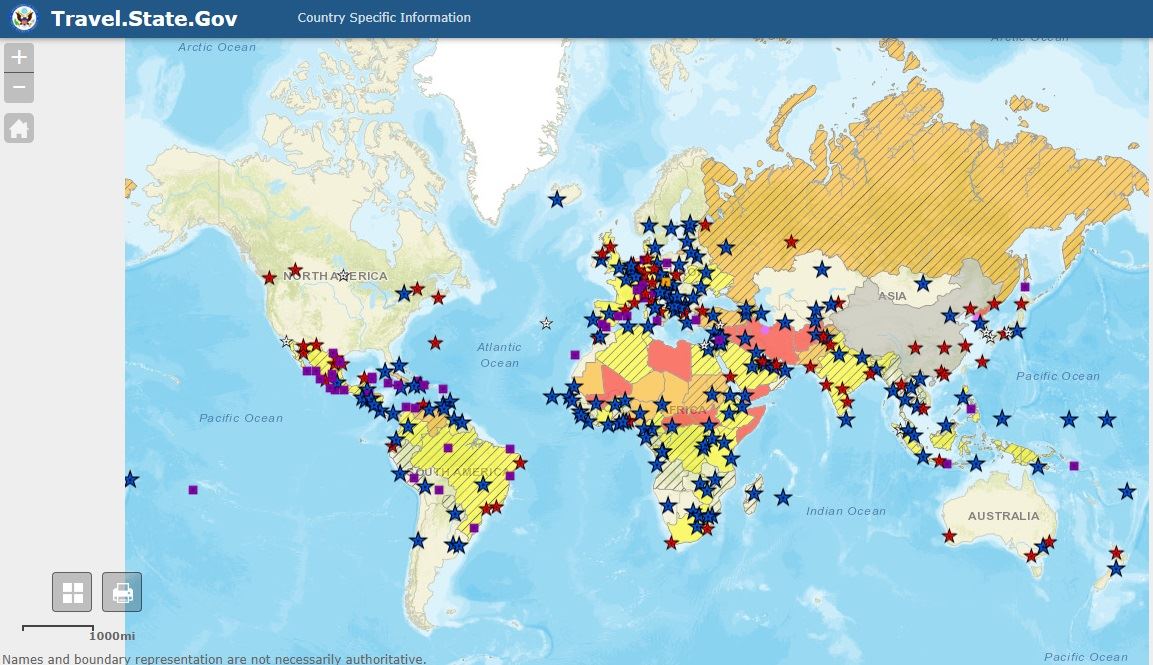 The U.S. Department of State has launched a new four-tier travel advisory system and website it believes will provide Americans with more clear and actionable information, and a format designed to help travelers better assess risk when making travel decisions.
The website and new system is described as "the biggest overhaul we have done in a very, very, long time," and was the result of a year-long review responding to traveler feedback and even confusion within the State Department's ranks, said Bureau of Consular Affairs acting deputy assistant secretary for Overseas Citizens Services, Michelle Bernier-Toth.
Bernier-Toth said she does expect a "learning curve" for travelers and other users as they adjust to the new system, but in general, the changes will make it "more obvious" why the State Department is ranking risk in a country at a certain level, will relate information in language more commonly used by the average American, and makes the information "more actionable."
Previously, the State Department issued both travel warnings and advisories, confusing travelers, and causing Bernier-Toth to have to repeatedly explain the nuances to her own colleagues. "I was personally tired of explaining the difference," she said.
U.S. embassies and consulates will now issue alerts to replace the current Emergency Messages and Security Messages, informing U.S. citizens of specific local safety and security concerns, such as demonstrations, crime trends, and weather events.
The website features a color-coded, interactive global map highlighting the most dangerous countries in red, and features a four-tier risk assessment system with detailed country-by-country information.
The new Travel Advisory system includes the following rankings:
Level 1 - Exercise Normal Precautions: This is the lowest advisory level for safety and security risk.
Level 2 - Exercise Increased Caution: Be aware of heightened risks to safety and security.
Level 3 - Reconsider Travel: Avoid travel due to serious risks to safety and security.
Level 4 - Do Not Travel: The highest advisory level due to greater likelihood of life-threatening risks. During an emergency, the U.S. government may have very limited ability to provide assistance. The Department of State advises that U.S. citizens not travel to the country or leave as soon as it is safe to do so.
For some popular destinations, the State Department has ranked countries like the United Kingdom and Mexico at a Level 2. The drill down on the U.K. focuses on terrorism, while the details for Mexico speak about crime as the chief risk. Countries ranked at Level 3 include Cuba, Guatemala, Niger, Turkey and Venezuela. There are currently ten countries ranked at Level 4, including Iran, Iraq, North Korea, Somalia and Yemen.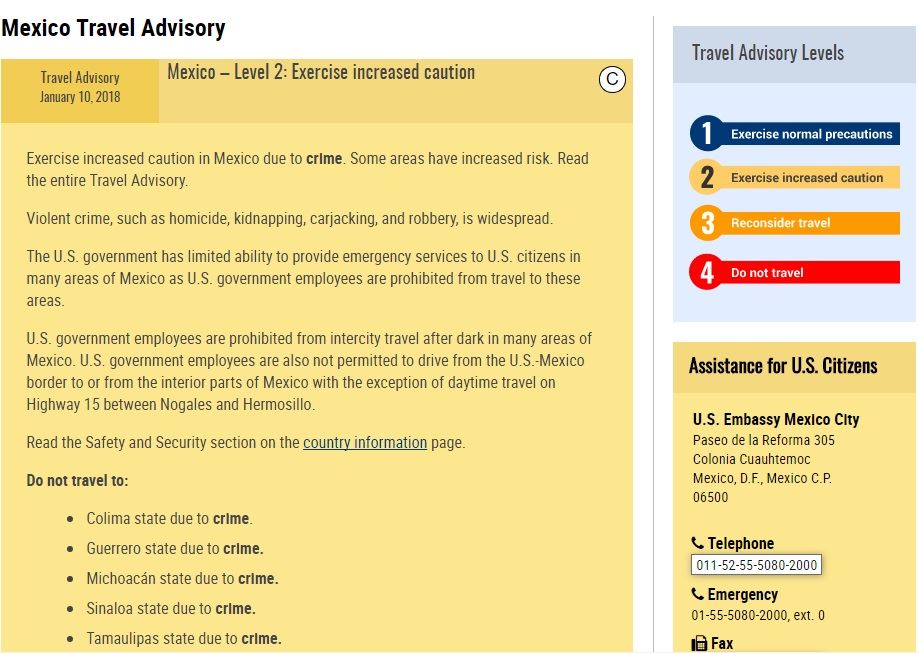 The State Department's Mexico warning shows the new system.
Due to technical issues, China's Level 2 status was not reflected on the map at launch, Bernier-Toth said.
While advisories will be reviewed and updated as changes to embassy and traveler safety and security change, at a minimum, countries with a Level 3 or higher ranking will be reviewed every six months.
For any country with a Level 2 or higher ranking, the State Department will provide specifics about what those risks and threats are. These include:
C - Crime: Widespread violent or organized crime is present in areas of the country. Local law enforcement may have limited ability to respond to serious crimes.
T - Terrorism: Terrorist attacks have occurred and/or specific threats against civilians, groups, or other targets may exist.
U - Civil Unrest: Political, economic, religious, and/or ethnic instability exists and may cause violence, major disruptions, and/or safety risks.
H - Health: Health risks, including current disease outbreaks or a crisis that disrupts a country's medical infrastructure, are present. The issuance of a Centers for Disease Control Travel Notice may be a factor.
N - Natural Disaster: A natural disaster, or its aftermath, poses danger.
E - Time-limited Event: A short-term event, such as an election, sporting event, or other incident that may pose a safety risk.
O - Other: There are potential risks not covered by previous risk indicators. Read the country's Travel Advisory for details.