TSA Expects Record Crowds and Long Lines for Thanksgiving Travelers
by Daniel McCarthy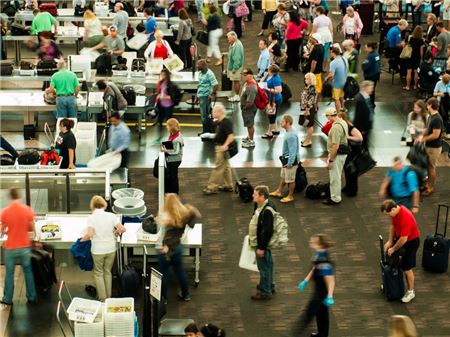 The Transportation and Security Administration (TSA) is expecting a record number of travelers during Thanksgiving week, the first big holiday of the TSA's new screening rules.
The American Automobile Association (AAA) said last week that, from today through Sunday, more than 50 million people will be traveling, making it the busiest travel week in the last dozen years.
On Sunday alone, according to the TSA, more than 2.6 million passengers and airline crew members will be screened at airports around the United States. That number would make Sunday one of the five busiest days of the year.
Travelers can expect even more delays at security as the TSA continues to introduce new security rules that were announced last month. Those rules, which will impact all of the 2,000-plus international flights to the U.S. each day, came as the 120-day window for enforced regulations after the Trump administration's laptop ban ended, and included more scrutiny of electronic devices, and a wider pool of travelers selected for secondary screening.
PreCheck travelers who thought they would be able to avoid the lines this week might also be in for stressful week. According to a report by USA Today, more and more PreCheck travelers are becoming frustrated that the "fast lanes are actually slower than the non-PreCheck lines."
More than five million people are enrolled in the PreCheck program, and while status guarantees that travelers will not have to take their shoes off or remove laptops or liquids from their bags, it does not always guarantee a speedy security experience.