TSA Numbers Steady as Advisors Say they Are Traveling More
by Daniel McCarthy /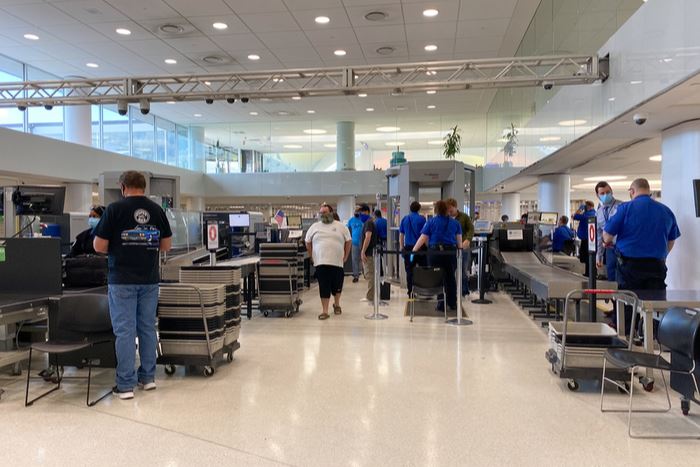 On Sunday, Oct. 25, the Transportation Security Administration (TSA) screened 983,745 passengers nationwide, the third highest number since March.
While that number is lower than the 1.03 million that the TSA screened the previous Sunday, and is 60% lower than the 2.47 million that it screened on the same day in 2019, it does continue to the slow, steady trend that passenger numbers have experienced since the April 2020 low of 87,534.

TSA numbers continue to be off 2019 levels, though they are increasing.
As more and more consumers are feeling more comfortable traveling through airports, the industry still awaits news on a potential go-ahead for the U.S. cruise lines before the end of the year and other news on border re-openings, along with quarantine lifts.
Advisors are doing their own traveling
Even with that gap, more people traveling has led to some opportunities for travel advisors who are looking to get a first-hand experience of their own, along with inspire their clients to start dreaming, and booking, once again.
According to data from host agency Travel Experts, more than four out of every five of 98 travel advisors it surveyed recently have traveled again since the pandemic. Advisors say their own experience has helped them both in their communication with clients and in how they inspire their own travel.
One of those advisors, Theresa Jackson of Enlightened Journeys Travel in Allendale, New Jersey, just returned from a trip to the Quintana Roo region of Mexico, Travel Experts said.
Her trip led her to see that "the most difficult thing is flights getting to where you want to go, particularly if multi-country. For instance, I wanted to combine Abu Dhabi with Tanzania for personal reasons, but getting to AD now is difficult" and that "finding the place to get you the results you need to travel in time to fit in the specific requirements of a country can still be problematic and take some time to plan and set in place."
Other advisors talking to Travel Market Report echoed those sentiments.
Amy Leon of Adventures by Amy told TMR that she took a group of over 50 people to the Dominican Republic in August, a trip that has led to a number of inquiries from other clients. Leon, who took the group to Hard Rock Punta Cana, combined a 2019 rollover booking for a 50th birthday party with another group she put together "in the middle of all of the chaos."
"I had posted about my entire experience on my Facebook page, from mask requirements to the COVID testing," she said, adding that transparency was key for her clients. "I wanted people to be able to relate to the fact that just because I went, didn't mean that it was a walk in the park to get there."
"I had different emotions throughout the process, but ultimately, not one person regretted going."
The biggest questions she received were about the process of arriving to the airport, the testing procedures, and the social distancing requirements at the resort.
Also speaking to TMR, Camille Porta of Stonebridge Travel Consulting said her trips to Mexico (one to Costa Mujeres, Riviera Maya, and Cancun and another to Los Cabos) made an impact with her clients.
"Before I say anything, I can affirm that people want to travel. But, fear has made them forget how," she said. "Being out there ourselves to show people that it's possible to travel safely and responsibly that you see their eyes light up and you hear the excitement in their voices."
"Since I've been back talking to my clients, we've booked trips to a ranch in Montana for 10 days, a 1 month trip to Russia, a quick getaway in Santa Monica for 5 days, an Alaska trip for 8 days, a New England trip for 5 days, and many of them are looking into doing more international trips like Mexico and the Caribbean," she said.
Rhonda Day, a Dream Vacations Franchise Owner and Vacation Specialist in Louisville, Ky., also weighted in. Day, who says she's an advisor who travels frequently, took it upon herself to "lead the way in getting back out in the world and be an example of safe travel."
"My journeys have taken me several places in the last few months including Myrtle Beach; the Emerald Coast of Florida; Austin, Texas; and the Cancun area of Mexico twice. In addition, I am heading back to Unico in Riviera Maya in less than two weeks," she said.
She was able to parlay that experience into her client conversations.
"Seeing so many people be able to safely and quickly travel to the area and not have a lot of hassle is very appealing! So when I talk to travelers I often first recommend Mexico as a destination to vacation," she said.
"Travelers want to travel. They are tired of being pent-up and they are willing to spend the money and deal with extra protocols, but they want to feel confident in what they are getting into. By travel advisors taking the lead and traveling comfortably and safely, clients trust us."