Travel Industry Reacts to U.S. Ending COVID-19 Testing Rule
by Daniel McCarthy /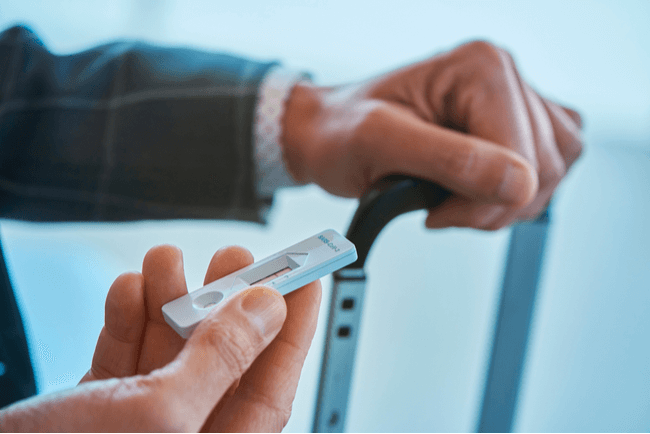 On Friday, reports broke that the U.S. was set to end its inbound testing requirement for travelers entering the country, a rule that required both Americans and international travelers, whether they were vaccinated or not, to provide proof of a negative COVID-19 test upon entry to the country.
The requirement was one of the last major travel protocols remaining from the COVID-19-era and the U.S., which had first put it in place in January 2021, was one of the last major countries to require it of their inbound visitors and returning citizens.
Analysis from the U.S. Travel Association found that appealing the requirement could bring an additional 5.4 million visitors to the U.S., along with $9 billion in spending, through the remainder of 2022. That could help close the gap on the daily passenger volume that, measured by the TSA, is still down somewhere between 11% and 18% compared to 2019 levels depending on the day.
Voices from across the travel industry applauded the move ahead of what is expected to be a busy summer travel season.
Roger Dow, the president and CEO of U.S. Travel Association, which was one of the major voices lobbying to remove the requirement, said in a statement that the news "marks another huge step forward" for travel.
"Today marks another huge step forward for the recovery of inbound air travel and the return of international travel to the United States. The Biden administration is to be commended for this action, which will welcome back visitors from around the world and accelerate the recovery of the U.S. travel industry," Dow said.
"U.S. Travel and our partners advocated tirelessly for months to ensure this requirement would be lifted, pointing to the monumental scientific advancements that have made it possible for us to reach this point," he added.
Another major group lobbying for the rule's removal was the American Society of Travel Advisors (ASTA). ASTA CEO and president Zane Kerby on Friday also celebrated the news, writing in a statement that ASTA is "thrilled to see the end of the CDC's inbound testing rule, which has been standing in the way of our industry's recovery for too long."
"Since the start of the year, ASTA has been engaged in a multi-layered advocacy campaign to get to this point, including direct lobbying of Congress and Administration officials, grassroots action and pressure through national and local media. We commend the Biden Administration for taking this long-overdue step and thank ASTA members across the country for their hard work in helping get this across the finish line. While plenty of challenges remain in terms of rebuilding the travel agency business, today is a great day," he added.
Airlines for America (A4A), the trade association that represents major North American Airlines, also voiced support for the move. President and CEO Nicholas E. Calio said that the group was "pleased that the pre-departure testing requirement has been eliminated for international air travelers who are eager to visit or return home to the United States."
"Lifting this policy will help encourage and restore air travel to the United States, benefiting communities across the country that rely heavily on travel and tourism to support their local economies. We are eager to welcome the millions of travelers who are ready to come to the U.S. for vacation, business, and reunions with loved ones," he said.
American Hotel & Lodging Association (AHLA), the hotel industry's major trade association, president and CEO Chip Rogers called the news "a significant win for hotels and the broader travel industry."
"AHLA consistently called on the Administration and Congress to lift this testing requirement, which was out of date and had a chilling effect on inbound international travel to the U.S. Lifting the requirement will make travel easier, facilitating more international visitors and helping hotels continue on the road to recovery, especially as we approach peak travel season this summer," he said.
Terry Dale, the president and CEO of the United States Tour Operators Association (USTOA), said that the testing requirement had "depressed a significant amount of travel to the U.S. and hasn't provided any meaningful benefit to public health for some time."
"Removing the pre-departure testing requirement will incentivize vaccination, increase demand for international travel to and from the U.S., and better align passenger aviation entry requirements with those at U.S. land border points of entry and other major travel-trade partners abroad. USTOA remains committed to working with the Administration to ensure a safe, expeditious reopening of international travel," Dale said.
Travel suppliers also celebrated the news.
Cruise Lines
Gus Antorcha, the president of Holland America Line, called it "an important step forward in the return to all global travel, including cruising."
"The change means that U.S. travelers can pursue their love of cruising Holland America Line voyages from homeports in Europe, Canada, and Australia without concern they could be denied entry to return home," he said.
Ellen Bettridge, president and CEO of river cruise line Uniworld said that its guests had pointed to the requirement as "the number one thing holding them back from traveling internationally."
John Padgett, president of Princess Cruises said, "This is a tremendous development that allows our guests to travel more easily and without stress throughout Europe as well as experience our Alaskan cruises that conclude in a Canadian port."
Tour Operators
"We are celebrating this decision as it means our family of tour brands – Trafalgar, Contiki, Insight Vacations, Luxury Gold, Costsaver, Brendan Vacations and Adventure World Travel – and the thousands of travel professionals and partners we work can focus on providing travelers the most incredible and stress-free experience. We know testing to return home was a barrier and concern for so many travelers to book that international ticket and I'm confident we'll see an uptick in interest in the coming days and weeks. We're ready to meet the demand," said Melissa Da Silva, president of TTC Tour Brands, the tour operator arm of The Travel Corporation.
Jeff Roy, executive vice president of Collette said, "We anticipate a significant reduction in last minute cancellations due to the testing and quarantine requirements, as well as a resurgence in both guests and travel advisors booking more international travel for the remainder of 2022 and into 2023."
Story updating.