Travel MarketPlace kicked off Wednesday to a crowd of 420 travel agents and over 100 suppliers at the Delta Toronto Airport Hotel for two days of business-building workshops and networking.
The event, aimed at travel advisors of all levels of experience, brought together suppliers, advisors, and representatives from the Association of Canadian Travel Agents, (ACTA), to celebrate the profession, learn, and network.
Wendy Paradis, president of ACTA, first took the stage to talk about what the organization's core goal is.
"We want to reduce red tape to allow agents to sell travel easily and lobby for the travel industry," she said.
Paradis also shared some research about the term "travel advisors" and its synonyms and addressed what ACTA will be doing with the results during the next year.
"We formerly use the term travel agent and the U.S. moved to travel advisor," she said. In the last six months, we sent a survey asking you what you think and we received hundreds of responses. The number one answer is travel consultant, and we'll be making changes over the next year."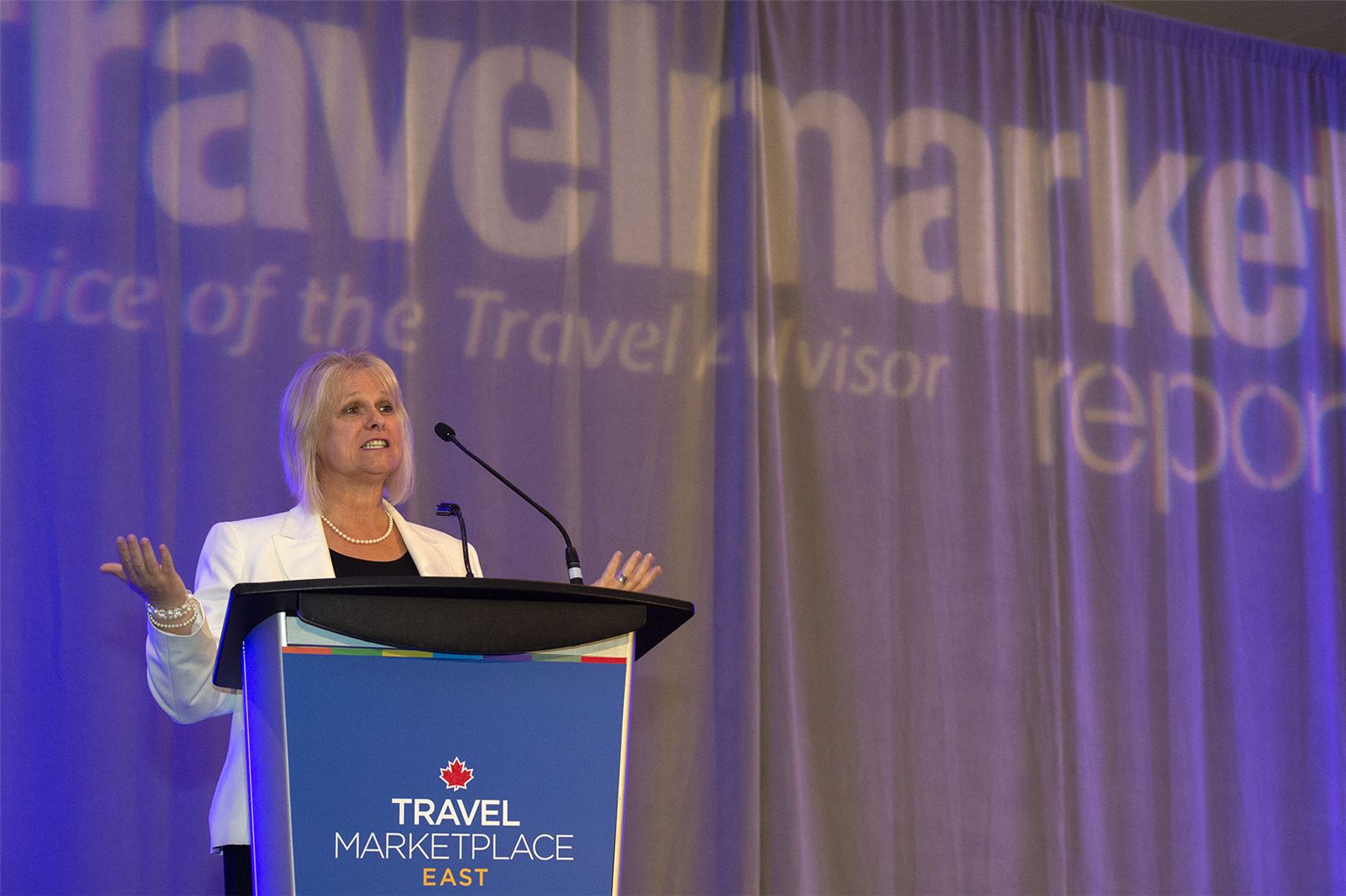 Wendy Paradis speaking at TMP East. Photo: Dan Gabraith.
Addressing NCFs
To help kick off Travel MarketPlace Tom McAlpin, president and CEO of one of the industry's newest entrants, Virgin Voyages, addressed the line's dedication to the trade in a Fire Side Chat Q&A with Travel Market Report's Anne Marie Moebes.
"We had the benefit of starting from scratch, we listened to our travel agents, and we call them our first mates because they're the right hand to the captain, so they're really an important part of our strategy."
McAlpin said the main feedback they heard from agents was that they weren't getting paid commission on everything they sell with non-commissionable fees. Virgin decided to be a disrupter, and eliminate the standard cruise policy in favor of a new structure that pays 10% commission on everything an advisor sells, from shore excursions to onboard experiences to insurance. In addition, bonus commissions are paid at the end of the year based on volume.
"We have a mantra at Virgin. We change the business for good, and not only is it a good business practice, it's the right thing to do," said McAlpin.
To navigate the ever-evolving trends, McAlpin said it's about "knowing what your clients' interests are, knowing who you customer is and what is really important to them – and matching them to that type of experience."

TMR's Anne Marie Moebes and Virgin Voyages Tom McAlpin. Photo: Dan Gabraith.
Selling niche and expedition cruises
In a panel lead by CLIA's Charles Sylvia, a team of niche and expedition cruise executives addressed the attendees on how they can gain more success selling the growing segment of the cruise industry.
"It's within everyone's reach," Roberto Castro, senior director of marketing, Americas at Silversea said. "We are here to help you convert the sale."
For travel advisors, experts on the panel had some advice on how they can qualify current clients for the niche and expedition offerings in order to understand if they are the right client for the segment.
The best way to qualify, according to Americas brand chairman and special corporate advisor for Ponant Edie Rodriguez, is to ask a client "Where do you want to go?"
"Destination, destination, destination. The best question an advisor ever asked me is 'where should I send clients and what should I do?' I believe it begins with that."
Another good way of helping clients understand niche and expedition sailings is to make sure they know exactly what the fare offers. Instead of selling on a price point, advisors can drive sales by selling on the value of an all-inclusive sailing.
"Upsell from a premium or mass market brand, because clients sometimes do get sticker shocked with the pricing and don't realize that everything is included with the price of the cruise," chief marketing officer for AmaWaterways Janet Bava said. "Sometimes what you pay at the end with other lines is way more than what you would pay up front for these kind of sailings."
"You need to educate your clients that there is a price you pay to get on a cruise and a price you pay to get off your cruise on traditional cruising," Rodriguez added.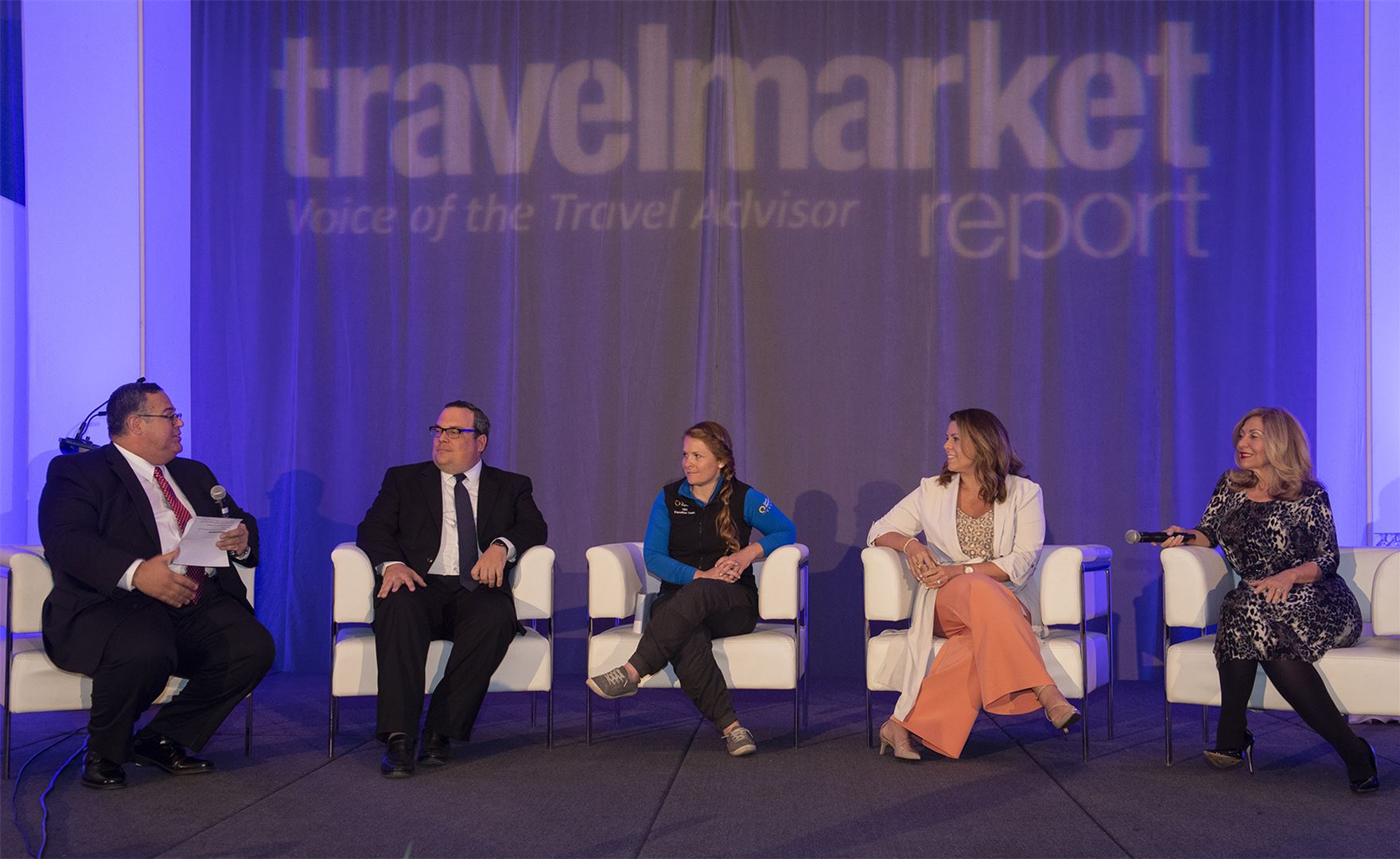 CLIA's Charles Sylvia leading TMP's Expedition Cruise and Niche panel. Photo: Charles Slyvia.
For advisors just entering the market, they should consider two important points—the first, is to get to know the product or products that you are selling. Each line sailing expedition cruises will offer different experiences for different regions of the world. And for advisors to take advantage of the market, that's getting larger each and every day, they have to know what they are offering.
"Knowing the product is the most important way to be able to successfully market that experience," Niki Trudeau, the expedition leader and academy trainer for Quark Expeditions said. "There's a sense that everyone's going to be on a rustic icebreaker…that's simply not the case anymore. Expedition is an expedition because we're going to these remote, sometimes hostile, locations. Understanding and breaking down the misconceptions is key."
And finally, for those who are just diving into the market and may be frustrated initially, it's important to remember that "it's a marathon, not a sprint," Castro added. "Small ship cruising is not something that happens overnight. You'll start to grow your business and overtime that turns into repeat business."