Viking Cruises to Take Expedition Cruising to the Great Lakes
by Cheryl Rosen /

Viking this week took advantage of the official naming ceremony for Viking Jupiter to announce its next big adventure—into the waters of a whole new continent. In 2022, Viking's new line of exploration vehicles will carry passengers not just to Antarctica, but also to the Great Lakes.
Travel advisors today can begin selling the first expedition vessel, Viking Octantis, which will sail Great Lakes beginning January, 2022, Viking Chairman Torstein Hagen told travel advisors and press at the Beverly Hilton. Its sister ship, Viking Polaris, will sail Antarctica and the Arctic beginning in August, 2022.
The ships, designed to fit through the narrow locks on the St. Lawrence River, will carry 378 guests in 189 staterooms. With destinations that are cold and land-based itineraries, with most guests outside most of the day, the cabins will not have balconies; instead, the extra space will be brought indoors, Hagen said.
On the Great Lakes, the 13-day Canadian Discovery itinerary will include stops in Toronto, Quebec, Cap-aux-Meules, Halifax and New York; the Niagara itinerary will include Toronto, Detroit, Traverse City and Milwaukee.
Each ship will have a 330-square-foot laboratory in which scientists and guests can collaborate on marine research, including studying sea birds in the polar regions and the Great Lakes. The ships will sail the Antarctic from April to September, then one will head to the Great Lakes and the other to the Arctic, using marine gas rather than LNG.

A rendering of The Hangar areas onboard. Photo: Viking.
Onstage in Los Angeles, Hagen "apologized in advance for any boasting I will do tonight"—and then detailed the line's growth since its ocean ships were announced in May 2013. Now there are six, and six more under construction, along with 78 river cruise ships, in a market that Viking's $2 billion marketing budget has pushed to the forefront of consumer's minds.
Viking's ocean cruises already are 88% sold out for 2020, Hagen said, as are 77% of its river cruises. It will bring in $3 billion this year, and carry half a million guests.
The first six expedition cruises, open only to returning Viking guests, already have sold out.
Priced at about $1,250 per night per passenger, including all expeditions on land and under the water, "expedition cruises are not cheap," Hagen acknowledged, "but we are price-competitive. It's been an underserved market and I think we can serve it."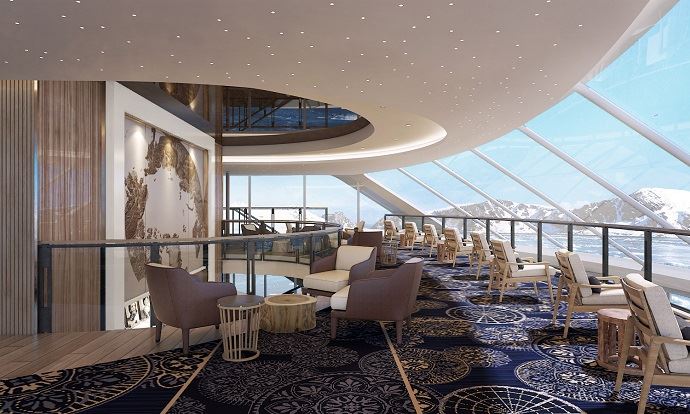 The Explorer Lounge onboard.
Each ship also will have a number of unique features:
The Hangar: an enclosed marina for launching small excursion craft, with a flat, stable surface shielded from the wind and waves.
Complimentary expedition equipment, including military pro zodiacs, two-seater Arctic-tested kayaks and 12-seater convertible RIBs, two six-guest submarines with revolving seats and 270-degree spherical windows, boots, binoculars and waterproof pants.
The Aula, a panoramic auditorium at the stern with floor-to-ceiling windows and 270-degree views, and the Finse Terrace, an outdoor lounge area with couches and lava rock "firepits."
The Nordic Balcony sunroom that converts into an al fresco viewing platform.
Nordic Junior Suites (322 sq. ft.) and Explorer Suites (580 sq. ft) with abundant wood detailing and amenities that include additional storage and seating, an expanded bathroom with extended shower and double sinks, welcome champagne, a fully-stocked mini-bar replenished daily, complimentary laundry and shoeshine services, priority restaurant reservations and more. Explorer Suites feature two separate rooms, a Nordic Balcony and a full outdoor veranda. There's also one Owner's Suite, 1,223 sq. ft, with a living room, dining table and plus a 792 sq. ft. private garden with a hot tub and outdoor dining table.
Expedition fares include shore excursions, onboard meals, and all port charges and government taxes; beer and wine with lunch and dinner; premium dining reservations; lectures; Wi-Fi; self-service laundry; access to The Nordic Spa; and 24-hour room service, as well as charter flights for hard-to-reach locales and the use of Viking Expedition Gear specialty equipment for land and sea excursions. On polar itineraries, guests also receive their own Viking Expedition Kit, which includes everything needed to be comfortable – as well as a Viking Expeditions Jacket to keep.
The Inaugural Voyages are: Antarctic Explorer (13 days; Buenos Aires to Ushuaia); Antarctic & South America Discovery (19 days; Buenos Aires to Rio de Janeiro); Arctic Adventure (13 days; Roundtrip Tromsø); From the Arctic to the Antarctic (44 days; Tromsø to Ushuaia); Undiscovered Great Lakes (8 days; Thunder Bay, Ontario to Milwaukee); Great Lakes Explorer (8 days; Milwaukee to Thunder Bay, Ontario); Niagara & The Great Lakes (8 days; Toronto to Milwaukee); and Canadian Discovery (13 days; New York to Toronto).
Travel agents react
Agents are excited about the prospect of a new high-commission prospect in their own backyards to sell this Wave Season.
"Everyone in the room went 'ahhhh!' noted Dreams Vacation franchise owner Christy Scannell.
"Will love the commission, as these will not be anything like Caribbean or even New England/Canada cruises," said Ray Goldenberg, president of Lighthouse Travel.
Hagen, meanwhile, promised more announcements to come. Asked at the press conference if that included the Mississippi, he just smiled.