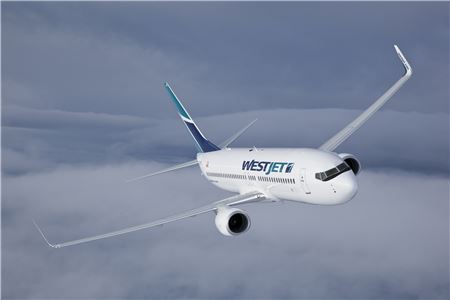 WestJet and Delta Air Lines have reached a deal to form a joint venture that would almost double the size of WestJet's fleets by 2020.
The agreement now has to be approved by regulatory agencies in the U.S. and Canada. If approved, it would expand the route networks of both airlines, create joint airport facilities, and allow for shared frequent flyer benefits.
In a statement announcing the joint venture, WestJet Executive Vice President of Commercial Operations Ed Sims said it "is an important step in WestJet's mission to become a global airline."
The airlines are hoping for the agreement to take effect in 2019, once all the regulatory approvals have been taken care of.
For WestJet, which already has a joint Venture with United Airlines, the deal would help the airline compete with the largest Canadian carrier, Air Canada.
During WestJet's investor day on Wednesday, President and CEO Gregg Saretsky said that the airline is looking to expand beyond a single brand into an airline with multiple offerings. One of those offering is a new low-cost Canadian airline called Swoosh, which had its launch recently delayed until next year.
For Delta, the deal expands its international partnerships. Delta already has agreements in place with Air France-KLM, Virgin Atlantic, AeroMexico, and China Eastern Airlines. Just last month, Delta added another partner when the U.S. Department of Transportation approved a joint venture between Delta and Korean Air.