Which Airlines Are Enforcing Face Mask and Middle Seat Rules?
by Daine Taylor /

As major airlines around the world continue to adjust their health and safety policies and requirements, here is an updated guide for how major North American airlines are handling face mask policies and seat distancing at airports and onboard aircrafts.

Photo: Shutterstock.com
Air Canada
Air Canada is requiring all customers and employees wear protective face coverings throughout their journey.
The airline is also removing the cap on flight capacity and stopped blocking the use of middle seats last month, allowing customers who prefer to travel on a different flight the option to change to another flight operating within three days, or to the next available flight without additional fees.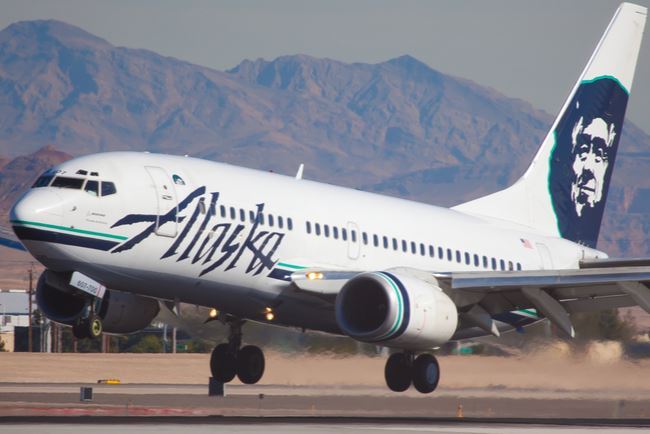 Photo: Shutterstock.com
Alaska Airlines
Earlier this month, Alaska Airlines announced that, starting Aug. 7, all guests who are over 2-years-old would be required to wear a face mask or covering at airports and onboard flights with no exceptions.
Alaska says that any guest who doesn't comply after getting that warning from a flight attendant will have their travel suspended immediately upon landing and will have any future trips or connections also canceled.

Photo: Shutterstock.com
American Airlines
American Airlines requires all customers over the age of 2 to wear face coverings from the time they enter their departure airport and not remove it until they exit their arrival airport.
The airline is taking a hardline stance further expanding its face covering requirement to include all areas of the airports at which American operates, and does not allow for exemptions.
Customers who refuse to comply may be barred from future travel with American for the duration of this face covering requirement.
American has resumed booking to full capacity, and will notify customers if their flight is expected to be full, giving them the option to change flights at no extra cost.

Photo: Shutterstock.com
Delta Air Lines
Delta Air Lines has similarly taken a hardline stance on mask enforcement, to the extent that those who refuse to comply may be banned from flying.
"They're important not just on air travel, they're important in any kind of interaction around the public," said Ed Bastian, Delta CEO. "On Delta, we are enforcing masks. You cannot board an airplane on Delta unless you have a mask on and if you get on the plane and decide that you're not going to wear the mask we ask you kindly to put it back on. If you insist upon not wearing the mask, we're going to insist on you not traveling on Delta in the future."
Delta also announced it would continue capping seats at about 60% of capacity through Sept. 30, to help maintain social distancing onboard.

Photo: Shutterstock.com
Hawaiian Airlines
Hawaiian Airlines will require its guests to wear a face mask or covering that effectively covers the mouth and nose, from checking-in at the airport to deplaning at their destination.
The airline will continue blocking middle seats on its jets, and will manually assign seats to increase personal space onboard.

Photo: Shutterstock.com
JetBlue Airlines
JetBlue will continue to require customers over the age of two to wear face masks while at the airport and onboard. The airline will no longer allow customers to claim exemptions from wearing a face covering altogether. Customers who refuse to comply with the policy run the risk of being banned from future travel on JetBlue.
"Our terminals and airplanes are a shared space, and every customer must wear a proper face covering or will need to delay their travel on JetBlue until face coverings are no longer required," said Joanne Geraghty, President and COO of JetBlue.
"Our policy is meant to offer the strongest level of protection for everyone given all that we currently know about how COVID-19 is transmitted."
As part of JetBlue's "Safety from the Ground Up" Project, it will be extending seat distancing in rows where parties are not traveling together through at least October 15.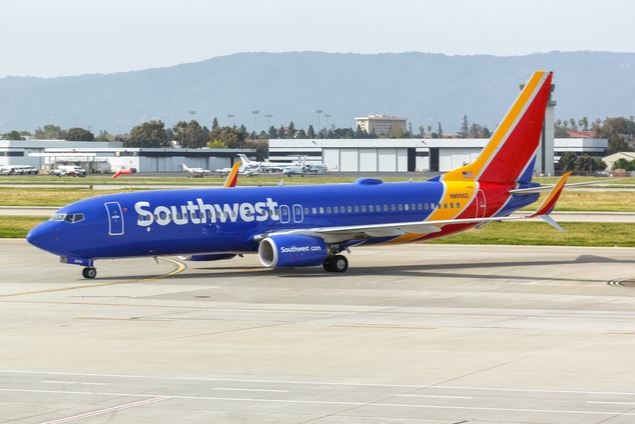 Photo: Shutterstock.com
Southwest Airlines
Southwest continues to require passengers wear face masks throughout their journey, and will offer face masks at airport locations for customers who forget to bring a face covering.
The airline will also continue limiting flights to about 67% capacity to allow for seat distancing through Sept. 30.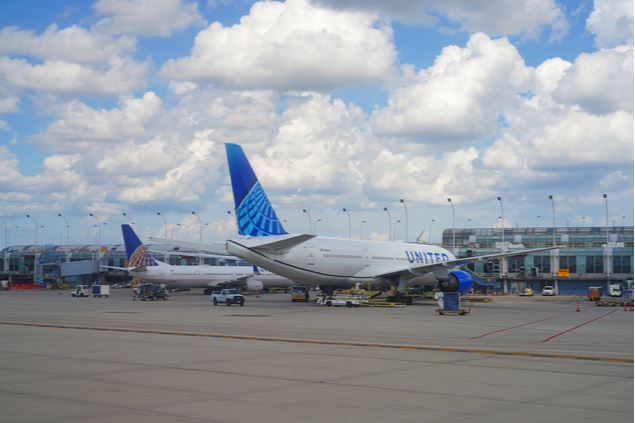 Photo: Shutterstock.com
United Airlines
United currently requires all customers over the age of two and all employees to wear a face covering, and will provide disposable face coverings for customers who need them.
Travelers are required to wear face coverings in the airport, gates and baggage claim areas, as well as throughout their flight, except when eating or drinking.
Passengers who refuse to comply with the carrier's mask requirement "may be refused travel and banned from flying United as least while the mask requirement is in place." Those who have "extraordinary circumstances" that warrant an exception, should contact United or speak to a representative at the airport.
"The most important thing any of us can do to slow the spread of coronavirus is to simply wear a mask when we're around other people," United CEO Scott Kirby said. "A mask is about protecting the safety of others, and I'm proud of the aggressive and proactive steps United has taken to ensure people are wearing a face covering in the airports where we operate and onboard the aircraft we fly."