Travel Advisors Talk Problems—and Solutions—at TMP West 2022
by Daniel McCarthy /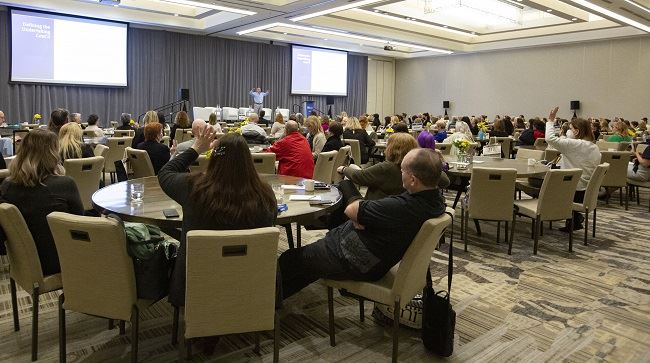 During a session at this week's Travel Market Place West Conference in Vancouver, Canada, Ron Cates, the digital marketing guru, ran the 200 advisors in attendance through a group exercise to find solutions to the problems that have plagued them over the past two years.
There are problems that the pandemic caused, but there are also common problems that advisors had to deal with even prior to COVID-19 entering the world's vocabulary. One that Cates pointed out, which was a problem both inside and outside of the travel industry, was branding and learning why people make their buying decisions.
"Picture a four corner intersection with four gas stations on each corner. People will choose to buy not because of the price or the colors, but because of who is behind the counter," Cates said. "Brand sounds like a very complicated discussion but let me simplify it, it's your persona.
"Social, email, and most print things, it doesn't matter. It is always about being real and authentic," Cates added.
Here's what advisors said when asked about the problems they faced over the past two years, and their possible solutions.
Challenge: "Our challenge during COVID was fear, clients' fear of the virus, fear of restrictions, fear of getting stuck."
Solution: "Our solution as an agent is being a resource to our clients but also having honesty and transparency. Just having that transparency with our clients so we are there to support them when things change. Just making sure we're there so they come back to us and they know we'll be transparent with them."
Challenge: "The challenge was maintaining mental health - I heard this so many times that the light of the end of the tunnel was just another freight train trying to hit us."
Solution: "What came out of it was teamwork - we've got several different offices - our managers were in the office by themselves and falling apart on a daily basis. Just maintaining contact and trying to keep a positive attitude and the benefit that came out of it was the teamwork we had now."
Other solutions from the crowd included humor, physical activity, and picking up the slack for a co-worker when things get overwhelming for them.
"Different people are going to be in a good spot on different days. There are days when you will make me laugh and other days I will make you laugh," one advisor said. "We're going to go through this process for a long time - we're going to go back and look and say 'hey we got through it.' We're going to have to keep each other afloat and happy and be able to rely on our peers, friends, and business partners or keep us up."
Challenge: "Time management."
Solution: "We've had some support staff come in and tried to do more automation with our follow-up and pre-departure emails. You can set up it up automatically without having to do it yourself."
Another solution was time blocking, having specific times during the day targeted for specific tasks that need your full attention and focus. "Time blocking is huge – I'm hyper-focused when it comes to tasks. It's been huge for my business and I don't feel stressed at the end of the day."
There are tools you can use to do this for you including Calendly, a modern scheduling platform, or Things, a task management platform. Some attendees said they simply use Google or Apple calendars.
Challenge: "We were talking about finding the right clients to sell to this when this is over."
Solution: Networking groups, seeking out where your ideal client hangs out, posting virtual presentations, asking for referrals, collaborating with other travel professionals, working your email marketing funds, finding your niche, and recommending to your niche.
New advisors attending the conference were particularly interested in this issue, which, according to them, is the biggest problem they have in the way of success.
"We're all trying to figure out how to get clients because we didn't come in with pre-existing connections - we're wondering how do you that in a way that transfers those people into potential clients," the advisors said. "We did come up with joining Facebook pages and groups on LinkedIn."
According to Cates, the most important thing when marketing to new clients is including a call to action to get them on your list.
"Anywhere you connect, whether it's on social or they hand you a business card, that's a pretty good way to have an email address. So, if they hand you a business card and they have an email address on it, you can take 15 seconds and ask them to add them to their list. Don't be reluctant to ask for an email address," he said.
Marketing has changed, according to Cates—15 years ago all marketing was "Buy my Stuff" and that changed a while ago, even though some haven't kept up.
"It is important to tell your audience what makes you different, what makes you who you are. Look at a Nike ad on the TV and you won't know what it is for until you get to the end of the advertisement," he said. "A lot of you are afraid to talk about yourself and the expertise - you're a top-notch travel expert. Don't be afraid to say that."
Challenge: "Recognition - our challenge was to get recognition among ourselves and the work we do each day. We just want to be recognized."
Solution: Advisors acknowledged that it is going to be their own personal responsibility to give themselves, and each other the recognition they deserve, whether that's physical or metaphorical pats on the back, some small gift cards for each other, or simply by acknowledging each other every day.
"I'm motivated by praise big time," Cates added.