Ultimate Driving Tours Announces Expansion to U.S. In 2024
by Bill Fink /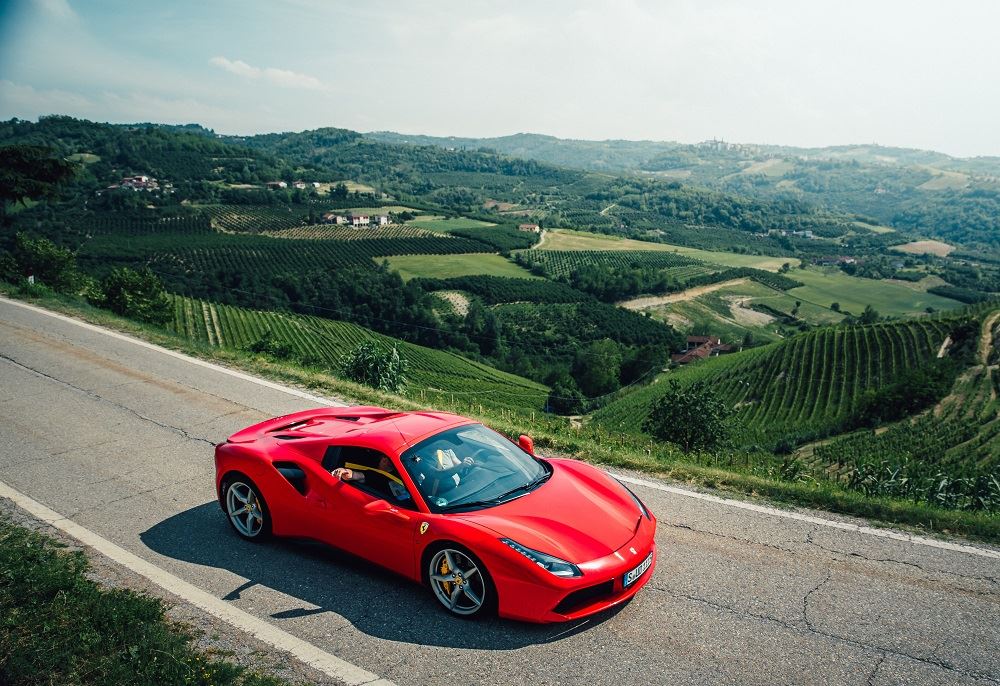 Ultimate Driving Tours, a tour operator offering luxury supercar European road trips, has announced plans to expand its tours to the U.S. in the fall of 2024. Planned itineraries include supercar tours through California wine country, a tour across upstate New York, and hosted experiences at Formula 1 races in Las Vegas and Texas.
What is an Ultimate Driving Tour?
Imagine powering through curves and straightaways of some of the world's most scenic roads driving a Ferrari, Lamborghini, Porsche, and a selection of other "supercars" capable of reaching 200 mph, staying each night in a luxury hotel and dining at some of the top local restaurants along the way. Feeling the roar of a 600-horsepower engine as you gun the motor on the German autobahn, passing cars at well over 130 mph (without the worry of getting a speeding ticket) is an experience like no other.
Ultimate Driving Tours group trips include lodging, most meals, and daily drives in finely tuned supercars on roads specially chosen to show off the vehicles' speed, handling, and comfort.
The group nature of the trip allows drivers in the flashy convoy to switch between cars as the trip progresses, deciding whether they prefer the ride of a Ferrari versus a Lamborghini, or the views of Swiss mountains from a top-down convertible coupe, or a low-riding car in super sport mode. At dinners each night at the hotels, guests gather at communal tables to trade stories of their favorite car features and road experiences of the day. Clients can book the trips either individually or as couples taking turns at the wheel.
For clients interested in an independent journey, Ultimate Driving Tours can set up personal itineraries with the use of a single car from their fleet, using the same carefully curated selection of roads, hotels, and restaurants.
I tried out an Ultimate Driving tour in the Bavarian Alps of southern Germany. Alternating between a convertible Audi R8, and an Aston Martin Vantage, I hugged the turns of winding mountain roads, let loose on "unrestricted" (no speed limit) straightaways of the Autobahn, and gunned the engine as we passed through small farming villages in the countryside. The stunning cars (both of which retail for close to $200,000) were tourist attractions of their own, with people posing for photos in front of them during our stops at actual German tourist attractions, including by the famed Neuschwanstein "Disney" Castle of Mad King Ludwig.
With a guide driving the car in front of me, I didn't have to worry about road directions, and managed my speed to match local regulations—Ultimate Driving Tours are not crazy Cannonball Run-type races, but rather sporting tours, where you'll be able to take advantage of the cars' speed and power, but within reasonable safety guidelines. Each car comes equipped with a walkie-talkie, from which you can get instructions from the group leader, share "yee-ha's" with fellow drivers, and get a heads-up on when it's safe to pass that slow-moving truck in front of you.
Lodging on my tour was at the spectacular Schloss Elmau resort set amidst towering mountains and sweeping sheep-dotted pastures of the Bavarian Alps. The hotel hosted the G7 summits of world leaders in 2015 and 2022, but even they were impressed with the supercars pulling into their driveway. The resort's spas, pools, multiple restaurants, bars, peaceful libraries, and stunning outdoor surroundings made it a great spot to unwind after supercharged daily drives.
A great add-on for an auto-themed tour in Germany is a stay at the Ameron Munich Motorworld hotel. This unique property is part of the Motorworld attraction, a massive entertainment complex built into a former railroad repair depot. Motorworld features expansive displays of historic and modern supercars, many of which are available for purchase. The complex includes multiple restaurants and cafes, race car simulators, and plenty of meeting space for corporate events.
What are the U.S. expansion plans?
Currently, Ultimate Driving Tours operates European guided trips in France, Germany, Italy, and Switzerland, including scenic regions like Tuscany, Provence, and the Alps. Specialty tours include ice driving in Sweden, Arctic Trucking in Iceland, and combined F1 race-viewing experiences with driving tours. In the fall of 2024, Ultimate Driving Tours plans to expand operations in the United States with guided and independent supercar road trips through California and upstate New York.
The California guided group tour is designed to go from Santa Barbara to Napa Valley, cruising along the dramatic ocean scenery and tight turns of Highway 1 along the Pacific Ocean, followed by drives through the rolling hills of wine country. The five-day, four-night trip will include about 400 miles of driving cars in a fleet that may include a Corvette and Rolls Royce to add to the Lamborghinis and Ferraris normally found on the tours. Nightly stops at luxury properties with lavish dinners will complement the drive.
The tour will be scheduled to coincide with the annual Formula 1 races in Austin, Texas so that guests can pair the two experiences as a fully immersive car-themed vacation. Independent itineraries will also be available for clients looking to drive a supercar on their own.
Ultimate Driving Tours' planned addition of a New York trip is currently designed to be an independent five-day four-night self-drive tour with a curated itinerary across the hills, valleys, and curving roads of the Hudson Valley, Pocono Mountains, Catskills, and Berkshires areas, spanning about 550 miles. Guests will stay at five-star properties and have arranged wine tastings (after a driving day is finished), and optional excursions that could include scenic helicopter tours and winery days.
How to book a Tour
Bookings can be initiated through the Ultimate Driving Tours website, with a travel concierge who can gather guest information. Accommodations and meals are booked separately but as part of the tour. Airport transfers are included, but airfare and flying arrangements must be done independently. Luggage is transferred for guests by the Ultimate Driving Tour team daily, as there isn't much in the way of baggage space in supercars. Insurance is provided for the cars in case of an accident, but guests may want to purchase extra insurance given the high-deductible policies that come with the cars. Booking is recommended as far in advance as possible to secure a place during peak travel times.