5 Things to Know About River Cruising with American Queen Voyages
by Dori Saltzman /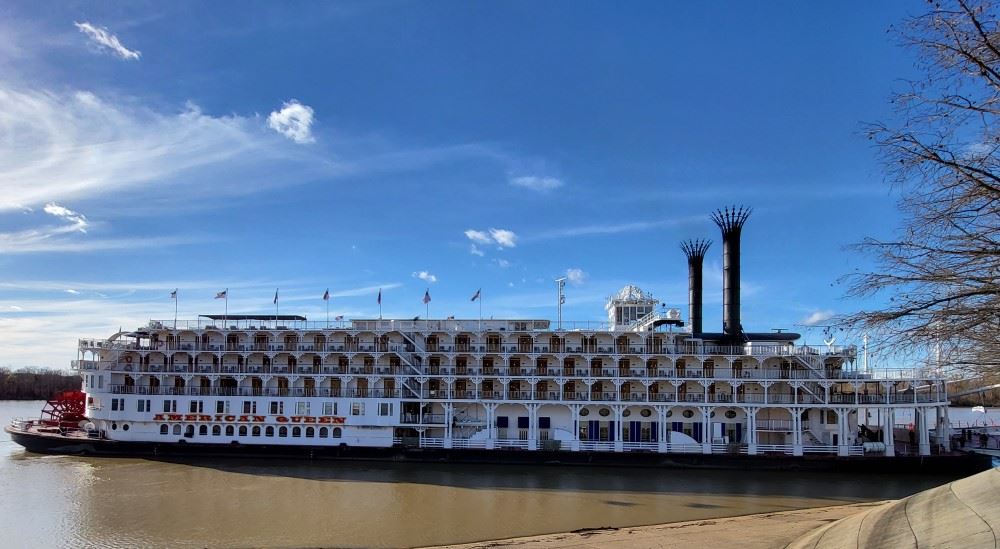 Travel Market Report recently spent a week onboard American Queen Voyages' American Queen for the line's first-ever President's Cruise. Onboard the Lower Mississippi sailing, which went from New Orleans to Memphis, were the line's new president Cindy D'Aoust and John Waggoner, founder and chairman. During several dinners with both onboard we got to hear more about the line's past and where it's headed.
Currently in a bit of a transitional phase, a river cruise with American Queen Voyages combines elements of traditional U.S. riverboat cruising with contemporary ideas intended to bring it into the future.
For advisors who have never sailed with AQV, here are a few things to know before recommending the line to clients.
1. Nothing but North America
You won't find a European itinerary with American Queen Voyages. The line's expedition ship doesn't venture to the Arctic or Antarctic. It's ocean-going vessels don't make their way across the pond. American Queen Voyages is exactly what the name says it is, American.
North American that is, though something like 95% of the itineraries are in the United States, with a smattering of itineraries that visit parts of Canada, Mexico and Costa Rica.
American Queen Voyages, formerly American Queen Steamboat Company, got its start on the Mississippi River back in 2012. Today, you'll find river voyages on the Ohio, Cumberland and Tennessee Rivers, as well as along the Columbia and Snake Rivers. The line has four ships plying these waterways, all crewed entirely by U.S. citizens.
The cruise line also offers expedition sailings to Alaska on its sole expedition ship, Ocean Victory. On its two ocean ships – Ocean Voyager and Ocean Navigator – the line offers Great Lakes sailings on all five Great Lakes, up the St. Lawrence and into Canada and along the U.S.'s east coast and down into Costa Rica and Mexico. Because these ships are not U.S.-flagged, their crew maintains a more international mix.
2. No Cookie Cutter Ships
With the sole exception of Ocean Voyager and Ocean Navigator, which are nearly identical, all of American Queen Victory's ships are different, particularly in the line's riverboat fleet.
The 436-passenger American Queen, the boat TMR sailed on during the line's first annual President's Cruise, is the grand dame of the fleet, the largest paddlewheel steamboat ever built. It's steamboat-era traditional, with dark woods and gleaming brass. There's a ladies' parlor with cherry woods, genteel décor and furniture designed for sipping tea and chatting. Across the way is the gentleman's card room with dark woods, stuffed animals, an oversized fish on the wall, and tables and chairs set up for drinking whiskey over a card game. The main theater, called the Grand Saloon, is a replica of the Ford's Theater in Washington, D.C. As for cabins, there are several suite choices and some inside cabins, but most are outside rooms that connect directly to the circular promenade that surrounds the boat on decks four and five.
American Empress, which sails exclusively on the Columbia and Snake Rivers, is nearly half the size of American Queen, carrying 223 passengers. Like American Queen it has an old-timely feel, though its paddlewheel is mostly for show (it provides only a small proportion of the propulsion onboard). Unlike on the Queen, there are no inside cabins on Empress.
The smaller 166-passenger American Duchess and 145-passenger American Countess have a considerably more modern feel with higher ceilings and lots of windows for a much airier feel. Décor on these boats is more akin to a luxury boutique hotel than a steamboat, with lighter colors and a more geometric-styled design scheme. The main bar outside the dining room on American Duchess, for instance, would fit in in just about any contemporary hotel lobby. Between the two, American Countess has fewer – and smaller – cabin choices, with American Duchess having the line's only two-story loft suites in the fleet. Of the two, American Countess also brings back some of the traditions found on American Queen including a library, chart room and lanai cabins (though these cabins have a small, fenced section of the lanai for private use).
The remainder of AQV's fleet comprises three ocean ships, one of which is an expedition vessel that offers magnificent viewing spaces, hands-on science programs, floating marina for easy kayak and Zodiac loading and unloading.
3. Dine Your Way through Your Itinerary
The onboard culinary experience is an integral component of an American Queen Voyages sailing. While American Queen Steamboat Company always offered local flavors on each itinerary, American Queen Voyages, under the guidance of new president Cindy D'Aoust and culinary ambassador Regina Charboneau, is taking this much farther. Today, guests will find an almost entirely new menu combined with the stories behind the dishes, giving visitors a better understanding of the people along the routes they're traveling.
Each night of our Lower Mississippi sailing from New Orleans to Memphis, the dinner menu started with a short history of the cuisine in the region of that day's port stop.
Here's an excerpt, "The Acadiana foodways and greater New Orleans area were influenced by the Germans who settled along the lower Mississippi. The sausage making and smokehouse culinary culture here is widely attributed to the skilled German artisan butchers who settled in the northern parts of the bayou… Andouille sausage and smoked Tasso, essential to many Creole and Cajun dishes, were created by these artisans…"
The menu that night had items like sweet potato latkes, white bean and Andouille soup, and cod with andouille in saffron broth.
Another night focused on the Italian and Chinese immigrants to the Mississippi Delta. Menu items that night included spicy sweet chili shrimp, oxtail soup, and chicken parmesan.
Sometimes, individual menu dishes came with a history as well.
On the night the menu offered Creole Daube, we learned, "Daube was introduced to New Orleans by the French Creoles who brought the preparation from their native France… it is the Louisiana version of Beef Bourguignon."
Our favorite "local" culinary moments were the mornings local pastry makers brought their specialties onboard (the donuts in Natchez, Miss!), something AQV president D'Aoust said she's hoping to do in more ports of call.
4. Fairly All-Inclusive
A river cruise with American Queen Voyages is fairly inclusive. Food, unlimited drinks, Wi-Fi, gratuities, a pre-night hotel stay and a hop-on hop-off tour in each port is included in the fare. Not included are premium drinks (on our sailing, there were a handful of beer brands and wines not included in the price), premium excursions, spa services (not all vessels in the fleet have a spa), purchases from the onboard shop, and pre- and post-cruise airport transfers.
Of all the exclusions, the last one was the one we found most notable. For a line that says it wants to provide a seamless experience from booking to end of cruise, it's the one piece that's missing. D'Aoust told TMR she's aware of that and plans to address it at some point in the future, but only when she's sure it can be done right.
5. Four Hours a Mile
One evening on a stroll around the promenade, we stopped to chat with a gentleman who spent most evenings sitting outside his cabin watching the river roll by. A repeat (several times over) American Queen Steamboat Company cruiser, we asked him who he thought the ideal passenger for the line is. He told us, someone in their 60s and older who likes their travel to happen at four miles an hour.
That certainy is the traditional demographic the line has been pulling in since it launched in 2012 (more 70s and 80s than 60s), but American Queen Voyages is working to change that. Our sailing had a honeymoon couple in their 20s – they're both American history buffs and he's in a blues band – and a three-generation family that included two young couples, both pregnant. There were definitely more 60 years olds than 80 year olds.
(FYI, the line's expedition vessel, Ocean Victory skews much younger. The Columbia and Snake Rivers cruises also skew a tad younger.)
One way the line is trying to entice new cruisers is through an expanded – and slightly more active – shore excursion program with more premium options that go further afield. The line is also adding more bikes and will soon be providing bike trail maps to guests who want to explore on their own.
With that said, the overall experience remains a leisurely one. The river boats usually spend nearly a full day in port, with most people choosing to spend part of the day relaxing with a book, playing cards or even napping. In the evening, a piano player sings before and after dinner, the main theater show might feature music (on our sailing we had banjo one night, guitar another, a Broadway tribute and a bona fide Memphis blues band) or could be a Mark Twain impersonator telling tales, and late night live music and dancing (think 50s, 60s and 70s) gets started at 9:30.