Celebrity Cruises last week celebrated the debut of the Revolutionized Summit. On an inaugural two-day sailing, the 150 Puerto Rican travel advisors onboard sung their praises of the new ship and how it would be "an easy sell."
As Celebrity Cruises moves ahead with its $500 million fleetwide modernization, the company will continue to accommodate and empower its travel advisor partners, for which it is known.
"Putting the right guest on the right ship is really important," said Lisa Lutoff-Perlo, Celebrity Cruises president and CEO, during a media event on the ship. "Our travel partners really understand what their guests want and what they're looking for."
While the upgrades are a great selling point for loyal Celebrity cruisers, it also provides the opportunity to sell to expand business to first-time cruisers.
Dondra Ritzenthaler, senior vice president, sales, trade support & services, suggested advisors focus on selling the elevated experience in its entirety, rather than a few key points.
"It's really the sum of the parts. Now you have this feeling when you walk onboard that it's new and fresh, and you want to be a part of it," she told Travel Market Report. "The beauty is, if you're used to staying in a high-end hotel, you're still in that space."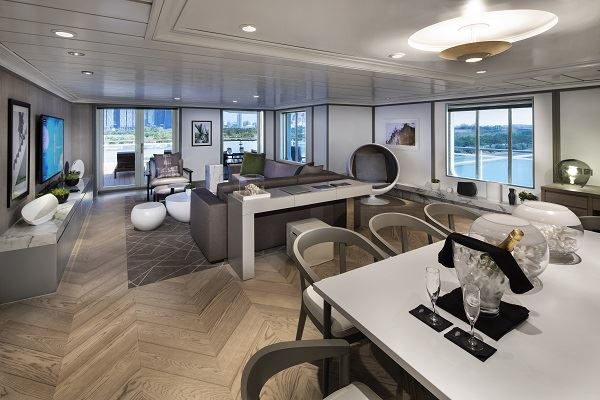 Clients who've taken luxury land vacations can try the Penthouse Suite. Photo: Celebrity Cruises
Clients who have taken luxury land vacations would be a great new-to-cruise on the Summit, or the brand new Edge, where the modern luxury translates to that of a high-end hotel, Ritzenthaler said. "If you have stayed at a four- or five-star hotel or if you have gone to a high-end all-inclusive, open your mind to the fact that cruising is an opportunity for you that maybe you didn't think of before."
For agents, Ritzenthaler said the best way to fully appreciate Celebrity Summit's transformation is to see it in person, because "the renderings don't even do it justice."
There will be ship visits available every weekend for travel partners to physically see the ship. Interested advisors can reach out to their sales reps and put in a request, which will be accommodated on a first-come, first-served basis.
In addition to travel agent rates on select sailings, Celebrity offers educational Seminars at Sea. On these seven-day itineraries, travel advisors will spend part of the time experiencing the ship and some days learning. Ritzenthaler said there are plans to host about 100 this year.
If the calendar is full, there is also Celebrity's Five Star Academy, which has modules on everything from a general lesson on selling cruises to the Revolution. Right now, there's a comprehensive presentation on the Revolution, complete with videos.
"We want to be able to train as many travel professionals as possible on how to sell Celebrity; how to sell the Revolution; and even our new ships, Flora in the Galapagos, and Edge."