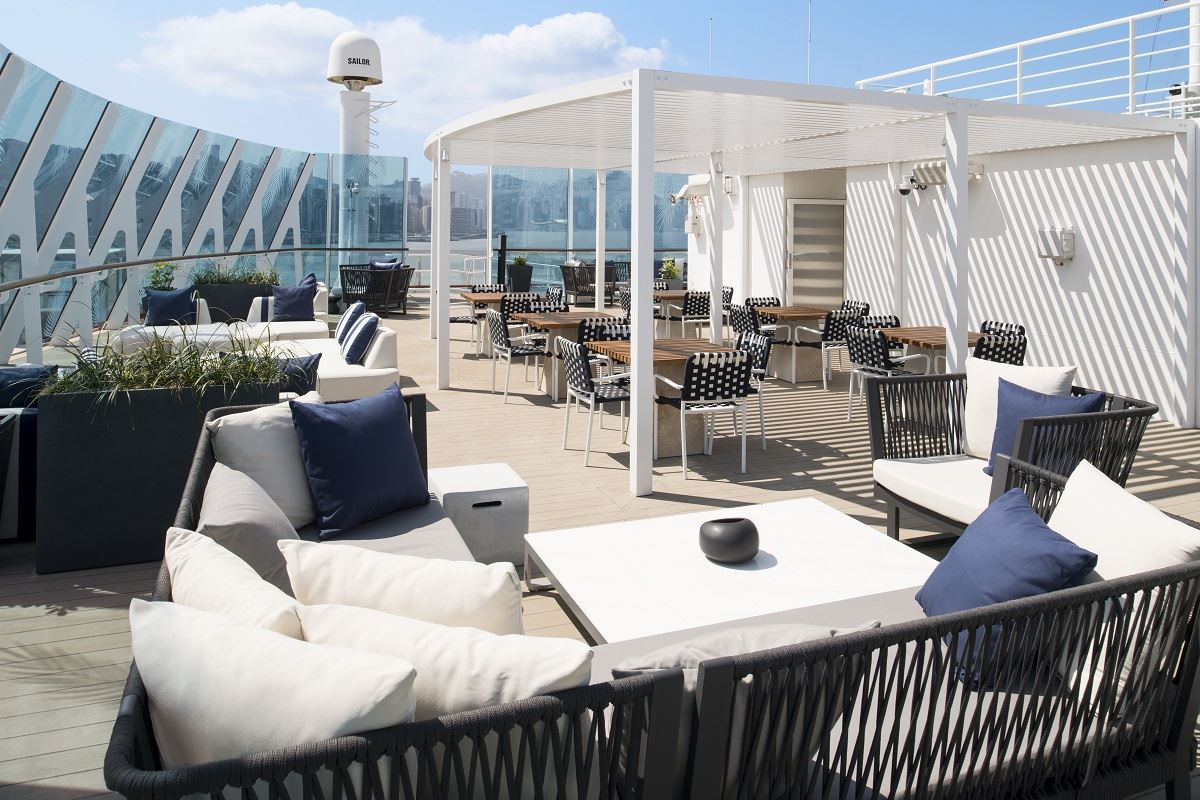 As part of the Celebrity Revolution, which is its fleetwide modernization, Celebrity Summit showed off its grand enhancements this weekend, after a 38-day dry-dock.
Nearly two decades old, Celebrity Summit now shares many of the same design features as the new Celebrity Edge. It is part of the company's $500 million Revolution project, with the goal of gaining consistency across the fleet. Next up is Celebrity Equinox in May, with four more ships slated for 2020.
From updated guest rooms to 50 new slot machines in the casino and expanded spa services, the redesign touched the ship bow to stern.
Lighter and brighter staterooms and suites
After going down to steel, rooms and bathrooms have been rebuilt with a design mimicking the Edge.
"We really focused on what matters most to our guests with the Revolution, and at number one, that's staterooms, from soup to nuts," said Brian Abel, senior vice president of hotel operations at Celebrity Cruises.
Staterooms feel more open, making better use of the space afforded to them, and the lighter color palette gives the rooms an airy feel. Bathrooms were redesigned with faux marble finishes and new fixtures.
Smaller-scale additions can be found as well, from USB charging ports and the locations of the outlets, to nightlights in the bathrooms. Cabinetry was placed more strategically and made more functional; and eXhale bedding with luxurious cashmere mattresses was added.
Summit added 30 staterooms, including 13 new Aqua Class, seven new Ocean View, and 10 new Inside Staterooms.
British designer Kelly Hoppen, MBE, who also worked on the Edge, oversaw the refresh of the suites and retreat areas. Suites were redesigned to maximize space, with clean lines and warm tones throughout. Pops of bright orange or emerald green complete the sleek furnishings.
Exclusive spaces for suite guests
After being a "homerun" on Edge, the Retreat Lounge and Sundeck were replicated on Summit for suite guests, from entry level and up. It is an experience that Celebrity plans to roll out across its entire fleet.
"That has helped us market the suite experience in a whole new way," said Lisa Lutoff-Perlo, president and CEO.
Abel said it was developed after listening to feedback from suite guests, who desired something more exclusive. On the Edge, it has been a success, with suites selling out the fastest and reviews ranking the highest.
The Retreat Lounge replaces the dark wood and carpet of the former Michael's Club in favor of a white-and-taupe color scheme with accents of deep red. Open 24/7, the lounge provides coffee and pastries in the morning, and beer and light bites in the afternoon.
Once an underutilized part of the ship, Abel said, the aft on the 11th and 12th floors is now home to the outdoor Retreat Sundeck. The private area has navy-and-gray lounge beds and tables for wait service, as well as its own hot tub.
Suite guests can also enjoy private dining at the Luminae restaurant, boasting a new partnership with Chef Daniel Boulud. His signature dishes can be found exclusively on Luminae's dinner menu. Celebrity will also be introducing Chef's Table by Daniel Boulud, a private galley tour and five-course meal that is available for all guests.
Elevated restaurants and bars
"We also heard from our guests that what matters to them is food and beverage," Abel said, leading to the transformed Oceanview Café and main dining room.
The Oceanview Café now has more seating options and a globally-inspired buffet, from English and American breakfast options to Indian and Caribbean dishes at lunch.
The Sunset Bar was restyled for al fresco dining or cocktails with a view. The Rendezvous Lounge, which hosts events and entertainment throughout the day and night, gained a newly enlarged cocktail bar and a quaint reading nook.
Bold entertainment choices
A partnership two years in the making, American Ballet Theater will be premiering this year on Revolutionized ships Summit, Millennium, and Equinox.
The collaboration is part of a mix of providing traditional entertainment with more cutting-edge, immersive programming, Abel said, as passengers will now have the opportunity to experience the magic of ballet onboard. Adding just how unique of an offering this really is, he pointed out how difficult it is to perform ballet when a ship is moving (the principal dancers were as graceful as ever on both nights of the ship's relaunch).
Revamped spa
The spa, in partnership with Canyon Ranch, saw the transformation of its 12 treatment rooms; along with the addition of a new salon offering blowouts, manicures, and pedicures. The Persian Garden thermal suite was enhanced with new therapeutic spaces and experiences such as a Turkish bath, infrared sauna, and salt therapy.