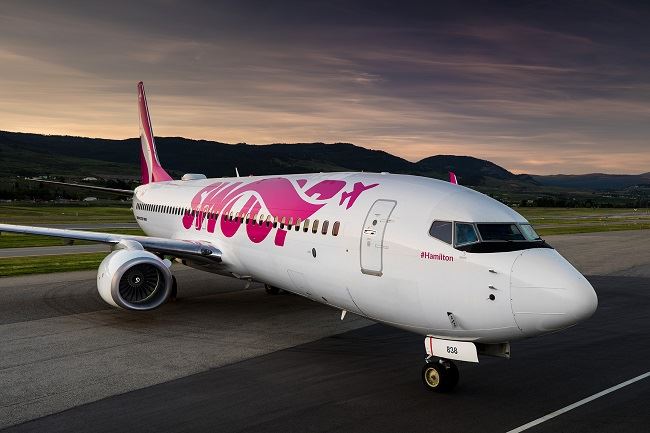 Swoop, the low-cost Canadian carrier from the team behind WestJet, is continuing to add routes ahead of an expected busy summer travel season.
On Sunday, the carrier launched its inaugural service to Charlottetown Airport from Hamilton International Airport, the first of a number of routes coming from Swoop this summer. The service, which landed in Charlottetown at 11 am on Sunday, is the first of 11 inaugural Swoop will celebrate this summer.
Shortly after that flight landed, Swoop celebrate another inaugural flight, this one from Edmonton to Halifax, another addition that was then followed by new Charlottetown service from Toronto Pearson on Monday.
The rest of the service on the way includes flights to Moncton, Saint John (NB), Deer Lake, and St. John's (NL).
"As Canada's leading ultra-low fare airline, we are pleased to kick off our Atlantic Canada expansion with this inaugural flight to Charlottetown today," said Bert van der Stege, Head of Commercial and Finance, Swoop.
"This is the first of 11 inaugurals Swoop will celebrate across the region this summer as we expand our ultra-low fare offering on the east coast."
Along with those new routes, Swoop is also expanding its U.S. service this summer. Swoop is adding five new nonstop routes to five new U.S. cities—New York, Chicago, Nashville, San Francisco, and Los Angeles.
Those five join already-established Swoop service to San Diego, Palm Springs, Las Vegas, St. Pete-Clearwater, Orlando Sanford, and Phoenix, all of which will be extended into the summer season, giving Swoop a total of 11 U.S. destinations this summer.
Swoop will fly that service out of its three main hubs—Toronto, Hamilton, and Edmonton.
Swoop expects this summer's demand for transborder travel to continue to increase as more than 30 million Canadians are fully vaccinated and the current government travel measures expire on March 1, something that van der Stege said continues "to severely impact the recovery of the travel and tourism sectors."