Seven Extraordinary Culinary Experiences for Foodie Travelers
by Katie Kelly Bell /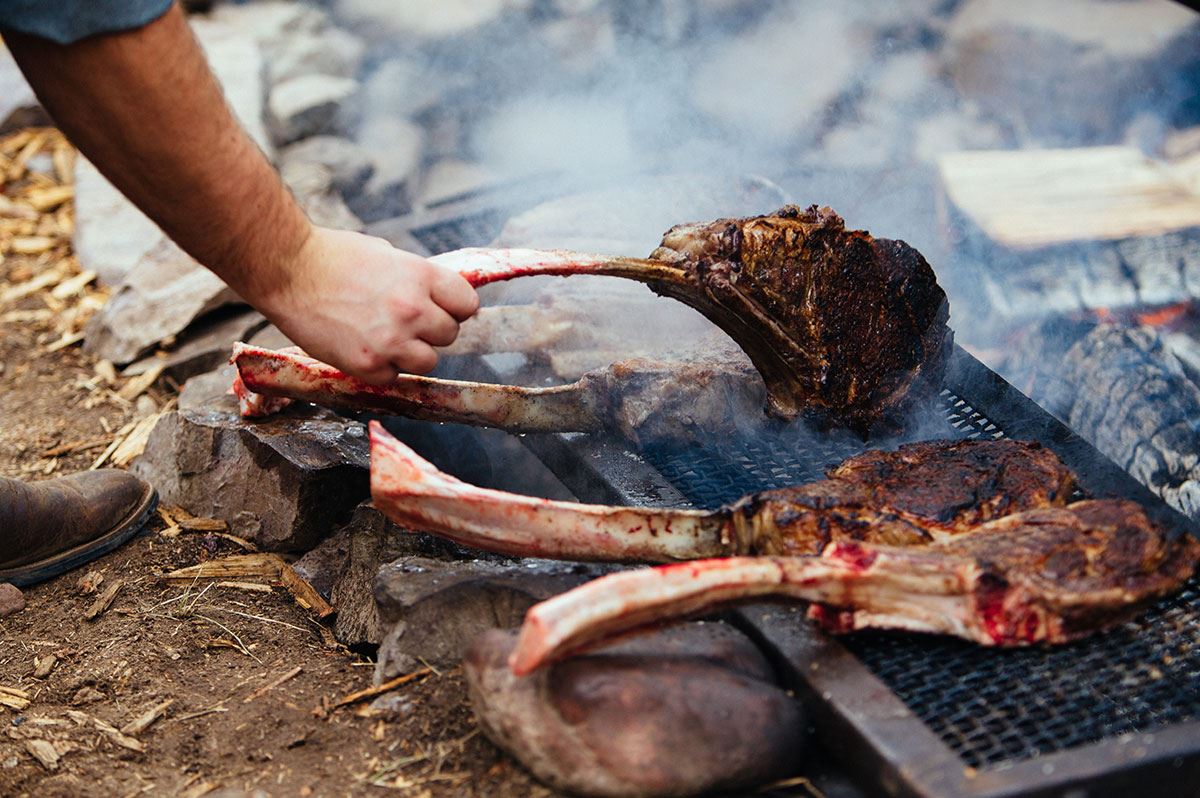 Raise the bar on your average wine-tasting or private dinner with these extraordinary culinary offerings–from a Top Gun-inspired flyover of Champagne to a day-tripping picnic on a private yacht in the Caribbean.
1. The Annual Barbecue at The Resort at Paws Up
The Resort at Paws Up in Montana kicks off the western summer season with its annual barbecue immersion weekend featuring the best of Texas' great pitmasters including Chef Leonard Botello IV of Truth Barbecue and Chef Evan LeRoy of LeRoy and Lewis Barbecue. Oregon-based vintner Ken Wright of Ken Wright Cellars will also be on hand to pour his wines and talk pairings, as well as the team from Montgomery Distillery. The Sterling Drake Band brings the entertainment, live from Nashville. In between bites, guests have 37,000 acres of wilderness and myriad activities to explore on this sprawling ranch.

Photo: Montage Healdsburg
2. Wine Tour at Montage Healdsburg
Private wine tour and tasting via Helicopter at Montage Healdsburg: A helicopter tour and private tasting experience take guests on an aerial ride along the Russian River Valley out towards the Pacific---all the better to understand how that "cooling pacific breeze" impacts winemaking. On the return flight, you'll land boss-style at one of three wineries for an exclusive tasting.
3. Food Foraging Tour in Big Sur
Sandwiched between coastline and forest, the adults-only Alila Ventana Big Sur features a unique Foraged Flavors experience that takes guests on a food foraging food adventure, encouraging them to use all senses (eyesight, touch, smell, sound, and taste) to gather wild plants. During the experience, the guide will teach guests tips and tricks to plant identification, foraging, and processing techniques with recipes. Seasonality determines what can be foraged.

Malibu Beach Inn. Photo: tishomir / Shutterstock.com
4. Wine Tasting Near Billionaire's Beach
Private wine tasting near Billionaire's Beach: The Malibu Beach Inn, Los Angeles, has an exclusive partnership with the Dierberg Estate in Santa Barbara County to give guests access to its vineyard. The estate is not open to the public--only guests booking the Dierberg Suite can experience the winery and estate with a private tour and tasting followed by a catered gourmet lunch overlooking Happy Canyon.

Champagne, France. Photo: Shutterstock.com
5. A Top Gun Flyover in France
A Top Gun Flyover with the Royal Champagne & Spa: Take a fighter jet ride over Champagne, France with the hotel's exclusive offering. Guests are invited to take a backseat (the only other one available) on jet airplanes flown by former military and professional pilots. The low-altitude ride will take guests over the rolling vineyards of Champagne—expect a few acrobatic maneuvers and a chance to take the controls for a bit, and of course a glass of Champagne at the end.
6. Lunch on a $1.7 Million Yacht
Private Van Dutch Yacht Picnic at Mayakoba, Riviera Maya, Mexico: Head out for a day of cruising and snorkeling on Mayakoba's $1.7M, 55' yacht. Tuck into one of the Hermes leather seats for your own bespoke voyage including lunch by one of the resort's world-renowned chefs plus snorkeling, scuba diving, jet skiing or using underwater scooters.
7. A Tour of New Zealand's Wine Regions
Tour New Zealand's top wine regions via helicopter at Wharekauhau Country Estate: Discover the valleys of the upper South Island and the terrace of Martinborough—all very customizable. Tastings and tours at Vavasour, Grove Mill, and Te Kairanga, lunch, and a scenic flight that takes in the Marlborough region, Martinborough region, Cape Palliser Lighthouse, and the rugged South-East coast of the North Island.

Photo: Wharekauhau
Only accessible by boat, this extraordinary winery offers intimate tastings in a cave underneath the vineyards. You'll have to head to the charming Croatian island of Hvar for the experience, where you'll be greeted by a private boat that will ferry guests over the cerulean seas to Cliffbase wine cellar. Built inside a limestone cave that opens into the sea, it is certainly an unorthodox space for enjoying the local wine, Plavac Mali. Bring a suit and enjoy the sea kayaks or just enjoy an afternoon of cliff diving. This excursion can easily be set up through the concierge at the newly renovated Riva Marina hotel.