Sandals Offers Onsite Travel Advisor Trainings at Its Resorts This Summer
by Briana Bonfiglio /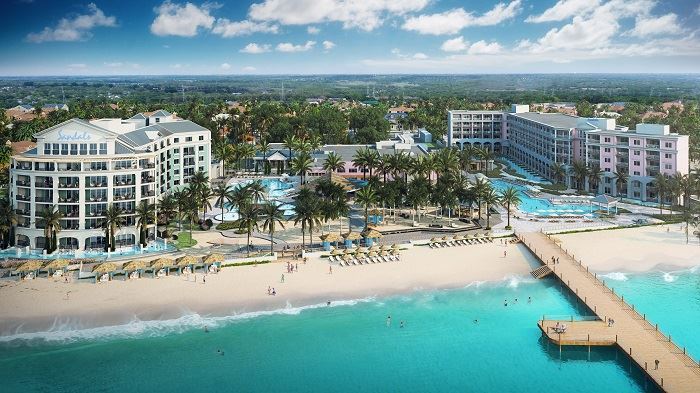 Sandals Resorts is once again offering its travel advisor training program, Back to the Beach, at its resorts throughout summer 2023.
The onsite, intensive training days are for Sandals Elite Advisors who have set a marketing plan and booking goals. Advisors will learn about the Sandals Resorts portfolio and general strategies for sales, marketing, and social media outreach.
"Back to the Beach has evolved into an immersive program that helps prepare the travel advisor community for tomorrow's modern travelers, from expansive social media modules to product development training and relationship development with their BDMs," Gary C. Sadler, executive vice president of sales and industry relations for Unique Vacations, Inc. (UVI), an affiliate of the worldwide representative of Sandals Resorts and Beaches Resorts, said in a statement. "Travel advisors play a critical role in bringing visitors to the Caribbean and we're giving them all the tools they need as we champion for their success."
Sandals has hosted more than 2,000 advisors at over 200 past events and will continue by helping advisors gear up for this year's fall and winter selling season. The Back to the Beach program started as a way to welcome travel advisors back to the Caribbean following pandemic closures. It now serves as a way for advisors to learn about resort products and keep up with new travel trends.
In May, Sandals brought 50 advisors to Beaches Turks & Caicos for Global Travel Advisor Day. Also, last week, Sandals Emerald Bay hosted more than 50 advisors and the Bahamas Deputy Prime Minister Isaac Chester Cooper for the 50th anniversary of Bahamian independence.
At these events, advisors have focused on sharpening their social media skills. BDM Ashley Kooker and UVI's Manager of Training Development Joe Vanderhoff led the groups in workshops on setting social marketing plans and driving social media engagement with the goal of each attendee earning five new bookings via social media. The travel advisor with the most bookings earned a 3-night stay at any Sandals or Beaches resort.
Sandals has announced 14 upcoming events for the summer, with more to be announced in the coming months for later this year. Here are the dates for Back to the Beach:
July 14, Sandals Emerald Bay - Central and East Tennessee region

July 17, Sandals Emerald Bay - Texas region

July 17, Sandals Royal Bahamian - Wisconsin region

July 28, Sandals Grenada - Mississippi and Louisiana region

July 29, Sandals Ochi - Minnesota and North Dakota region

July 30, Sandals Ochi - Eastern Pennsylvania region

August 19, Sandals Grenada - North Georgia region

August 25, Sandals Whitehouse - Upstate New York region

August 26, Sandals Grande Antigua - Wisconsin region

August 27, Sandals Royal Bahamian - North New Jersey region

September 11, Beaches Negril - Long Island/Queens region

September 16, Beaches Turks & Caicos - North Georgia region

September 26, Beaches Turks & Caicos - Massachusetts region

September 28, Sandals Ochi - Iowa + South Dakota region
In addition to training sessions, past advisor events at Sandals Resorts have also included volunteer opportunities with the Sandals Foundation, a nonprofit to help improve the lives of Caribbean Island residents.
Because of the event's popularity, business development managers will hand-pick the most dedicated who register on Sandals' online portal.