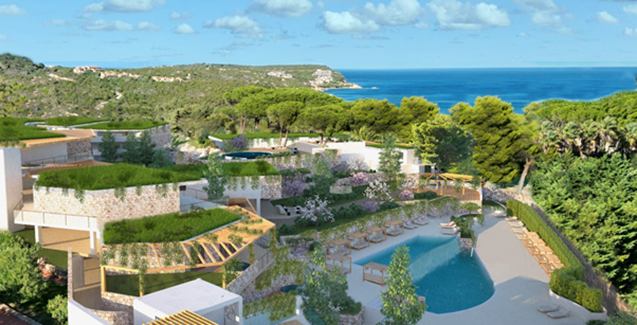 Hotel operator Mandarin Oriental is developing a new luxury hotel resort in Sardinia: Mandarin Oriental, Porto Cervo, the company's fourth property in Italy, which is set to open in mid-2026.
Located on the island's northeast region in Costa Smeralda, the new Mandarin Oriental will overlook Gulf of Pevero from a hillside perch and offer a private yet accessible environment surrounded by forest. To build the property, the hotel group will partner with a leading Italian real estate company, Gruppo Statuto, which also built Mandarin Oriental, Milan.
"We are excited to introduce Mandarin Oriental, Porto Cervo to our guests, and to expand our portfolio of leisure destinations in this region," said Francesco Cefalú, chief development officer of Mandarin Oriental Hotel Group. "Costa Smeralda's unique allure, combined with the expertise of Gruppo Statuto, promises to create an extraordinary retreat. We look forward to delivering Mandarin Oriental's legendary service and refined luxury to this captivating corner of Italy."
The 83-room resort hotel will feature five bars and restaurants, a spa, a fitness center, indoor and outdoor pools, and an exclusive beach club on the Porto Paglia beach. The property is located in a popular area of Sardinia, about a 30 minute drive from Olbia airport and close to luxury shops, galleries, and restaurants, as well as Porto Cervo Marina and its yacht club, which hosts international regattas, and coves and secluded beaches.
"We are pleased to be working with Mandarin Oriental once again and look forward to creating an exceptional resort, delivering a new high-end hospitality offering in this very special corner of Sardinia, one of Italy's top island destinations," said Giuseppe Statuto, owner of Gruppo Statuto.
Mandarin Oriental owns hotels in the Italian cities of Lake Como and Milan. The Asia-based global brand, with its landmark hotel in Hong Kong, has properties across the world in the Americas, Europe, Middle East, and Asia.